Now that everything from communication to music to films have gone digital is there any need for the ol' pantone in the world of digital books and publications? Iain Anderson takes a colorful look.
In the design world, consistency is important. And once upon a time, Pantone books were the ultimate guide to how colors appeared. They're still important, but in this land of digital publications and digital presses, we've become a little less fussy about how to specify an exact color. Let's find out how to dodge the bullet.

What color books do
The main point of a swatch book, very probably from Pantone, is to provide a reference for the colors you can expect to see in hard copy form from a printer. By providing a master sample of what a color should look like on coated and uncoated paper, and a recipe for a printer to recreate that color, in theory we can produce perfect color every time, right?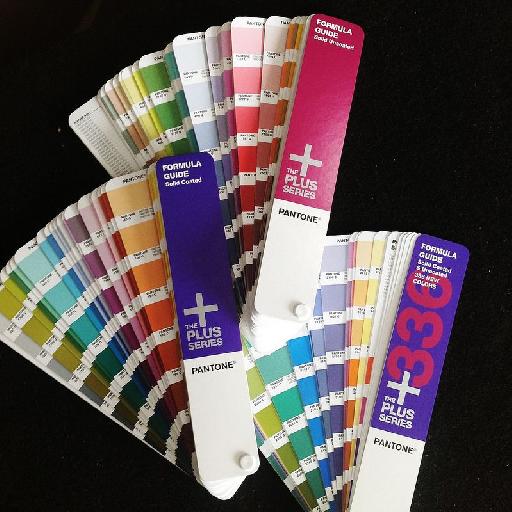 A few swatch books (image from Flickr).
The joy and pain of spot colors
Well, no, of course not. Spot colors '" the perfect, ideal Pantone colors '" are additional plates on the press, each costing extra money over the four process colors. They're still common, as fluorescents or metallics in the attention-grabbing arms race in the world of magazine covers. You might also use them on your company letterhead '" if you have any these days '" or on business cards.
Most of the time though, most people don't actually print official Pantone colors. We print Cyan, Magenta, Yellow and Black, blending different amounts of each of them to get close to the official colors. Your average job ends up as simply an approximation using process colors. It's even an option at export time in InDesign '" All Spots to Process in the Ink Manager. So while there's an ideal color out there, usually near enough has to be good enough, because your client won't pay for the additional spot colors.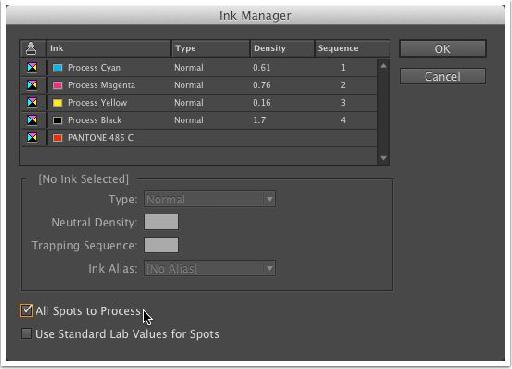 In the Export process, look under Output to find the Ink Manager.
What style guides do
A typical style guide will specify the Pantone colors used by an organization's logo and branding. Great idea, but no matter how clearly you specify that, your logo uses everyone's favorite Pantone 485 C and Pantone 7468 C, I don't think a designer who plonks your logo onto a page of many sponsors' logos is going to print spot colors just for you. They're sending it to CMYK.

Here's that totally awesome logo in 485 and 7468.
In response, style guides often include a CMYK breakdown of each spot color, for those not printing spot colors. That's the start of the problem.
And then there was an update
Many people didn't notice, but the CS6 update changed the color books used in InDesign and Illustrator. They moved from Pantone to Pantone Plus, and with it, the conversion recipes from Pantone spot colors to CMYK equivalents changed. If your style guide specifies a CMYK breakdown based on spot colors and hasn't been updated in a few years, the breakdowns won't match the Pantone numbers any more. I'd guess that the vast majority of style guides are 'out of date' in this way.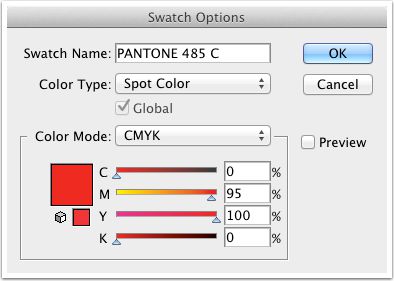 Here's Pantone 485 C, according to Illustrator CS5.
Why did they change?
The old conversion (which turned Pantone 485 C into 0/95/100/0) gave both CMYK and Lab breakdowns for each swatch. The new conversion gives only the Lab breakdown, which means that the CMYK values have shifted (Pantone 485 C is now 5.08/98.02/100/0.5).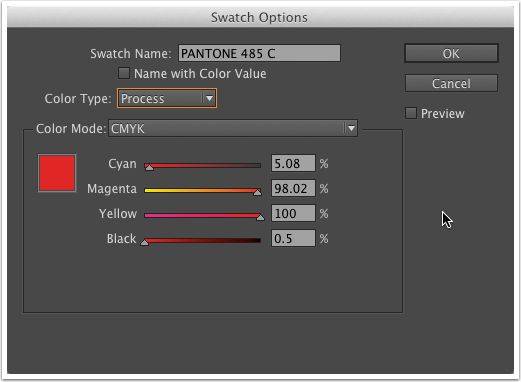 And here's Pantone 485 C, according to InDesign CS6 and CC.
Lab specifies a color independently from its output method, and is generally a good idea. Still, if you were in the habit of manually converting to CMYK, there will be a difference between old and new.

A solution
One or more of these can help if you're writing a style guide.
Don't specify CMYK or RGB values at all, and let people convert from Pantone themselves. Results will vary due to different interpretations of Pantone colors.
Don't specify Pantone values at all, and specify CMYK values that you're happy with instead. Results will vary due to printer variability.
You may have guessed that results will always vary. While it's easiest to try to be less pernickety about specific colors, you may find that downgrading to CS5's color books is the easiest solution, at least until your entire print pathway has been upgraded. Instructions for that are found here on Adobe's site.