Now that everything from communication to music to films have gone digital is there any need for the ol' pantone in the world of digital books and publications? Iain Anderson takes a colorful look.
En el mundo del diseño, la consistencia es importante. Y érase una vez, los libros Pantone eran la última guía de cómo aparecieron los colores. Ayúdales siendo importante, pero en esta tierra de publicaciones digitales y prensas digitales, weve convertido en un poco menos exigente acerca de cómo especificar un color exacto. Vamos a encontrar la manera de esquivar la bala.

¿Qué libros de color hacer
El punto principal de un libro de muestras, muy probablemente de Pantone, es proporcionar una referencia para los colores que usted puede esperar para ver en forma impresa en una impresora. Al proporcionar una muestra maestra de qué color debe vería en papel estucado y no estucado, y una receta para una impresora de recrear ese color, en teoría, se puede producir un color perfecto cada vez, ¿verdad?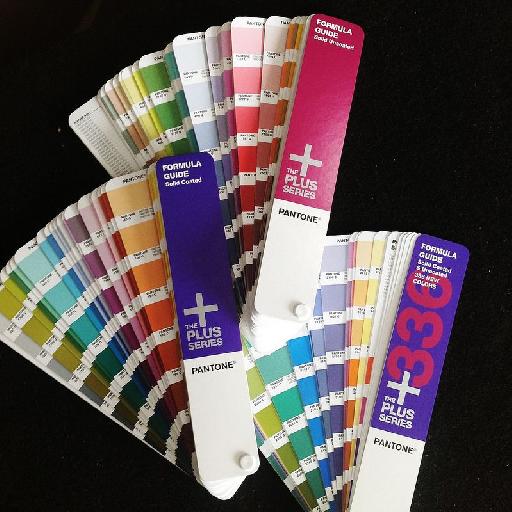 Algunos libros de muestras (imagen de Flickr ).
La alegría y el dolor de colores planos
Bueno, no, por supuesto que no. Colores planos perfectos, colores Pantone son ideales placas adicionales en la prensa, cada uno cuesta dinero extra a través de los cuatro colores de proceso. Ayúdales siendo comunes, como fluorescentes o metálicos en la carrera de armamentos que llame la atención en el mundo de las portadas de revistas. También puede utilizarlos en membrete de su empresa si usted tiene cualquiera en estos días o en tarjetas de visita.
La mayor parte del tiempo, sin embargo, la mayoría de la gente no realmente imprimir colores oficiales Pantone. Imprimimos Cian, Magenta, Amarillo y Negro, mezclando diferentes cantidades de cada uno de ellos para acercarse a los colores oficiales. Su trabajo promedio termina siendo simplemente una aproximación utilizando colores de cuatricromía. Es incluso una opción al momento de exportar en InDesign Todos los Spots al proceso en el Administrador de tinta. Así, mientras que los theres un color ideal por ahí, por lo general lo suficientemente cerca como tiene que ser lo suficientemente bueno, porque su cliente costumbre pagar por los colores planos adicionales.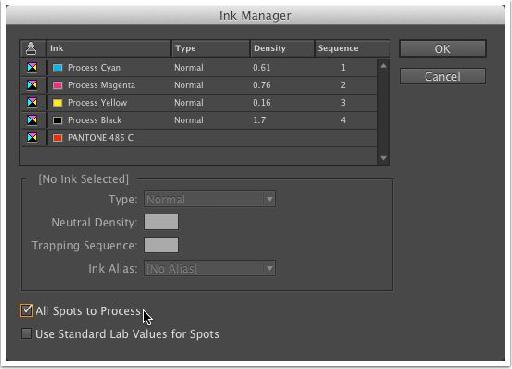 En el proceso de exportación, busque en la sección de salida para encontrar el Administrador de tinta.
Lo que hacen las guías de estilo
Una guía de estilo típico especificar los colores Pantone utilizados por las organizaciones un logotipo y la marca. Gran idea, pero no importa cuán claramente se especifica que, su logotipo utiliza everyones favorito Pantone 485 C y Pantone 7468 C, no creo que un diseñador que plonks su logotipo en una página de muchos logotipos de los patrocinadores va a imprimir colores especiales sólo para ti . Theyre enviarlo a CMYK.

Heres que el logotipo totalmente impresionante en 485 y 7468.
En respuesta, las guías de estilo a menudo incluyen un desglose CMYK de cada color especial, para aquellos que no la impresión de colores planos. Eso es el inicio del problema.
Y luego hubo una actualización
Mucha gente no se dio cuenta, pero la actualización CS6 cambiaron los libros de color utilizados en InDesign e Illustrator. Se movían de Pantone Pantone Plus, y con ella, las recetas de conversión de colores directos Pantone a CMYK equivalentes cambiaron. Si su guía de estilo especifica un desglose CMYK basado en colores planos y no se ha actualizado en pocos años, los desgloses costumbre coinciden con los números de Pantone más. Id supongo que la gran mayoría de las guías de estilo no están actualizados en este camino.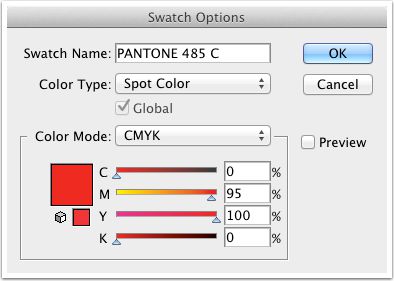 Heres Pantone 485 C, de acuerdo con Illustrator CS5.
¿Por qué cambiaron?
La conversión de edad (que resultó Pantone 485 C en 0/95/100/0) dio tanto CMYK y averías de laboratorio para cada muestra. La nueva conversión da sólo la descomposición del laboratorio, lo que significa que los valores de CMYK se han desplazado (Pantone 485 C es ahora 5.08/98.02/100/0.5).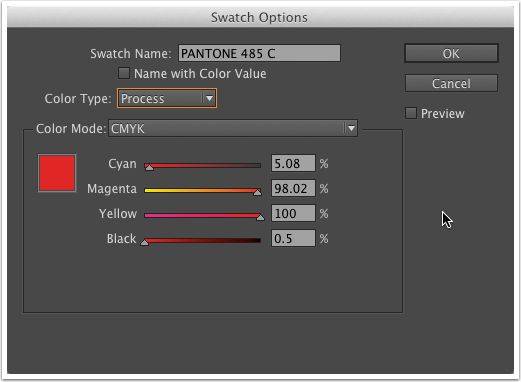 Y heres Pantone 485 C, de acuerdo con InDesign CS6 y CC.
Lab especifica un color independientemente de su método de salida, y en general es una buena idea. Sin embargo, si usted estaba en el hábito de convertir manualmente a CMYK, habrá una diferencia entre lo viejo y lo nuevo.

Una solución
Uno o más de estos pueden ayudar si usted está escribiendo un libro de estilo.
Dont especificar valores CMYK o RGB en absoluto, y que la gente se convierten de Pantone sí mismos. Los resultados pueden variar debido a las diferentes interpretaciones de colores Pantone.
Dont especificar valores Pantone en absoluto, y especificar valores CMYK que usted es feliz con su lugar. Los resultados pueden variar debido a la variabilidad de impresora.
Es posible que haya adivinado que los resultados siempre van a variar. Mientras que su más fácil para tratar de ser menos puntilloso sobre colores específicos, es posible que la degradación de libros de color CS5s es la solución más fácil, al menos hasta que todo el camino de impresión se ha actualizado. Instrucciones para el que se encuentran aquí en Adobes sitio .