If you've been wondering what improvements Illustrator CC brought to the pattern brushes... wonder no longer! Iain Anderson shows how easy and powerful these brushes now are.
Pattern brushes were a wee bit tricky in previous versions of Illustrator. While it was certainly possible to build a picture frame with crazy corners, you'd have to build all those corners by hand. Now, you can get Illustrator CC to do the hard work for you. Let's find out how.

Create some artwork
You can start out with any kind of artwork you like: vector, raster, but make sure that raster images have been embedded. (Also note that vector art will be expanded when it becomes part of a pattern.) Generally, it's easiest to create part of the edge of a patterned line. Here, I'll open with a random left-to-right line with a rough texture and a few effects applied to make it spiky.

A squiggle, a roughen, a bloat.
Preview with the Pattern Maker
While the Pattern Maker is excellent at previewing a pattern, it's also quite good at previewing how a Pattern Brush will look. With your art selected, choose Edit > Pattern > Make, then choose 1x3 from the Copies drop-down in the Pattern Maker panel that appears. Now that you can see the line that you'll get, move the edges of the line to create a continuous path with the greyed-out copies on the left and right of your line. Select All, then press Copy, and finally, press Done at the top of the window.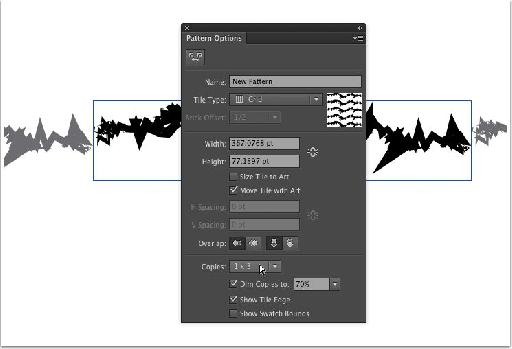 Now that the line is visible, extend the black copy in the middle to meet the grey ones at the edges.
Create the brush
Back in your document, Paste the line that you copied from the Pattern Maker. In the Brushes panel, press the New button to create a new brush, and choose Pattern Brush. Your artwork becomes the Side Tile in the new brush, and you just need to finesse the corners to make them look their best.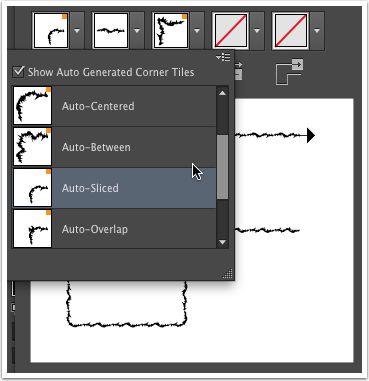 Four different spiky corner options in the new pattern brush.
Find the best corner
In the dialog, you'll see a preview of what Illustrator's chosen to insert on the corners. However, you can choose whatever you want for the outer corners and the inner corners, either a pre-defined pattern, or from the new auto options:
Auto-Centered

Auto-Between

Auto-Sliced

Auto-Overlap

Depending on your line, some or none of these could look good, but they're a whole lot better than the non-existent options we had before.
Test it out
Draw a rectangle and apply your new pattern brush to it. If the original shape is quite large, you'll have to make the stroke width quite small '" perhaps even 0.1 or 0.2 pt '" to keep it manageable.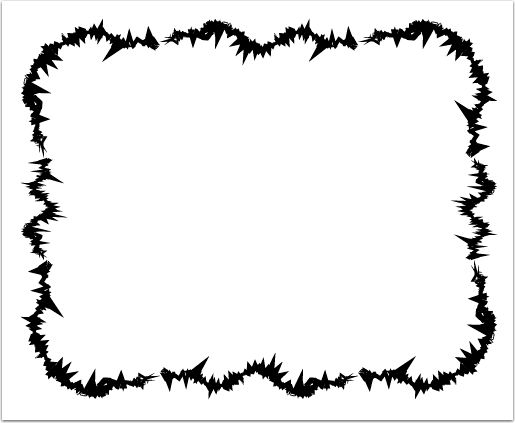 Here's my path at 0.2 pt.
Revise if needed
Double-clicking the brush in the Brushes panel allows you to change the original pattern brush's settings, so you can experiment with scaling (avoiding those 0.2 pt lines), flipping, spacing, colorization and the like. Should something still not be quite right, you might need to revise the original shape you started with, and create a new brush from scratch.
Conclusion
Pattern brushes are now easier to make than they've been, allowing some quite ornate frames to be magicked up with a minimum of effort. If you've got a slow day, why not experiment with your favorite dingbat or ornaments font? You never know what you might just come up with. Good luck!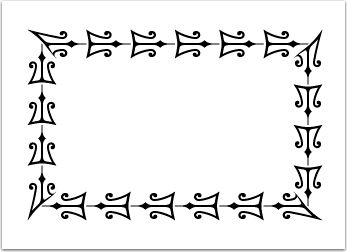 Yes, this is one of the glyphs from Adobe Wood Type Ornaments.