If you've been wondering what improvements Illustrator CC brought to the pattern brushes... wonder no longer! Iain Anderson shows how easy and powerful these brushes now are.
كانت فرش نمط صعبة قليلا وي في الإصدارات السابقة من المصور. في حين أنه كان بالتأكيد من الممكن بناء إطار الصورة مع زوايا مجنون، يوود ديك لبناء كل تلك الزوايا باليد. الآن، يمكنك الحصول على المصور CC للقيام بهذا العمل الشاق بالنسبة لك. يتيح معرفة كيف.

خلق بعض الأعمال الفنية
يمكنك البدء بها مع أي نوع من الأعمال الفنية رغبتك: ناقلات، النقطية، ولكن تأكد من أن الصور النقطية تم المضمنة. (لاحظ أيضا أن الفن النواقل سيتم توسيع عندما يصبح جزءا من نمط.) بشكل عام، أسهل لخلق جزء من حافة خط منقوشة. هنا، فتح مريضة مع خط عشوائي من اليسار إلى اليمين مع الملمس الخشن وعدد قليل من آثار تطبيقه لجعله شائك.

A تمايل، وهو خشن، وسخام.
معاينة مع صانع نمط
في حين أن صانع نمط ممتازة في معاينة نمط، ولها أيضا جيدة جدا في معاينة كيف يمكن لفرشاة نمط سوف تنظر. مع الفن الخاص اختيارها، اختر تحرير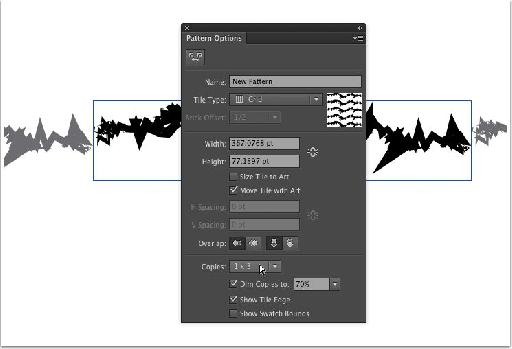 الآن أن الخط مرئيا، تمديد نسخة سوداء في منتصف لتلبية تلك الرمادي عند الحواف.
إنشاء فرشاة
مرة أخرى في المستند، قم بلصق الخط الذي قمت بنسخه من صانع نمط. في لوحة الفرش، اضغط على زر جديد لإنشاء فرشاة جديدة، واختيار فرشاة نمط. يصبح العمل الفني الخاص البلاط جنب في فرشاة جديدة، وتحتاج فقط إلى براعة زوايا لجعلها تبدو أفضل ما لديهم.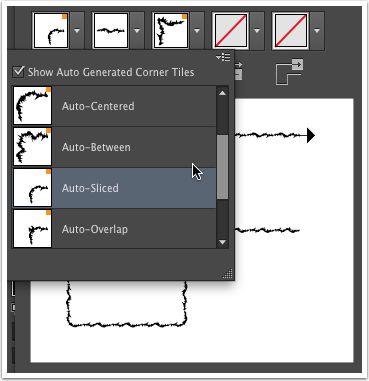 أربعة خيارات مختلفة الزاوية شائك في فرشاة نمط جديد.
العثور على أفضل زاوية
في الحوار، فسوف نرى معاينة ما اختار الرسامون لإدراج على الزوايا. ومع ذلك، يمكنك اختيار ما تريده لزوايا الخارجي والزوايا الداخلية، إما نمط المعرفة مسبقا، أو من خيارات السيارات الجديدة:
لصناعة السيارات في توسيط

لصناعة السيارات في الفترة ما بين

شرائح السيارات

لصناعة السيارات في التداخل

اعتمادا على الخط الخاص بك، بعض أو أيا من هذه يمكن أن تبدو جيدة، ولكن [ثر] مجموعة كبيرة من أفضل الخيارات غير موجودة كان لدينا من قبل.
اختبار بها
رسم مستطيل وتطبيق الخاص فرشاة نمط جديد إليه. إذا كان الشكل الأصلي هو كبير جدا، سيكون لديك لجعل عرض السكتة الدماغية صغيرة جدا ربما حتى 0.1 أو 0.2 نقطة للحفاظ على التحكم فيها.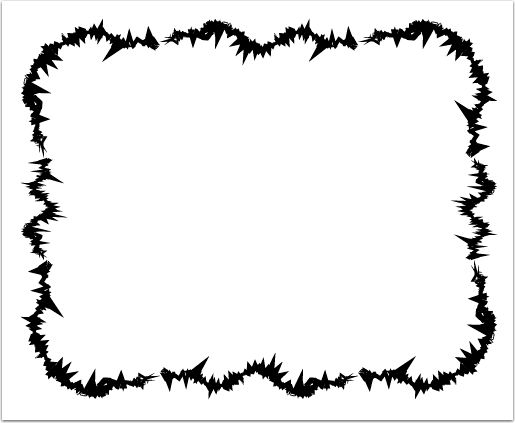 هيريس طريقي عند 0.2 نقطة.
تنقيح إذا لزم الأمر
النقر المزدوج على الفرشاة في لوحة الفرش يسمح لك بتغيير إعدادات فراشي النمط الأصلي، لذلك يمكنك تجربة مع التحجيم (تجنب تلك الخطوط 0.2 نقطة)، التقليب، والتباعد، والتلوين، وما شابه ذلك. يجب أن شيئا ما لا يزال لا يكون صحيحا تماما، قد تحتاج إلى إعادة النظر في الشكل الأصلي كنت بدأت، وإنشاء فرشاة جديدة من نقطة الصفر.
اختتام
فرش نمط هي الآن أسهل لجعل من هم قد كانوا، والسماح لبعض الأطر المزخرفة جدا أن يكون magicked حتى مع الحد الأدنى من الجهد. إذا كنت قد حصلت في اليوم بطيئة، لماذا لا التجربة مع الشخص السخيف المفضلة لديك أو الخط الحلي؟ أنت لا تعرف أبدا ما قد تأتي للتو مع. حظا سعيدا!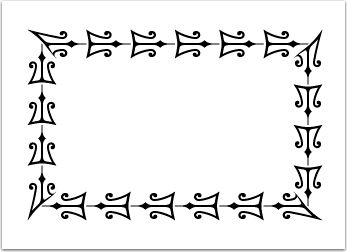 نعم، هذا هو واحد من الرموز من Adobe الخشب نوع الحلي.