If you've been wondering what improvements Illustrator CC brought to the pattern brushes... wonder no longer! Iain Anderson shows how easy and powerful these brushes now are.
Musterpinsel waren ein bisschen tricky in früheren Versionen von Illustrator. Während es sicherlich möglich war, einen Bilderrahmen mit verrückten Ecken zu bauen, haben youd, um alle jene Ecken von Hand bauen. Jetzt können Sie Illustrator CC um die harte Arbeit für Sie tun. Lets herauszufinden, wie.

Erstellen Sie einige Kunstwerk
Sie können beginnen, mit jeder Art von Grafik, die Sie mögen: Vektor-, Raster, aber stellen Sie sicher, dass Rasterbilder eingebettet wurden. (Beachten Sie, dass vektorgrafiken erweitert werden, wenn es Teil eines Musters wird werden). Allgemeinen die am einfachsten zu einem Teil des Randes einer gemusterten Linie zu erzeugen. Hier Ill offen mit einem zufälligen links-nach-rechts-Linie mit einer rauen Textur und ein paar Effekte angewendet, um es spitz zu machen.

Ein Kringel, ein aufrauen, eine aufblasen.
Vorschau mit dem Pattern Maker
Während das Pattern Maker ist bei der Vorschau eines Musters ausgezeichnet, es ist auch ganz gut, wie ein Muster Vorschau Pinsel aussehen wird. Mit Ihrer Kunst ausgewählt, wählen Sie Bearbeiten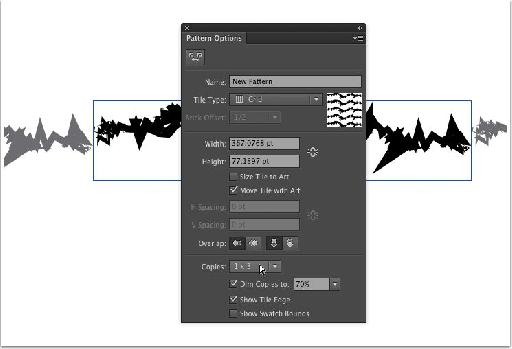 Nun, da die Linie sichtbar ist, ziehen Sie die schwarze Kopie in der Mitte, um die grauen an den Rändern zu erfüllen.
Erstellen Sie die Bürste
Zurück in Ihrem Dokument, Einfügen der Zeile, die Sie aus der Pattern Maker kopiert. In der Pinsel-Bedienfeld, drücken Sie die Schaltfläche Neu, um einen neuen Pinsel zu erstellen, und wählen Sie Muster Pinsel. Ihr Kunstwerk wird das Side-Fliese in der neuen Bürste, und Sie brauchen nur zu Finesse den Ecken, um sie von ihrer besten Seite.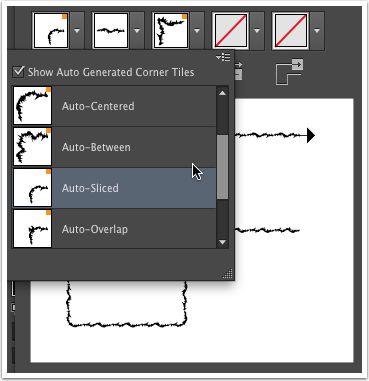 Vier verschiedene stacheligen Ecke Optionen in das neue Muster Pinsel.
Finden Sie die besten Ecke
Im Dialog youll sehen Sie eine Vorschau von dem, was Illustratoren entschieden, sich auf den Ecken einzufügen. Allerdings können Sie wählen, was Sie für den äußeren Ecken und den inneren Ecken, entweder eine vordefinierte Muster, oder aus den neuen Auto möchten:
Auto-Centered

Auto-Between

Auto-Scheiben

Auto-Ãœberlappung

Abhängig von Ihrer Linie, könnten einige oder keine dieser gut aussehen, sondern theyre eine ganze Menge besser als die nicht-existent Optionen, die wir vorher hatten.
Probieren Sie es aus
Zeichnen Sie ein Rechteck und übernehmen Sie die neuen Muster Bürste zu. Wenn die ursprüngliche Form ist recht groß, haben youll, um die Strichstärke recht klein vielleicht sogar 0,1 oder 0,2 pt, damit es überschaubar.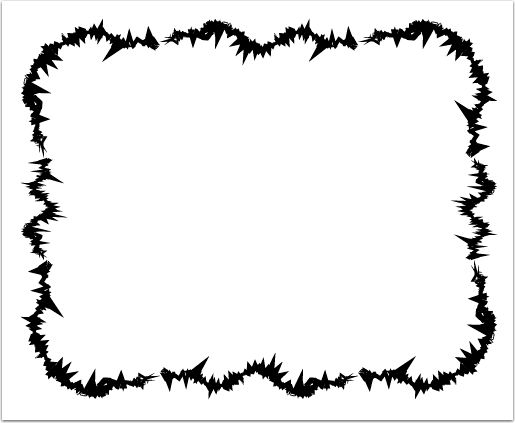 Heres mein Weg bei 0,2 pt.
Überarbeiten Sie, wenn nötig
Ein Doppelklick auf den Pinsel in der Pinsel-Bedienfeld können Sie die ursprünglichen Muster brushs Einstellungen zu ändern, so können Sie mit Skalierung (Vermeidung dieser 0,2 pt Linien) experimentieren, Spiegeln, Abstand Einfärbung und dergleichen. Sollte etwas noch nicht ganz richtig, müssen Sie möglicherweise die ursprüngliche Form mit dem Sie angefangen zu überarbeiten, und erstellen Sie einen neuen Pinsel aus dem Nichts.
Fazit
Musterpinsel sind jetzt leichter zu machen als sie haben gewesen, so dass einige recht kunstvollen Rahmen, um sich mit einem Minimum an Aufwand gezaubert werden. Wenn youve eine langsame Tag bekam, warum nicht experimentieren Sie mit Ihren Lieblings-dingbat oder Ornamente Schriftart? Man weiß nie, was man nur kommen mit. Viel Glück!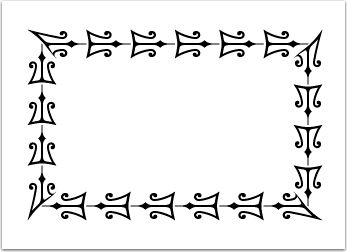 Ja, dies ist eine der Glyphen aus Adobe Wood Type Ornaments.