If you've been wondering what improvements Illustrator CC brought to the pattern brushes... wonder no longer! Iain Anderson shows how easy and powerful these brushes now are.
Pinceles de motivo eran un poquito complicado en las versiones anteriores de Illustrator. Aunque ciertamente era posible construir un marco de fotos con las esquinas locos, youd tiene que construir todas las esquinas a mano. Ahora, usted puede conseguir Illustrator CC para hacer el trabajo duro por usted. Vamos a averiguar cómo.

Crear algunas obras de arte
Usted puede comenzar con cualquier tipo de arte te gusta: vector, raster, pero asegúrese de que las imágenes de trama se han incorporado. (Tenga en cuenta también que el arte vector se expandirá cuando se convierte en parte de un patrón.) En general, la manera más fácil para crear la parte de borde de una línea de modelado. Aquí, Ill abierto con una línea de izquierda a derecha al azar con una textura áspera y algunos efectos aplicados a hacerlo de punta.

Un garabato, un roughen, una hinchazón.
Ver el Creador de motivos
Mientras que el Creador de motivos es excelente en la vista previa de un patrón, su también muy bueno en la vista previa de cómo se verá un pincel de motivo. Con su arte, elija Edición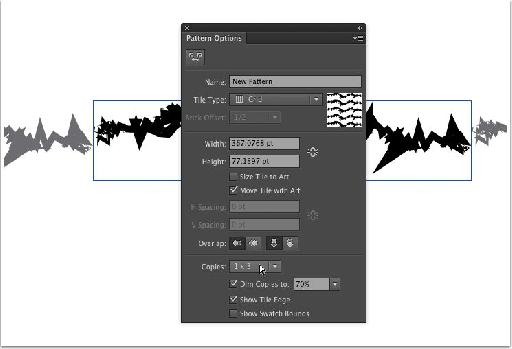 Ahora que la línea está visible, extender la copia negro en el centro para cumplir con los grises en los bordes.
Crear el cepillo
De vuelta en su documento, Pegar la línea que ha copiado del Creador de motivos. En el panel Pinceles, pulse el botón Nuevo para crear un nuevo pincel y elija pincel de motivo. Su obra de arte se convierte en el azulejo lateral en el nuevo cepillo, y sólo tiene que sortear las esquinas para que se vean lo mejor posible.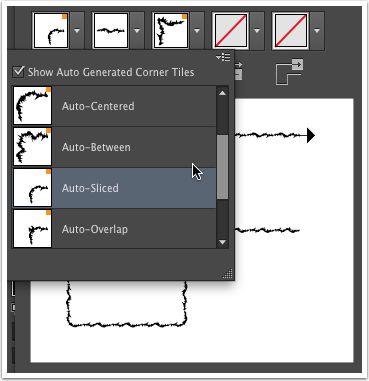 Cuatro opciones diferentes esquinas puntiagudas en el nuevo pincel de motivo.
Encontrar la mejor esquina
En el diálogo, usted verá una vista previa de lo Ilustradores elegidos para insertar en las esquinas. Sin embargo, usted puede elegir lo que desea para las esquinas exteriores y las esquinas interiores, ya sea un patrón predefinido, o de las nuevas opciones de auto:
Auto-Centrado

Auto-Between

Auto-rodajas

Auto-Superposición

Dependiendo de su línea, algunos o ninguno de ellos podría quedar bien, pero el theyre todo mucho mejor que las opciones no existentes que teníamos antes.
Probarlo
Dibuje un rectángulo y aplicar el nuevo pincel de motivo a la misma. Si la forma original es bastante grande, usted tendrá que hacer que el ancho del trazo bastante pequeña incluso 0,1 o 0,2 pt mantenerlo manejable.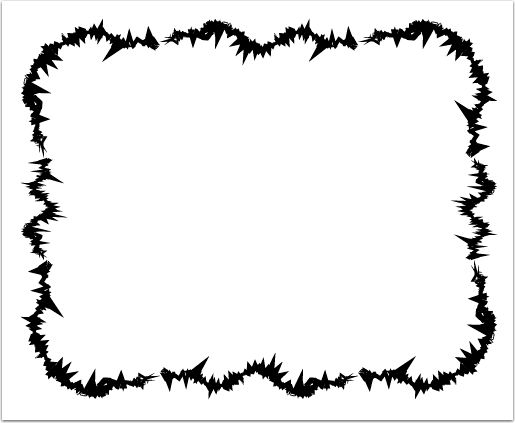 Aquí está mi camino en el 0,2 pt.
Revisar si es necesario
Haga doble clic en el pincel en el panel Pinceles le permite cambiar la configuración brushs patrón original, por lo que puede experimentar con la escala (evitando las líneas 0,2 pt), mover de un tirón, espaciado, color, etcétera. Si algo sigue sin estar del todo bien, puede que tenga que revisar la forma original que empezaste, y crear un nuevo pincel a partir de cero.
Conclusión
Pinceles de motivo son ahora más fáciles de fabricar que theyve estado, permitiendo que algunos cuadros muy ornamentadas que se mágicamente con un mínimo de esfuerzo. Si tu tienes un día lento, ¿por qué no experimentar con su dingbat preferida o fuente adornos? Nunca se sabe lo que sólo podría ocurrir. ¡Buena suerte!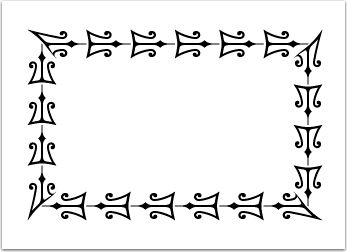 Sí, este es uno de los glifos de Adobe Madera Tipo Adornos.