If you've been wondering what improvements Illustrator CC brought to the pattern brushes... wonder no longer! Iain Anderson shows how easy and powerful these brushes now are.
برس الگو در نسخه های قبلی از تصویرگر یک کمی اندکی از روی حیله و تزویر بود. در حالی که آن را قطعا ممکن است برای ساخت یک قاب عکس با گوشه های دیوانه، youd برای ساخت تمام کسانی که گوشه با دست. در حال حاضر، شما می توانید تصویرگر CC به انجام کار سخت را برای شما. اجازه می دهد پیدا کردن چگونه است.

ایجاد برخی از آثار هنری
شما می توانید با هر نوع از آثار هنری که دوست دارید: بردار، شطرنجی، اما مطمئن شوید که تصاویر شطرنجی تعبیه شده است. (همچنین توجه داشته باشید که هنر بردار گسترش خواهد یافت زمانی که آن را بخشی از یک الگو می شود.) به طور کلی، ساده ترین آن به ایجاد بخشی از لبه یک خط الگو. در اینجا، بد باز با یک خط از چپ به راست تصادفی با بافت خشن و چند اثر اعمال شده به آن را تند و تیز.

موج دار شدن، زبر کردن، نفخ.
پیشنمایش با الگوی ساز
در حالی که الگوی ساز در بررسی یک الگوی عالی است، آن نیز بسیار خوب در پیش نمایش قلم مو الگو چگونه نگاه خواهد کرد. با هنر خود را انتخاب، را انتخاب کنید ویرایش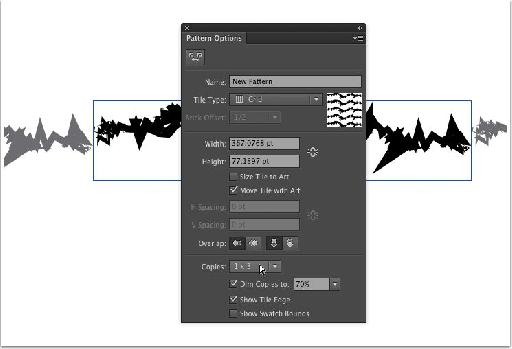 حالا که خط قابل مشاهده است، گسترش کپی سیاه و سفید در عمق به دیدار با آنهایی که خاکستری در لبه.
ایجاد قلم مو
برگشت در سند خود را، رب خط که شما از الگوی ساز آن برداشتهاید. در پانل براش، دکمه های جدید برای ایجاد یک براش جدید، و قلم مو الگو را انتخاب کنید. کارهای هنری خود را کاشی جانبی در قلم مو های جدید می شود، و شما فقط نیاز به ظرافت گوشه به آنها را به بهترین خود را نگاه کنید.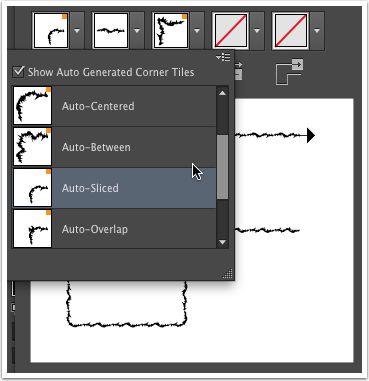 چهار گزینه مختلف گوشه ناهمگون در برس الگوی جدید.
پیدا کردن بهترین گوشه
در این گفت و گو، شما یک پیش نمایش از آنچه تصویرگران انتخاب شده به قرار دادن در گوشه و کنار را ببینید. با این حال، شما می توانید انتخاب کنید هر آنچه شما می خواهید برای گوشه های بیرونی و گوشه های درونی، یا یک الگوی از پیش تعریف شده، و یا از گزینه های خودکار جدید:
خودکار محور

خودکار بین

خودکار ورقه

همپوشانی خودکار

بسته بر روی خط شما، برخی یا هیچ کدام از این می تواند نگاه خوب است، اما عشق مانند کل خیلی بهتر از گزینه های غیر موجود ما قبل بود.
تست آن
رسم یک مستطیل و برس الگوی جدید خود را به آن اعمال می شود. اگر به شکل اصلی است بسیار بزرگ، شما را به عرض سکته مغزی بسیار کوچک شاید حتی 0.1 یا 0.2 پاسیفیک به نگه داشتن آن کنترل.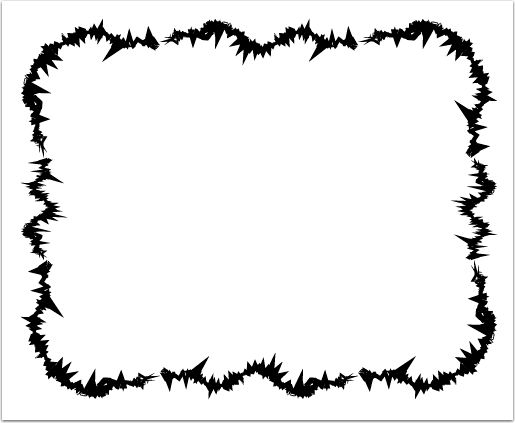 در اینجا راه من در 0.2 PT.
تجدید نظر در صورت نیاز
دوبار کلیک کردن بر روی قلم مو در پانل براش اجازه می دهد تا شما را به تغییر الگوی تنظیمات brushs ها اصلی، بنابراین شما می توانید با پوسته پوسته شدن (اجتناب از آن 0.2 خط PT) تجربه، کوه در می رم، فاصله، colorization و مانند آن. باید چیزی هنوز نمی تواند کاملا درست، شما ممکن است نیاز به تجدید نظر در شکل اولیه شما با آنها آغاز شده، و ایجاد یک براش جدید، از ابتدا.
نتیجه
برس الگو در حال حاضر آسان تر را از theyve شده است، اجازه می دهد برخی از فریم کاملا مزین می شود تا با حداقل تلاش magicked است. اگر شما یک روز کند، به همین دلیل آزمایش با dingbat های مورد علاقه خود و یا فونت زیور آلات نیست؟ شما هیچ وقت نمی دانید آنچه که شما فقط ممکن است در آمد تا با. موفق باشید!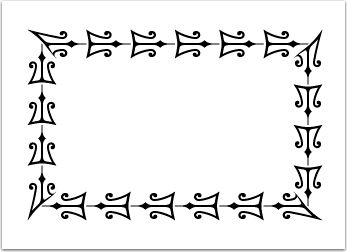 بله، این یک حروف از ادوبی چوب تزئینات نوع است.