If you've been wondering what improvements Illustrator CC brought to the pattern brushes... wonder no longer! Iain Anderson shows how easy and powerful these brushes now are.
brosses de modèle ont été un petit peu difficile dans les versions précédentes d'Illustrator. Alors qu'il était certainement possible de construire un cadre photo avec des coins fous, youd devons construire tous les coins à la main. Maintenant, vous pouvez obtenir Illustrator CC pour faire le travail dur pour vous. Permet de savoir comment.

Créer une œuvre d'art
Vous pouvez commencer avec n'importe quel type d'art que vous aimez: vecteur, raster, mais assurez-vous que les images raster ont été embarqués. (A noter également que l'art vectoriel sera élargi quand il devient une partie d'un motif.) En général, son plus simple pour créer une partie du bord d'une ligne à motifs. Ici, Ill ouvert avec une ligne au hasard de gauche à droite avec une texture rugueuse et quelques effets appliqués à rendre hérissés.

Un gribouillis, une Esquisse, un ballonnement.
Aperçu avec le Pattern Maker
Alors que le Pattern Maker est excellent à l'aperçu d'un modèle, c'est aussi très bon pour prévisualiser la façon dont une forme de motif ressemblera. Avec votre art sélectionné, choisissez Modifier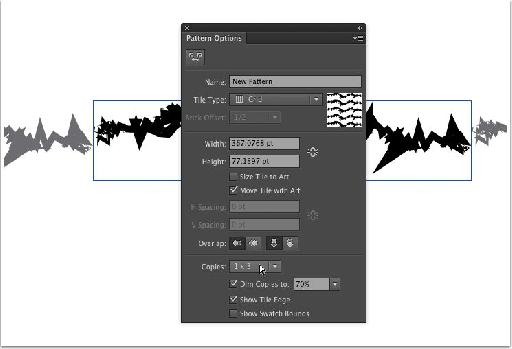 Maintenant que la ligne est visible, étendre la copie en noir au milieu pour satisfaire les gris sur les bords.
Créer le pinceau
Retour dans votre document, coller la ligne que vous avez copié à partir du Pattern Maker. Dans le panneau Pinceaux, appuyez sur le bouton Nouveau pour créer une nouvelle brosse, brosse et choisissez Pattern. Votre oeuvre d'art devient le carreau de côté dans la nouvelle brosse, et il vous suffit de finesse les coins pour faire leur meilleur.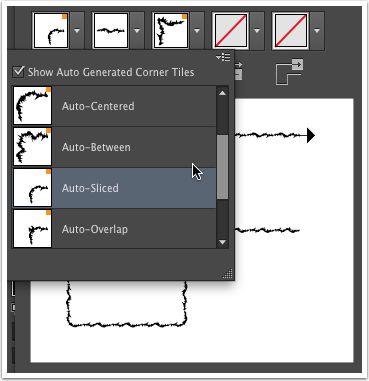 Quatre options d'angles pointus différents dans la nouvelle forme de motif.
Trouvez le meilleur angle
Dans la boîte de dialogue, vous pouvez apercevoir un aperçu de ce illustrateurs choisis pour insérer dans les coins. Cependant, vous pouvez choisir ce que vous voulez pour les coins extérieurs et les coins intérieurs, soit un modèle prédéfini, ou de nouvelles options d'automobiles:
Auto-Centered

Auto-Entre

Auto-tranches

Auto-Overlap

Selon votre secteur, certains ou aucun d'entre eux pourraient bien paraître, mais theyre ensemble beaucoup mieux que les options inexistantes que nous avions avant.
Testez-le
Tracez un rectangle et appliquez votre nouvelle brosse motif à cela. Si la forme originale est assez grand, vous aurez à faire la largeur du trait assez faible voire 0,1 ou 0,2 pt à garder gérable.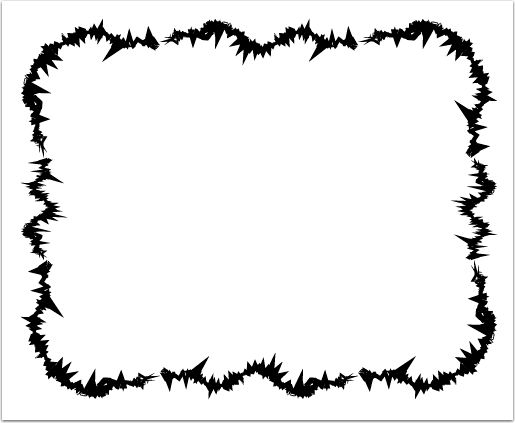 Heres mon chemin à 0.2 pt.
Réviser si nécessaire
Double-cliquez sur le pinceau dans le panneau Formes vous permet de modifier les paramètres d'origine des brushs de modèle, de sorte que vous pouvez expérimenter avec mise à l'échelle (en évitant les lignes 0,2 pt), renversant, l'espacement, la colorisation, etc. Si quelque chose encore ne pas être tout à fait raison, vous pourriez avoir besoin de réviser la forme originale que vous avez commencé avec, et créez une nouvelle brosse à partir de zéro.
Conclusion
brosses de modèle sont maintenant plus faciles à fabriquer que theyve été, permettant à certains cadres très fleuris pour être magiquement avec un minimum d'effort. Si youve a obtenu un jour lent, pourquoi ne pas expérimenter avec votre truc préféré ou la police des ornements? Vous ne savez jamais ce que vous pourriez trouver. Bonne chance!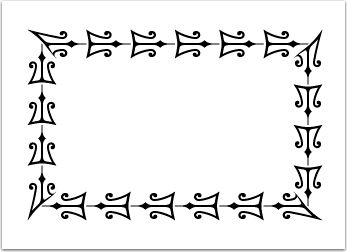 Oui, c'est l'une des glyphes de Adobe type de bois ornements.