If you've been wondering what improvements Illustrator CC brought to the pattern brushes... wonder no longer! Iain Anderson shows how easy and powerful these brushes now are.
I pennelli pattern erano un tantino complicato nelle versioni precedenti di Illustrator. Mentre era certamente possibile costruire una cornice con angoli pazzeschi, youd devono costruire tutti quegli angoli a mano. Ora, è possibile ottenere Illustrator CC a fare il lavoro duro per voi. Consente di scoprire come.

Creazione di alcune opere d'arte
Si può iniziare con qualsiasi tipo di opere d'arte che ti piace: vettoriale, raster, ma fare in modo che le immagini raster sono stati incorporati. (Si noti inoltre che vettoriale arte sarà ampliato quando diventa parte di un modello.) In generale, la sua più semplice per creare una parte del bordo di una linea di fantasia. Qui, Ill aperta con una linea da sinistra a destra casuale con una texture ruvida e pochi effetti applicati a renderlo spinoso.

Uno scarabocchio, una Contorni frastagliati, un bloat.
Anteprima con Crea pattern
Mentre il Pattern Maker è eccellente in anteprima di un modello, la sua anche abbastanza bravo in anteprima come un pennello pattern sarà . Con la tua arte selezionata, scegliere Modifica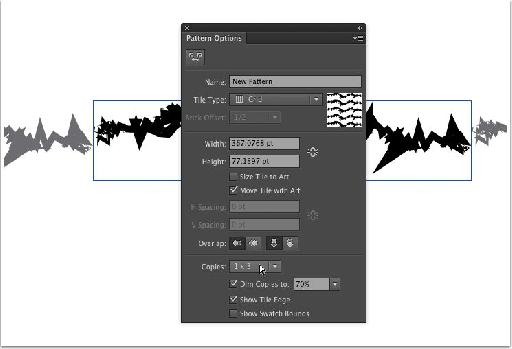 Ora che la linea è visibile, estendere la copia nera in mezzo per incontrare quelli grigi nei bordi.
Creare il pennello
Indietro nel documento, incollare la riga che è stata copiata da Crea pattern. Nel pannello Pennelli, premere il pulsante Nuovo per creare un nuovo pennello, e scegliere pennello pattern. La tua opera d'arte diventa la porzione laterale del nuovo pennello, e non vi resta che finezza gli angoli per farli apparire al meglio.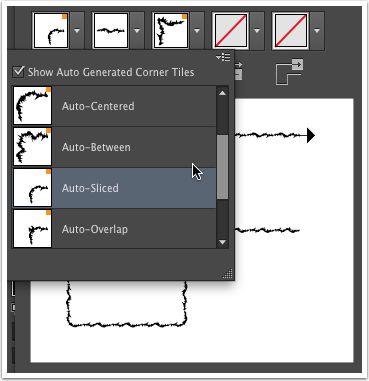 Quattro opzioni differenti angoli appuntiti del nuovo pennello pattern.
Trova il miglior angolo
Nella finestra di dialogo, youll vedere un anteprima di quello che illustratori scelti da inserire sugli angoli. Tuttavia, è possibile scegliere quello che vuoi per gli angoli esterni e gli angoli interni, sia un modello predefinito, o da nuove opzioni di auto:
Auto-Centered

Auto-Tra

Auto-affettato

Auto-Overlap

A seconda della linea, alcuni o nessuno di questi potrebbe guardare bene, ma theyre molto meglio rispetto alle opzioni inesistenti che avevamo prima.
Provarlo
Disegnare un rettangolo e applicare il nuovo pennello modello ad esso. Se la forma originale è abbastanza grande, youll devono fare la larghezza del tratto piuttosto piccolo forse anche 0,1 o 0,2 pt per tenerlo gestibile.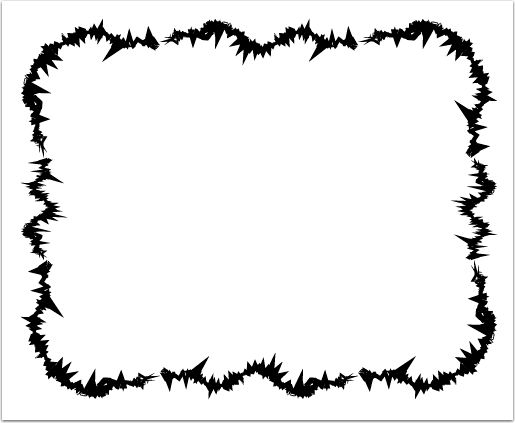 Heres il mio percorso a 0,2 pt.
Rivedere, se necessario,
Facendo doppio clic sul pennello nel pannello Pennelli consente di modificare le impostazioni di spazzolini modello originale, in modo da poter sperimentare con scala (evitando quei 0,2 linee pt), lanciando, spaziatura, colorazione e simili. Nel caso qualcosa non essere ancora abbastanza di destra, potrebbe essere necessario rivedere la forma originale si è iniziato con, e crea un nuovo pennello da zero.
Conclusione
I pennelli pattern sono ora più facili da fare che theyve stato, permettendo alcuni fotogrammi abbastanza ornate da magicked con un minimo di sforzo. Se youve ha ottenuto un giorno lento, perché non sperimentare con il vostro segno grafico preferito o carattere ornamenti? Non si sa mai quello che si potrebbe quasi venire con. Buona fortuna!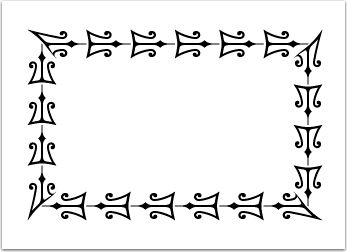 Sì, questo è uno dei glifi di Adobe Legno Tipo Ornamenti.