If you've been wondering what improvements Illustrator CC brought to the pattern brushes... wonder no longer! Iain Anderson shows how easy and powerful these brushes now are.
패턴 브러쉬는 일러스트 ë ˆì´í"°ì˜ 이ì " ë²"ì "에ì"œ 조금이라도 까다했다. 이 미친 모서리 그림 í""ë ˆìž"ì" 구축하기 위해 확실히 가능한 동안, youdê°€ 손으로 모ë"  모서리를 구축해야합니다. ì´ì œ 일러스트 ë ˆì´í"° CC는 ë‹¹ì‹ ì" 위해 열심히 일을 í•  수 있습니다. 방법을 찾을 수 있습니다.

어떤 작품을 만들
ë‹¹ì‹ ì€ ë‹¹ì‹ ì´ 좋아하는 작품의 모ë"  종류의 함께 ì‹œìž'í•  수 있습니다 : 벡터, 래스터, 그러나 래스터 이미지가 포함되어 있는지 확인하십시오. (또한 그것은 패턴의 일부가 ë  ë•Œ 벡터 아트가 확장 ë  ê²ƒì´ë¼ê³ í•©ë‹ˆë‹¤.) ì¼ë°˜ì ìœ¼ë¡œ, 그것의 쉬운을 패턴 라인의 가장자리의 일부를 만들 수 있습니다. 여기에, 거친 질감과 뾰족한 그것을 만들기 위해 ì ìš© 몇 가지 효과와 함께 임의의 왼쪽에서 오른쪽으로 ì"  아픈 오픈.

휘 갈겨 ì"´, ê±°ì¹ ê²Œ, 부풀게.
패턴 메이커 미리보기
패턴 메이커 패턴을 미리 발군이지만, 패턴 브러쉬의 모양을 미리보기에서 자사도 꽤 좋아요. ë‹¹ì‹ ì˜ ì˜ˆìˆ ì" ì" 택한 편집을 ì" 택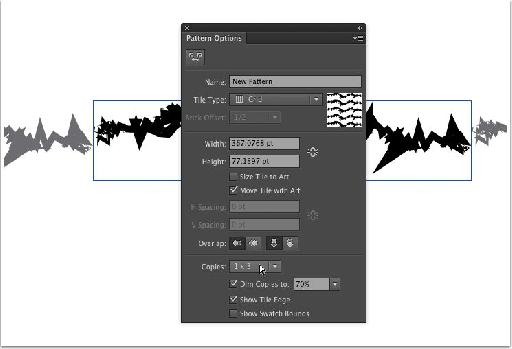 라인이 표시되어 ì´ì œëŠ" 가장자리에 회색 것들을 충족하기 위해 중간에 검은 복사본을 확장합니다.
브러쉬를 만들
다시 문서에서 패턴 메이커에서 복사 í•œ 라인을 붙여 넣습니다. [브러쉬] 패널에서 새 브러시를 만ë"¤ë ¤ë©´ 새로 만들기 버튼을 눌러 패턴 브러시를 ì" 택합니다. ë‹¹ì‹ ì˜ 삽화는 새로운 브러시 측면 íƒ€ì¼ë˜ê³ , ë‹¹ì‹ ì€ 단지 그들의 최ì" ì" 보이게하기 위해 기교 구석에 필요합니다.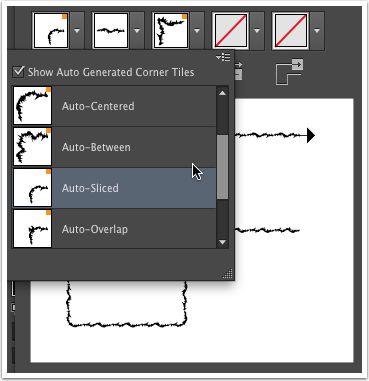 새로운 패턴 브러쉬의 네 가지 뾰족한 모서리 옵션을 ì œê³µí•©ë‹ˆë‹¤.
ìµœê³ ì˜ 코너 찾기
대화 상자에서 일러스트 ë ˆì´í"° 모서리에 삽입하도록 ì" 택 무엇을 미리보기 youll는. 그러나 ë‹¹ì‹ ì€ ë‹¹ì‹ ì´ 바깥 쪽 모서리와 내부 모서리, 미리 ì •ì˜ 된 패턴 중 하나, 또는 새로운 자동 옵션에서 대해 원하는대로 ì" íƒí•  수 있습니다 :
자동 중심

자동 사이

자동 슬라이스

자동 오버랩

회ì" 에 따라 일부 또는 이들의 아무도 좋아 보인다, 그러나 우리가 ì "에했던 존재하지 않는 옵션보다 훨씬을 theyreê°€ 있었다.
그것을 밖으로 테스트
사각형을 ê·¸ë¦¬ê³  그것에 ë‹¹ì‹ ì˜ 새로운 패턴 브러시를 ì ìš©í•©ë‹ˆë‹¤. 원래의 모양이 매우 큰 경우, 알면은 관리 ìœ ì§€í•˜ëŠ" 스트로크 폭이 매우 0.1도 아마도 작거나 0.2 PT 확인해야합니다.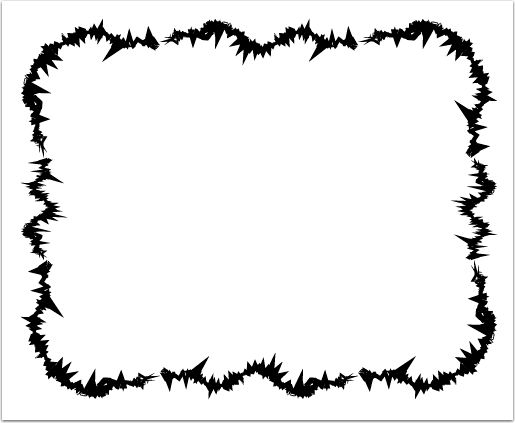 0.2 PT에서 내 길을 Heres는.
필요한 경우 ìˆ˜ì •
브러쉬 패널에서 브러쉬를 두 번 클릭하면 원래의 패턴 brushs ì"¤ì •ì" ë³€ê²½í•  수 있습니다, 그래서 ë‹¹ì‹ ì€ 스케일링 (ê·¸ 0.2 PT 라인을 피하는)ë¡œ 실험 í•  수있다, 뒤집기, 간격, 채색 등이있다. ì—¬ì "히 뭔가 꽤 괜찮되지 않을 경우, ë‹¹ì‹ ì€ ë‹¹ì‹ ì´ 시작 원래의 모양을 ìˆ˜ì •í•´ì•¼í•˜ê³ , 처음부터 새로운 브러쉬를 만들 수 있습니다.
ê²°ë¡ 
패턴 브러쉬 몇 가지 매우 í™"ë ¤í•œ í""ë ˆìž"은 최소한의 ë…¸ë ¥ìœ¼ë¡œ 최대 magicked í•  수 있도록 지금 theyveê°€ 도움보다 만들기 쉽습니다. youve를 속도가 느린 하루 ê°€ì§€ê³  있다면, 왜 ë‹¹ì‹ ì˜ 마음에 드는 멍청한 여자 나 장식 글꼴주지 실험? ë‹¹ì‹ ì€ ë‹¹ì‹ ì´ ê°€ì§€ê³  올 수있는 건지 ì•Œ 수가 없다. 행운을 빕니다!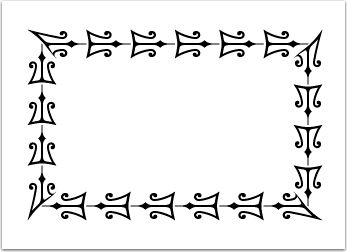 네, 어도비 나무 종류의 장식품의 문자 중 하나입니다.