If you've been wondering what improvements Illustrator CC brought to the pattern brushes... wonder no longer! Iain Anderson shows how easy and powerful these brushes now are.
Pincéis padrão fosse um pouquinho complicado nas versões anteriores do Illustrator. Embora certamente era possível construir um porta-retrato com cantos louco, você teria para construir todos os cantos com a mão. Agora, você pode obter Illustrator CC para fazer o trabalho duro para você. Vamos descobrir como.

Criar algumas obras de arte
Você pode começar com qualquer tipo de arte que você gosta: vetor, raster, mas certifique-se que as imagens raster foram incorporados. (Observe também que a arte vetor será ampliada quando ele se torna parte de um padrão.) Geralmente, a sua mais fácil de criar parte da borda de uma linha de estampados. Aqui, eu vou abrir com uma linha da esquerda para a direita aleatória com uma textura áspera e alguns efeitos aplicados para torná-lo espetado.

Um rabisco, um encrespar, um inchaço.
Pré-visualização com o Criador de padrões
Enquanto o fabricante do teste padrão é excelente para visualização de um padrão, é também muito bom em visualizar como uma escova de padrão vai olhar. Com sua arte selecionadas, escolha Editar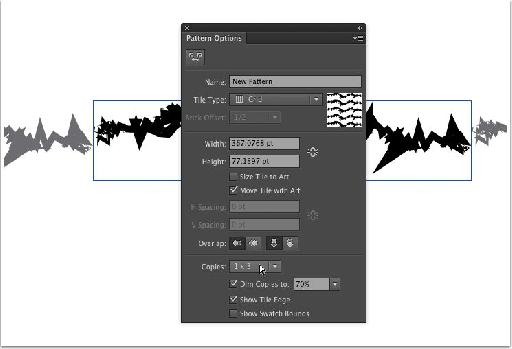 Agora que a linha é visível, estender a cópia em preto no meio para atender as cinzentas nas bordas.
Criar o pincel
De volta ao seu documento, cole a linha que você copiou do Padrão Maker. No painel Brushes, pressione o botão Novo para criar um novo pincel e escolha Pattern Brush. Sua obra torna-se o Tile Side na nova escova, e você só precisa finesse os cantos para torná-los olhar seu melhor.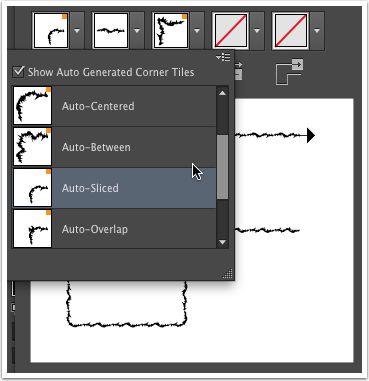 Quatro opções de canto picos diferentes no novo pincel padrão.
Encontre o melhor canto
Na caixa de diálogo, você vai ver uma prévia do que Ilustradores escolhido para inserir nos cantos. No entanto, você pode escolher o que quiser para os cantos externos e os cantos internos, ou um padrão pré-definido, ou das novas opções de automóveis:
Auto-Centrado

Auto-Between

Auto-fatiado

Auto-Sobreposição

Dependendo da sua linha, alguns ou nenhum desses pode olhar bom, mas theyre muito melhor do que as opções inexistentes que tínhamos antes.
Testá-lo
Desenhe um retângulo e aplique o seu novo pincel padrão para ele. Se a forma original é muito grande, você terá que fazer a largura do traço muito pequeno, talvez até mesmo 0,1 ou 0,2 pt para mantê-lo viável.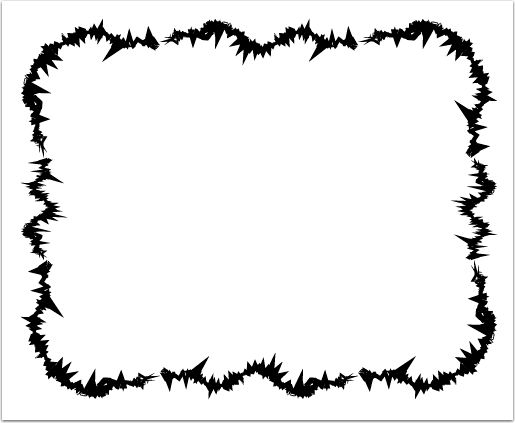 Aqui está o meu caminho em 0,2 pt.
Rever, se necessário
Clicando duas vezes o pincel no painel Brushes permite que você altere as configurações originais brushs padrão, então você pode experimentar com a escala (evitando os 0,2 linhas PT), lançando, espaçamento, colorização e afins. Caso ainda não seja algo muito bem, talvez seja necessário rever a forma original com que começou, e criar um novo pincel a partir do zero.
Conclusão
Pincéis padrão são agora mais fáceis de fazer do que theyve sido, permitindo que alguns quadros bastante ornamentadas para ser enfeitiçado com um mínimo de esforço. Se você começou um dia lento, por que não experimentar com seu dingbat favorito ou ornamentos fonte? Você nunca sabe o que você pode simplesmente vir acima com. Boa sorte!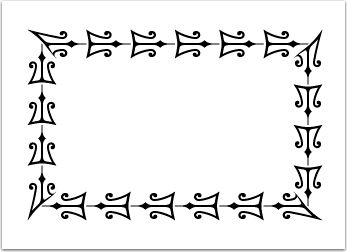 Sim, este é um dos glifos de Adobe Madeira Tipo de enfeites.