Just because you're a designer, doesn't mean you can't have fun too! Iain Anderson shows how he enjoys using symbols in Adobe Illustrator CS6.
Illustrator has long included support for symbols, allowing you to re-use your artwork in new and unusual ways. As well as efficiency gains, symbols allow the creation of fields of similar artwork '" such as a flock of birds or a field of grass '" which would be tedious to draw, place and color by hand. Let's dig in to find out how. If you get stuck, I've created a video course (Illustrator CS6 104: Symbols and Patterns) which covers all this in much greater detail.

Creating your own symbols
It's simple to get started. Create some artwork of your own, using blacks and greys to enable easy color changing later. Select the artwork, then find the Symbols panel, selecting it from the Window menu if you can't find it.
In the bottom right corner of the Symbols panel, press the New button '" the standard Adobe 'document with the upturned corner' icon. Give your new symbol a name, then press OK.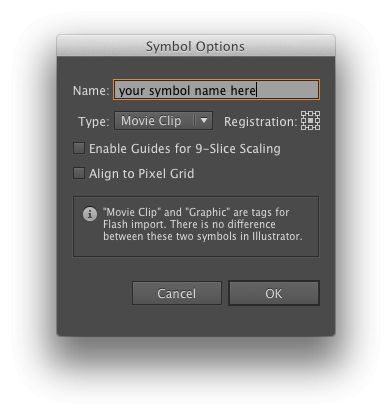 Create a new symbol if you wish.
Using the built-in Symbol Libraries
If you're not comfortable with making your own, you can use one of the many, many built-in symbols. From the Symbols panel submenu, choose Open Symbols Library > Nature.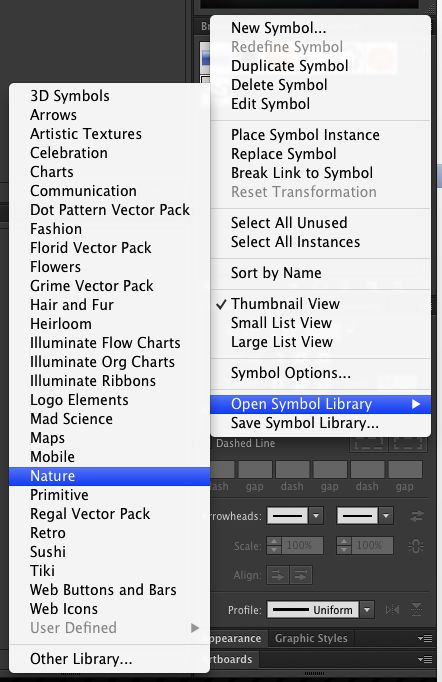 Easier than finding Pantone Swatches.
There are many others worth exploring, but this one is full of cute bugs and leaves. Find and double-click on the Butterfly, to add it to this document's symbol library.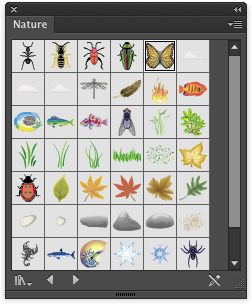 The butterfly selected in its native habitat, the Nature symbol library.
Spraying
While it's possible to drag a symbol directly onto your canvas, we'll do something more advanced. Find and select the Symbol Sprayer tool in the Tool panel, or press Shift-S.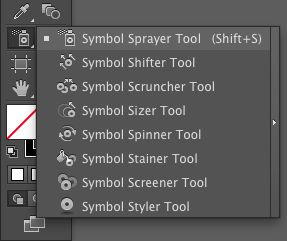 All the symbol tools are here '" and you can tear the tools off by choosing the thin tearoff area to the right.
Click and drag around the canvas to lay down many butterflies in a Symbol Set. If there aren't enough, add a few more. Now, the fun begins.
Shifting and Scrunching
Click and hold on the Symbol Sprayer tool to reveal the Symbol Shifter tool, then select it. Click and drag some of the symbols in your canvas around to position them pseudo-randomly. Now click and hold on the same tool to select the Symbol Scruncher tool. This tool pulls symbols closer together, or pushes them apart if you hold Option. The combination of these two tools should be enough to get the butterflies (or any other symbol) to behave; move in small circles to make sure you don't put too much focus on any one symbol instance.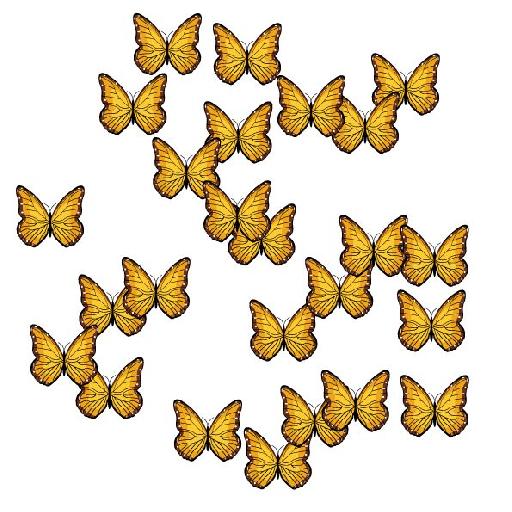 Butterflies after spraying, scrunching and shifting.
Spinning and Sizing
The next tool, the Symbol Sizer tool, lets you change the sizes of the butterflies, making them larger the longer you linger. Hold Option while you click to make them smaller. For a more random look, click and hold on the current symbol tool again, to get to the Symbol Spinner tool. Click and drag from side to side to spin the symbols around. Rotating these symbols goes a long way to making them look natural, and combining with random sizing really helps too.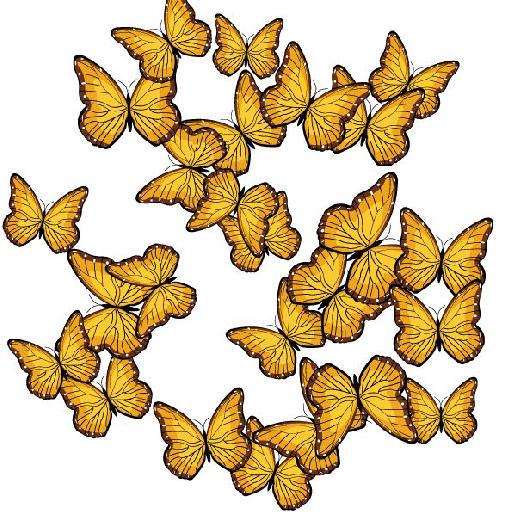 Butterflies after spinning and sizing.
Staining and Screening
Final touches with the next two tools: the Symbol Stainer tool, which gently tints the symbol instances (or unstains with Option) and the Symbol Screener tool, which fades them out (or fades them in with Option). You already had butterflies of different sizes flying in different directions, now you have different types of butterflies too.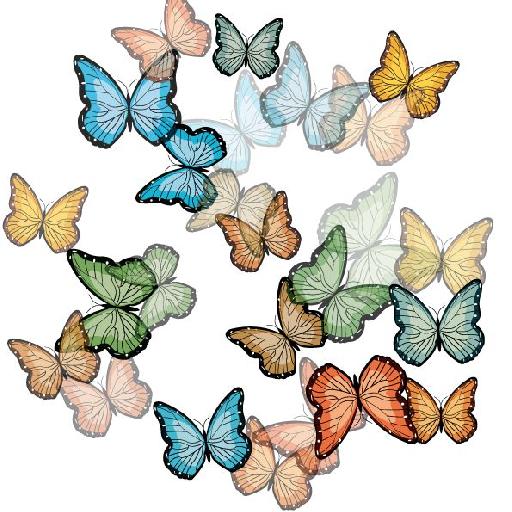 Butterflies after staining and screening.
Converting to 'real' artwork
In most cases, that's all you need to do '" use the symbol set just like real art. If you need to manipulate the points on particular symbols, though, use Object > Expand '" twice if needed.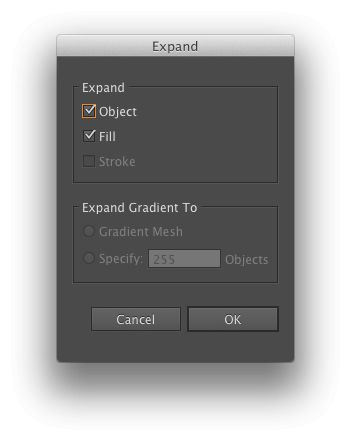 The exciting world of Object > Expand.
Conclusion
Symbols take a boring job '" filling a background with random art '" and make it fun. Next time you need a field of grass, a sky of bubbles, or a wall with scratches and pitts, rejoice! Time for symbols!
For much more about Symbols, be sure to check out my video training course:
Illustrator CS6 104: Symbols and Patterns, here on macProVideo.com