Have you explored the awesome stroke abilities in Illustrator CS6? Iain Anderson steers a path of discovery through these features and shares some priceless tips along the way.
The ability to vary the width of a stroke along its length has been around since the days of CS5, but you might not have seen or used it. With the new power to put a gradient on a stroke in CS6, this feature needs another look '" strokes are now one of the most powerful ways to build your own vector artwork.

Note: Our brand new Illustrator CS6 101 course discusses this content in video form, along with everything else about the basics of lines, strokes, fills, shapes and more. If you're not already an Illustrator expert, go watch it!
Step 1 - Get started
Create a new document, using a Print preset, and press D to set default colors.
Now, we'll use a simple tool, steering clear of fancy brushes for now. Press N to select the Pencil tool, and draw a shortish, curvyish line. If it's not already selected, select the line. Using the Control panel at the top of the workspace, set the stroke to 20pt.
If you're not especially familiar with strokes, it's probably worth taking a look at the Strokes panel as well. Here, you can change the end caps (butt, rounded or projecting) and corner caps (miter, round or bevel) as well as changing the alignment of the stroke (centered, the default, or inside or outside for a closed path). We'll see other options as we move through this tutorial.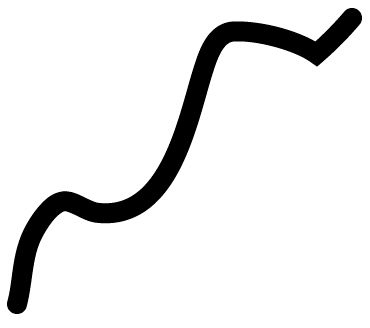 A plain squiggle
Step 2 - Pick a preset
Just to the right of the Stroke weight drop-down menu, you'll find another menu with 'Uniform' currently chosen. That's the Variable Width Profile menu, and it's a great way to sample some of the options. Try the first after Uniform, pointed at both ends: Width Profile 1. Now, the shape tapers at the start and finish. Try the others as well, and increase the stroke weight even more if you want to see the effect more clearly.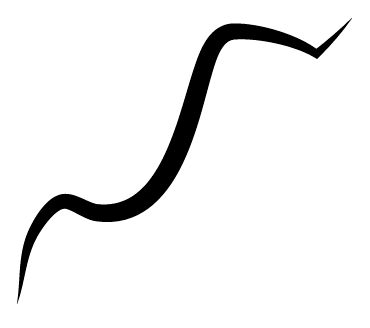 A squiggle with width profile 1
Using the variable width tool
Of course, life isn't all about default choices. Shift - W will choose the Width Tool, and from there you can make your own shape. As you move the mouse along your selected path, click and drag towards or away from the line to bulge or pinch it, both sides at once. The points you add this way don't have anything to do with the points that curved the path itself '" they're completely independent. They're also movable and changeable once you've placed them; simply hover over an existing width point and move it along the path, in, or out. If you don't want it, click on it, then press Delete.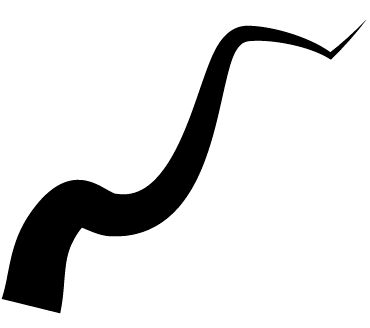 A squiggle with a more variable width profile
Become a little lopsided
As some of the presets indicate, you can have asymmetrical widths, thicker on one side of a line than the other. To create your own, hold the Option key, then drag on one of the handles to either side of a width point, in the same way you'd break a regular anchor point's handle for an asymmetrical path.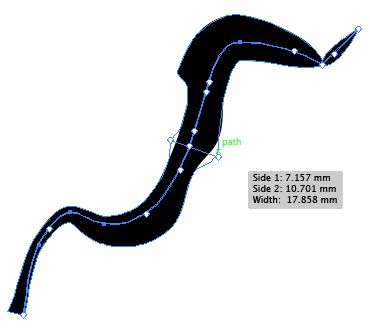 A squiggle with a crazy, asymmetrical width profile, during editing
If you don't like this method, you could also double-click on a width point to access a dialog where you can type values in.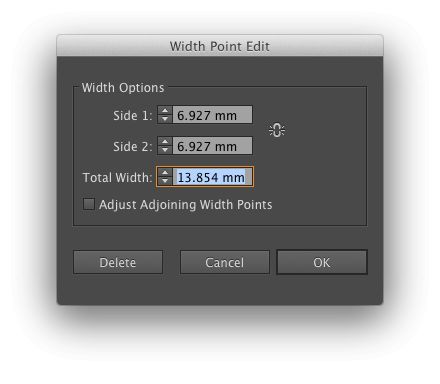 Type the points in by hand if you prefer
Save custom widths
Now that you've tweaked your path and created something unusual, you can save it as a Custom Width Profile. At the bottom of the Variable Width Profile drop-down menu, you'll see a small icon which looks like an arrow pointing at a hard drive. (Alright, it's an arrow pointing at a rectangle with a dot on it, but at least it's not still a floppy disk. If you can come up with a better icon for save, the world needs your help.) Anyway, these are system-wide presets, so if the menu gets too cluttered you can reset it with the button on the right.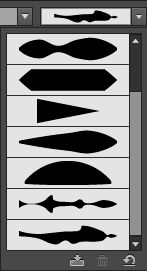 At least the Save icon makes more sense than a floppy disk, right?
Step 6 - Going further
Custom brushes are a great tool, and even more powerful when used with custom widths. Just beware: when you choose a new brush, the Width Profile will be reset and you'll need to choose yours again.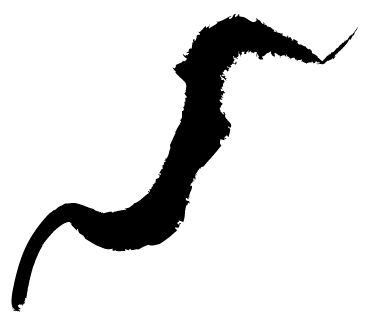 Apply an art brush as well as your custom width profile if you wish
Custom widths can also be used with gradients on a stroke, but gradients cannot be used at the same time as custom brushes '" they don't mix. Also, there's a whole extra tutorial coming this month on gradients and strokes, so I'll leave you with this simple image of what's possible with our simple little squiggle and a complex grey gradient.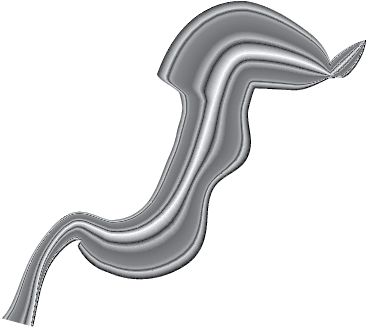 Or instead of an art brush, why not try a gradient on that stroke?