Whether you're designing patterns for clothes, the web, bags, or just for fun, this Adobe Illustrator tutorial by Martin Perhiniak takes you through the essentials of using the Pattern Editor.
Designing patterns is quite challenging but it is also great fun and it has a huge market. Patterns are used on stationeries, wrapping papers, clothes, bags, furniture, wallpapers, etc. Most patterns are designed using vector graphics, which makes them scalable and easy to colorize. Illustrator has a great feature called Pattern Editor, which was introduced in Illustrator CS6 and it can help a lot in creating seamless patterns almost effortlessly.
If you want too see some examples check out my Pinterest board of inspiring patterns and decorations: http://pinterest.com/yesimadesigner/patterns-and-decoration/
Follow me on Pinterest if you want to be updated with my new pins.
And this is the pattern we are going to design from scratch today: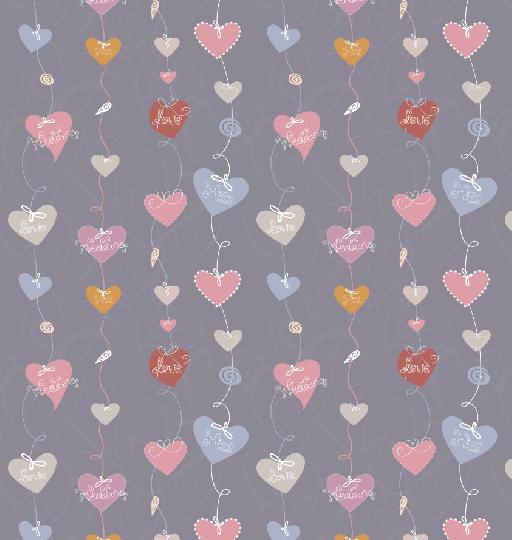 Step 1 - Choosing a theme and finding inspiration
First of all it is good to decide the theme of the pattern. I chose wedding as my theme and I did a quick research online on the elements I could incorporate into my design. I usually use Pinterest for finding inspiration for my work but even a good old Google search can do the trick. In this case I decided to go for a hand-drawn style and work mainly with hearts and strings.
Step 2 - Drawing on paper
This is the most creative part of the whole process where you have to draw the elements you are going to use for your pattern. You don't necessarily have to draw every time you work on patterns, you can also use simple geometric elements or stock illustrations, but your own hand-drawing can really make your pattern unique and interesting.
This is one of the drawings I did from which I'm going to use some for the pattern: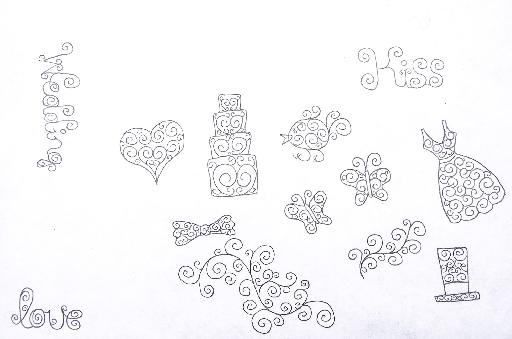 Once your drawing is ready, you have to scan it or take a photograph of it and than use Illustrator's Live Trace feature to vectorize it. For this workflow to be efficient you have to make sure that your drawing has well-defined lines and the paper has no lines on it, otherwise the automatic tracing can be quite messy.
Step 3 - Drawing in Illustrator
The other way to create elements for your pattern is to draw them in Illustrator. For this it is good to have a pen tablet, like a Wacom Bamboo or Intuos. These devices can help you to achieve the hand-drawn style while drawing directly in Illustrator. This way you can save a lot of time and hassle. No need for scanning or tracing at all.
Here is an example of some elements I drew in Illustrator for this pattern: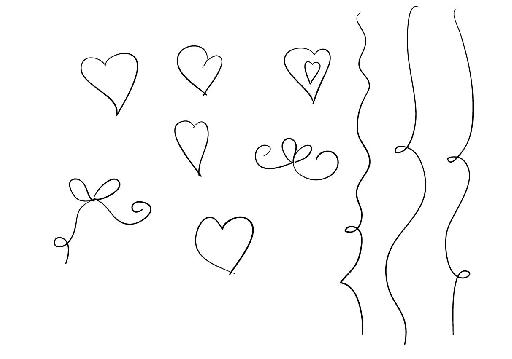 If you work with a pen tablet, you can set its pressure sensitivity to control the size of your brush. You can find these settings one you double click on the Blob Brush tool: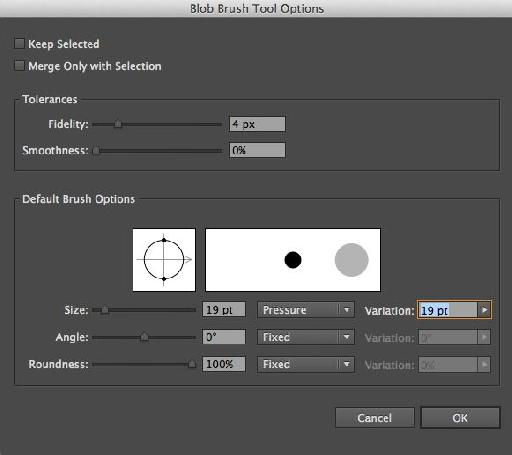 All you need to do is to choose Pressure for the Size parameter and set the Variation as high or close to the Size value. This setup will give you great control over your lines and will help you to achieve a more natural, organic drawing style.
Step 4 - Choosing a color palette
This is another crucial part of the pattern design as the whole look greatly depends on the selected colors. You can be the best in drawing fantastic vector elements but if you are not good at choosing colors for them your pattern will fail.
I prefer to set up a color theme in Adobe Kuler:
https://kuler.adobe.com/create/color-wheel/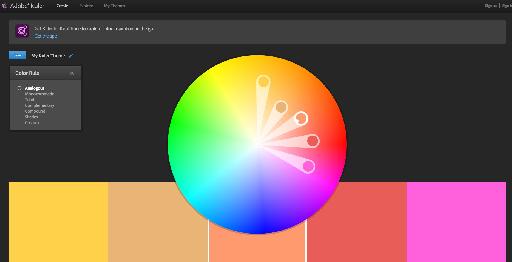 You can very quickly and easily find and create your own color harmonies on this site. You can copy the color values into Illustrator or if you have an Adobe ID then you can log in and download the selected colors as swatches. This is probably the most convenient and effective way to set your color palette up.
I chose the following subtle colors for my pattern: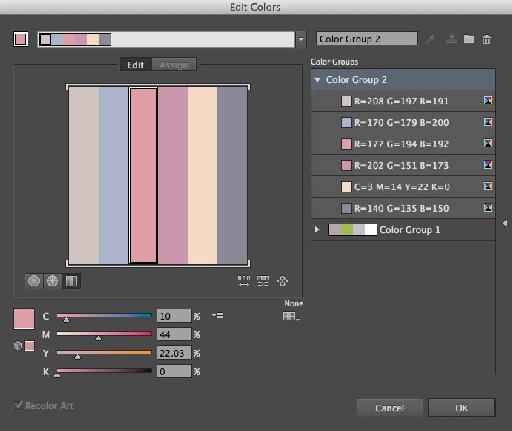 The best way to see them side by side like this in Illustrator is to put them in a group in the Swatches panel and then double click on the group's icon. Once the Edit Colors dialog box appears you can click on the three icons on the bottom left below the preview part to switch between different views. You can also open the Color Group on the right to see a list of the colors.
Step 5 - Putting everything together
Once you have your colors and elements ready, you just need to put them into one Illustrator document. I like to use two art boards. One for the created elements and one for the pattern itself. For the pattern, you can draw a square and make sure you set both the fill and stroke colors to none. When the empty square is ready, you have to drag and drop it onto the Swatches panel to turn it into a Pattern Swatch. To be able to access the Pattern Editor you just simply need to double click on the swatch.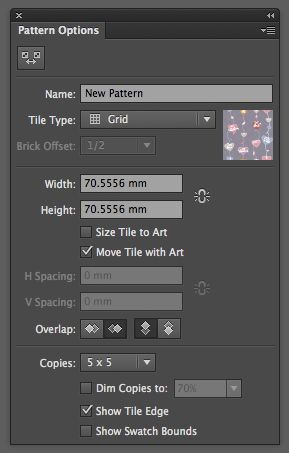 Once you are in the pattern editor mode you can place any elements onto the square, which serves as your repeatable area. Make sure you only use either left or right side and either top or bottom for any elements that you want to place on the edges of the square. These borders options can be specified in the Overlap options in the Pattern Options panel.
Another important option is the Tile Type, where you can decide how you want the elements to repeat in your final pattern. The default setting is the Grid, which works well most of the time but if you want to make your pattern look more random and less repeated then it is worth trying out the other options such as the Brick by Row or the Hex by Column.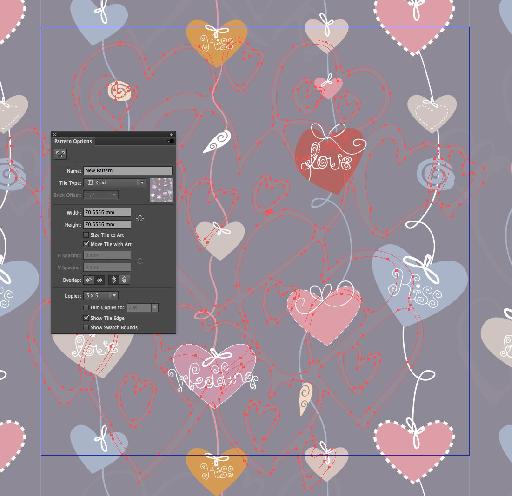 Well done for your hard work and hopefully this tutorial will help you to create your own cool repeatable pattern designs.