Been working out at the gym or outside? Don't let the sweat get you down... find out how to transfer it to text within Adobe Illustrator with David Smith.
In diesem Artikel Ich gehe auf beschreiben, wie ich Text, der wie seine gerade einen riesigen Workout aussieht. Ein wenig aus und blies ganz verschwitzt. Es ist eine gute Technik, um harte Arbeit oder Stress vielleicht illustrieren. Oder wie ein Logo für ein Gym oder eine Aktivität.
Schritt 1 - einen Text hinzufügen
Schreiben Sie das Wort SWEAT in einem großen chunky Schriftart (Chunky fonts bedeuten mehr Fläche Platz zum Arbeiten auf).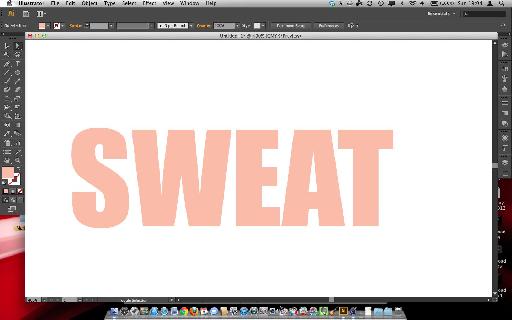 Ich habe die Auswirkungen Schriftart auf 86pt auf einem A4-Blatt verwendet. Ive gefärbt ist eine fleischige Art von Farbe, nutzen Sie Ihre Fantasie hier.
Schritt 2 - Erstellen Outlines
Drücken Sie Umschalt-Befehl-O in Konturen zu schaffen, so dass die Buchstaben auseinander brechen in Pfade anstatt nur Gruppierung der Buchstaben.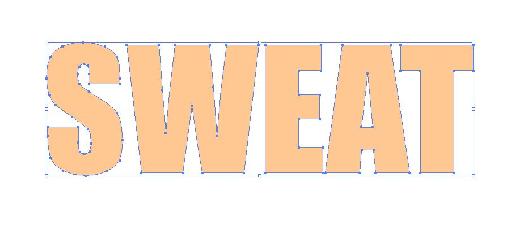 Jetzt können wir einige rote an den Wangen sozusagen hinzufügen und bekommen den Text slouch ein wenig, als erschöpft.
Schritt 3 - Warp Netz
Halten Sie alle Pfade für jeden Buchstaben ausgewählt und drücken Sie Befehlstaste-G um sie zu gruppieren. Dadurch wird es einfacher, um ua zu bewegen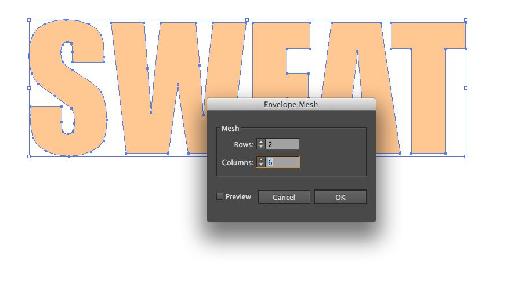 Wählen Sie Objekt
TIPP: Verwenden Sie mehr über einen längeren Arbeit, oder weniger für einen kürzeren Wort.
Schritt 4 - Warp die Mesh
Verwenden Sie die Auswahl-Tool zu starten Schieben und Ziehen mit der mesh (Quadrate bewegen mehrere Punkte, Ankerpunkte bewegen kleinere Abschnitte). So, dass es alle Blicke und mushed verloren hat keine Festigkeit, ein bisschen wie ich nach einem Lauf!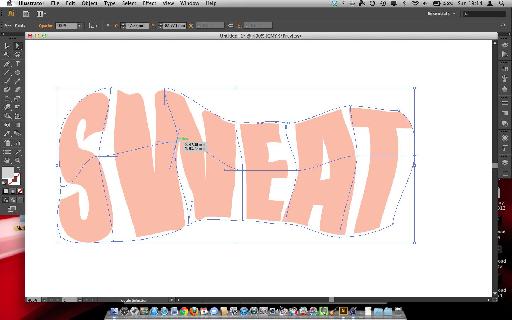 Sie könnten versuchen, das Hinzufügen einer Gradient auf die Formen, wenn Sie, wie, so dass es das Äquivalent von heißen roten Wangen hat wissen.
Schritt 5 - Erstellen eines Sweat Bead
Fügen Sie eine neue Ebene und auf sie ziehen eine ovale Form mit dem Ellipse-Werkzeug L. Dies ist ein Schweiß bead werden wird.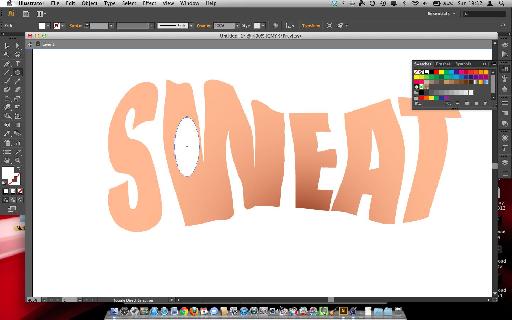 Weiß ist die beste Farbe, um diese Form mit jetzt füllen.
Schritt 6 - Mould die Perle in Form.
Das Oval ist zu regelmäßigen und nicht wie eine Raupe aus flüssigem liefen etwas zu suchen.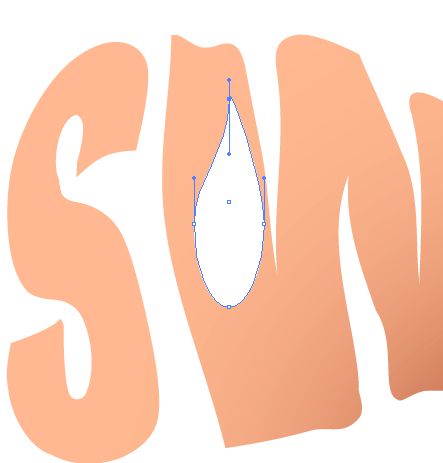 Nehmen Sie den Direkt-Auswahl-Werkzeug, und strecken Sie die Anchor Point an der Spitze der ovalen nach oben, so die ovale nimmt eine Tropfenform. Vielleicht möchten Sie die Griffe ändern und umgekehrt die Kurven sowie zu den Stretch-Effekt hinzufügen.
Schritt 7 - Füllen mit einem Farbverlauf
Nehmen Sie die ovalen und füllen Sie es mit einem Gradienten.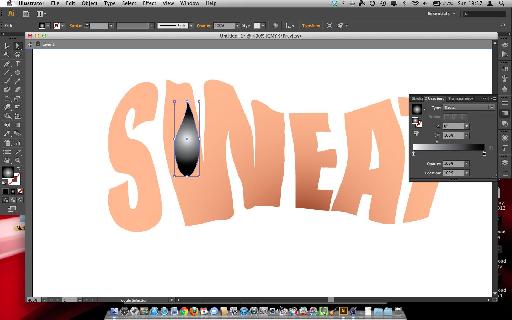 Stellen Sie die fill Typ radial, zunächst die Farben werden Weiß auf Schwarz, das ist jetzt in Ordnung.
Schritt 8 - Stellen Sie die Gestalt des Gradienten
Nehmen Sie den Gradient Tool G und es verwenden, um den Gradient längliche besser an die Form des Oval / Droplet Sie gezeichnet haben.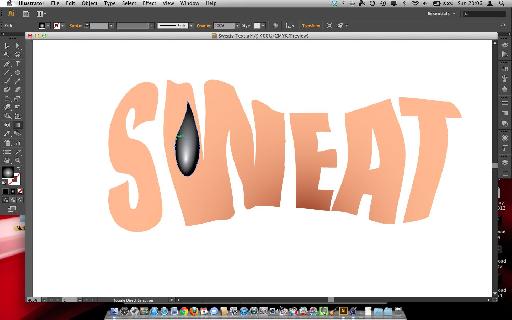 Sobald die Form besser aufeinander abgestimmt ist, verwenden Sie den kleinen Kreis, die den Ausgangspunkt der Gradient stellt und ziehen Sie ihn nach unten, runder Teil des Droplet. Dies ist eine Reflexion über den Wulst, die realistischer aussieht.
Schritt 9 - Passen Sie die Gradient Farben
The Black White Farbe ist nicht was wir wollen. Wir einstellen. Öffnen Sie die Systemsteuerung Gradient Command-F9 und den Schwarz Anschlag auf einen Weiß stop.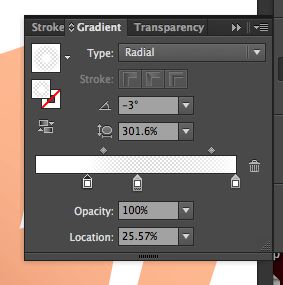 Schreibe einen Third Stop (auch weiß) auf der mid-point der Gradient. Stellen Sie die Anschläge auf die folgenden:
Stop 1. Opacity 100% Lage 25,57%

Mid Point. Location 48,96%

Stop 2. Opacity 30%




Dies sollte eine transparente Schweiß Perlen, mit kleinen Highlights.




Schritt 10 - Machen Sie eine Symbol

Youre gehen, um eine gute Anzahl von diesen benötigen, so fügen Sie zuerst die Perle der Symbol-Bibliothek.




Nun fügen viele Schweißperlen auf Ihre aufgeblasenen Text, um das Aussehen zu beenden. Versuchen Sie, ein paar alternative Glasperlen, um nicht zu repetitiv sein. Ändern Sie den Maßstab, wie Sie gehen ... bis Ihr Bild aussieht.