Been working out at the gym or outside? Don't let the sweat get you down... find out how to transfer it to text within Adobe Illustrator with David Smith.
In questo articolo Im andando a descrivere come mi creare un testo che appare come il suo appena avuto un allenamento enorme. Un po 'gonfia e tutto sudato. La sua una grande tecnica per illustrare il duro lavoro, lo stress o forse. O come un logo per una palestra o di un attività .
Fase 1 - aggiungere testo
Scrivi il sudore parola in un carattere grande grosso (font Chunky media superficie più spazio per lavorare).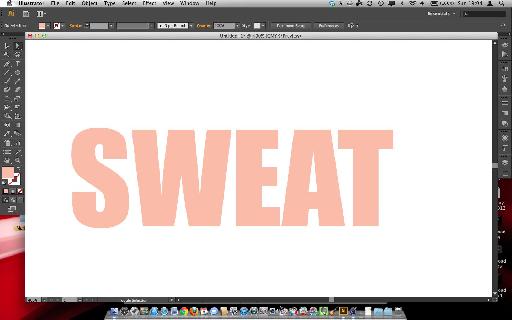 Ho usato il font Impact impostato 86pt su un foglio A4. Ive ha colorato una specie carnosa di colore, usare la vostra immaginazione qui.
Passo 2 - Creare Contorni
Premere Maiusc-Comando-O per creare contorni, in modo da rompere le lettere in disparte, in percorsi piuttosto che separare le lettere.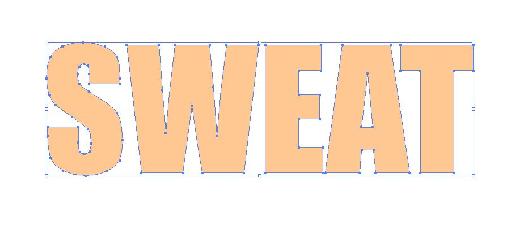 Ora possiamo aggiungere un po 'di rosso alle guance per così dire, e ottenere il testo di slouch un po', come il suo esausto.
Fase 3 - Mesh Ordito
Conservare tutti i percorsi per ogni lettera selezionata e premi Comando-G per raggrupparli. In questo modo sarà più facile muoversi, ecc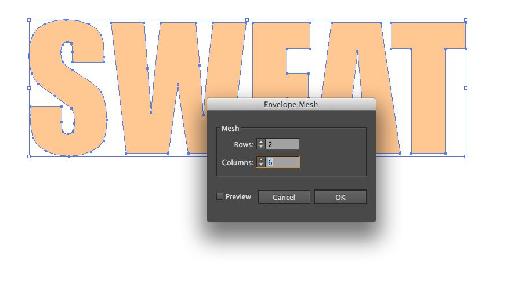 Scegliete Oggetto
SUGGERIMENTO: utilizzare di più per un lavoro più a lungo, o meno una parola più breve.
Fase 4 - Warp il Mesh
Utilizzare lo strumento di selezione per iniziare a spingere e trascinando la rete (piazze spostare più punti, i punti di ancoraggio spostare sezioni più piccole). In modo che sembri tutto mushed e ha perso ogni consistenza, un po 'come me, dopo una corsa!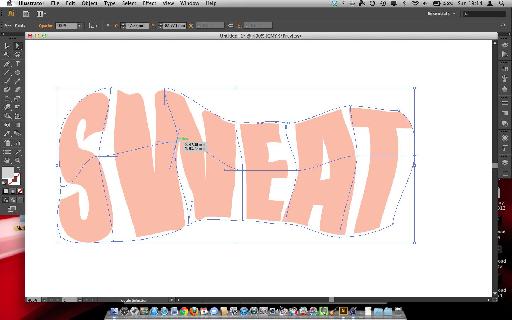 Si potrebbe provare ad aggiungere una sfumatura alle forme se si sa come, in modo che abbia l'equivalente di calde le guance rosse.
Fase 5 - Creazione di un Sweat Bead
Aggiungere un nuovo livello e su di essa disegnare una forma ovale con lo strumento Ellisse L. Questo diventerà un sudore tallone.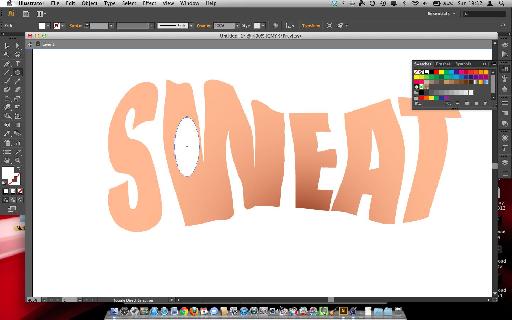 Il bianco è il colore migliore per riempire questa forma con per ora.
Fase 6 - Mould il tallone in forma.
L'Oval è troppo regolare e non apparire come una goccia di liquido che scende qualcosa.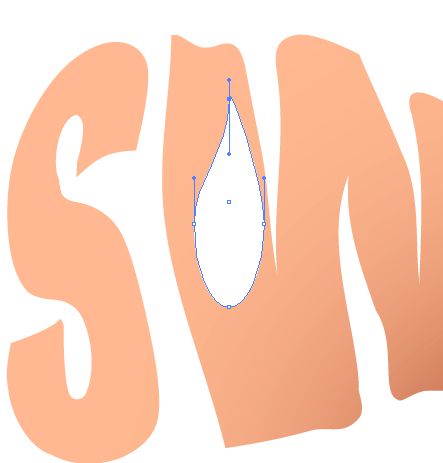 Prendete lo strumento selezione diretta, e allungare il punto di ancoraggio nella parte superiore verso l'alto ovali, quindi l'ovale assume una forma goccia. Come si potrebbe modificare le maniglie e invertire le curve e, per aggiungere l'effetto tratto.
Fase 7 - Riempire con una sfumatura
Prendere l'ovale e riempirlo con una sfumatura.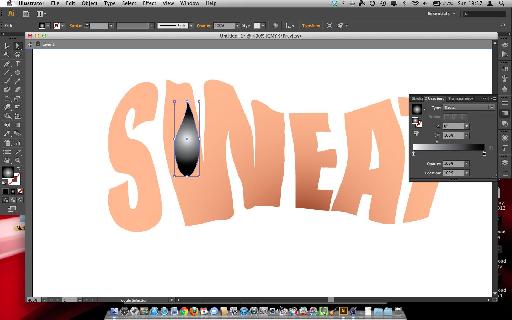 Impostare il tipo di riempimento radiale, inizialmente i colori saranno bianco al nero, questo va bene per ora.
Fase 8 - Regolare la forma gradiente
Prendete il G Strumento Gradiente e utilizzarlo per allungare il gradiente per adattarsi meglio alla forma del Ovale / Droplet hai disegnato.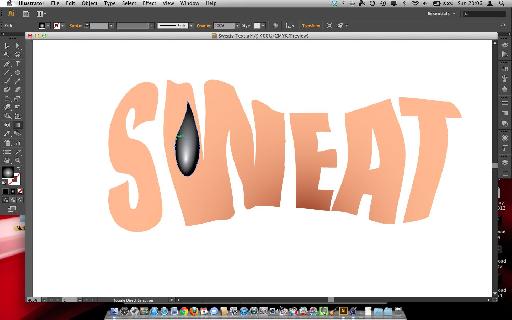 Una volta che la forma più adeguato, utilizzare il piccolo cerchio che rappresenta il punto di inizio della sfumatura e trascinarla verso il basso, rotondo parte della goccia. Questo è di creare una riflessione sul tallone che sembra più realistico.
Fase 9 - Regolare i colori del gradiente
Il nero al colore bianco non vuole che vogliamo. Noi lo regolare. Aprire il Pannello di sfumatura di comando F9 e impostare il punto di nero per un arresto bianco.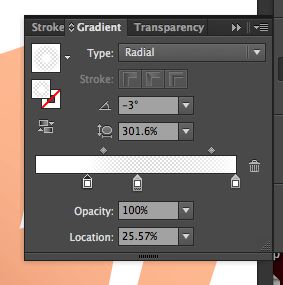 Aggiungere una terza fermata (anche bianco) nel punto medio della sfumatura. Impostare le fermate per i seguenti:
Stop 1. Opacità Posizione 100% 25,57%

Mid Point. Posizione 48,96%

Stop 2. Opacità 30%




Questo dovrebbe creare un sistema trasparente sudore tallone, con riflessi di piccole dimensioni.




Punto 10 - Fare un simbolo

Youre andando avere bisogno di un buon numero di questi, in modo da aggiungere prima il tallone alla Libreria Simboli.




Ora, aggiungere un sacco di perle di sudore al gonfi-out testo per completare il look. Prova a fare un paio di perle alternate a forma, in modo da non essere ripetitivo. Modificare la scala, come si va ... fino a quando l'immagine si presenta così.