I love Illustrator. In fact, I love Illustrator even more than I love Photoshop. Those with rotten tomatoes ready in hand after that statement, please form a queue to the left! Don't get me wrong, Pho
I love Illustrator. In fact, I love Illustrator even more than I love Photoshop. Those with rotten tomatoes ready in hand after that statement, please form a queue to the left! Don't get me wrong, Photoshop is absolutely awesome. But for me there's just something truly amazing about manipulating paths, moulding text, and applying effects to artwork -- all without a second thought about quality or file size -- that has me falling further into the world of Illustrator for more and more of my work.
In this tutorial, we'll take a look at Illustrator from a beginner's perspective. Before we go too far though, be sure to read up on another post I wrote called Illustrator vs Photoshop if you haven't already done so. It'll give you a primer in the key differences between these two graphics powerhouses.

As soon as you launch Illustrator, you'll be met with the Welcome Screen. The Welcome Screen is a great place to get started, as it'll enable you to open files that you recently had open, create new print, web, or video files, and also access a few extra resources. Let's go ahead and get started.
Step 1
In Illustrator's Welcome Screen, click Print Document under the Create New heading. This opens the New Document dialog box. Here, you can specify your document's dimensions, the number of Artboards (Illustrator's equivalent to multiple pages), and a handful of other options.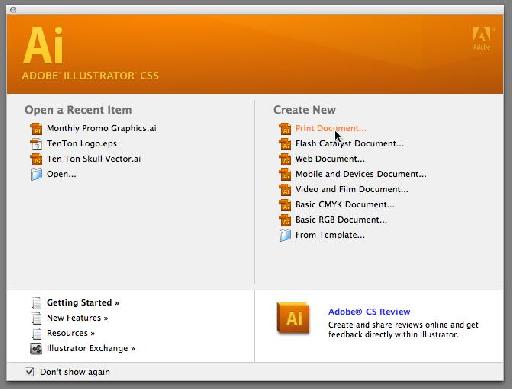 Step 2
In the New Document dialog box, go ahead and set up your file as you'd like. This is usually the first thing that you want to do in Illustrator before you get tearing into your project. When you're ready, go ahead and click OK.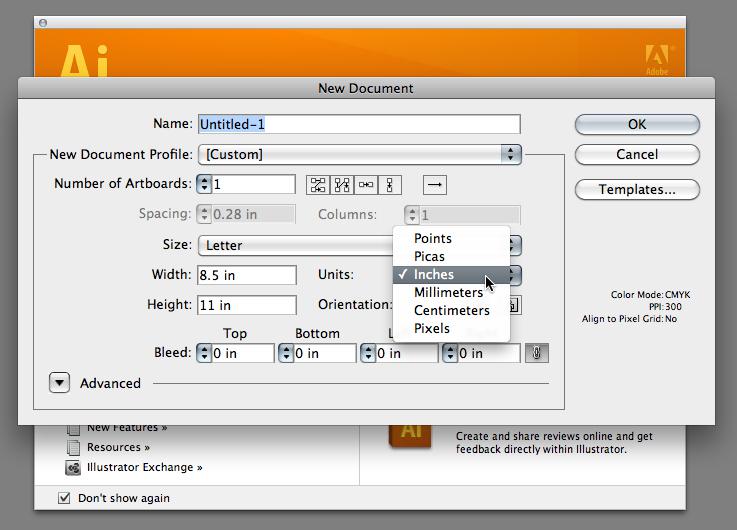 Now that we have a new, blank file ready to go in Illustrator, we can get familiar with some of the fundamentals. Let's get started by taking a look at a few basic shape tools and how to apply some color.
Step 3
In the Toolbox over on the right, click and hold down on the Rectangle tool. This will activate a Toolbox fly-out, where you'll find all sorts of shape tools, like the Ellipse, Polygon, and Star tool.
Go ahead and choose any shape tool you'd like. I think I'll go with the Star tool -- creating stars is pretty cool in Illustrator. Before we go any further, do me a favor and hit the "D" key on your keyboard (just "D" all by itself). This ensures that you'll be drawing with the default fill and stroke colors.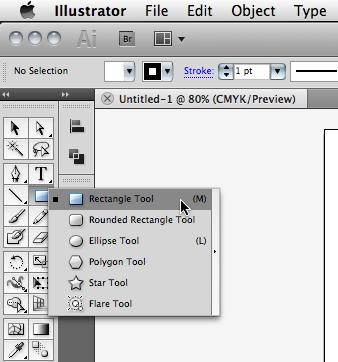 Step 4
Move your cursor over your document (called the artboard -- this is your drawing area), and when you're ready, click and drag to create a shape.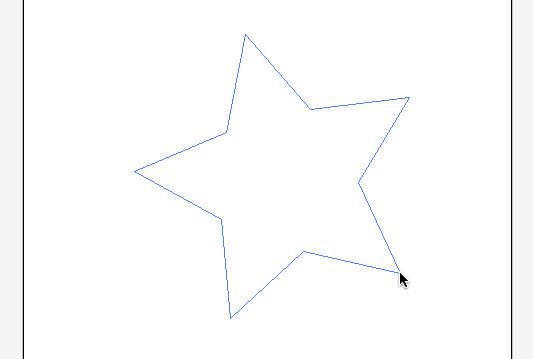 Creating shapes is easy. Now let's try a few out a few cool tricks.
Step 5
First, as you're dragging your shape, try holding down Shift. If you're drawing a rectangle or an ellipse, your shape will snap to a 'perfect' shape (either a perfect square or a perfect circle). If you're drawing a polygon or a star, your shape will snap to be drawn perfectly straight. Next, try holding down Opt (Mac) or Alt (PC). This has no effect if you're drawing polygons or stars, but if it's ellipses or rectangles you're drawing, you'll now be creating your shape from the centre rather than from a corner. Cool!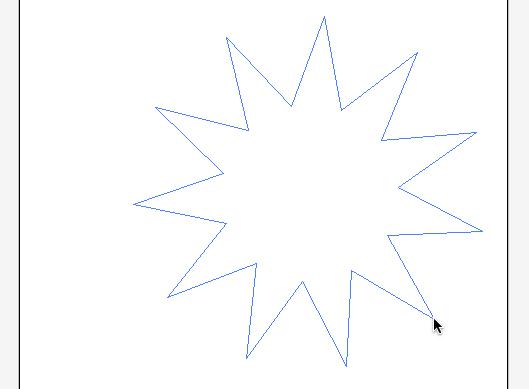 Okay, my favorite technique. This applies to polygons and stars. As you're dragging, try tapping your
up
and
down
arrow keys. Your arrow keys will add or subtract sides (in the case of polygons) or points (if you're creating a star). Awesome!
Alright, now that we've created a shape, let's fill it with some color.
Step 6
First, in the Toolbox, click on the Selection tool (that's the black arrow at the top). Then, click the Fill Color swatch at the bottom of the Toolbox to make sure he's on top.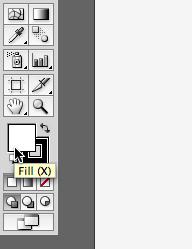 Finally, let's head to the Swatches panel on the right and choose a color. You may have to choose Window > Swatches if it's not visible onscreen. Choose whichever color you'd like -- your shape will be completely filled with it.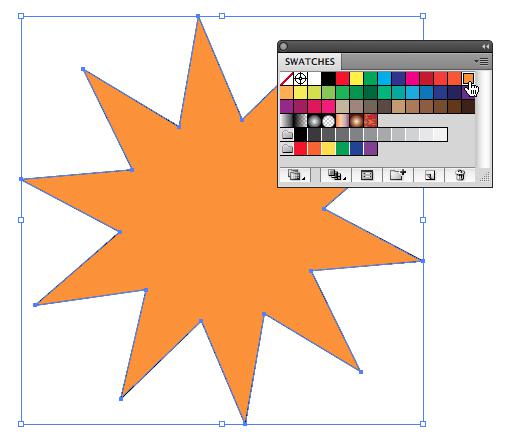 Want to change the outline color? No problem. Illustrator calls a shape's outline the stroke...
Step 7
Hit "X" key on your keyboard. This flips the Fill Color and Stroke Color swatches at the bottom of the toolbox, so now the Stroke Color swatch is on top and in focus. Now, head back to the Swatches panel and select another color. Your color is applied to the outline of your shape. In my example, I zoomed in nice and close so you could see the effect. But, you're probably having a tough time seeing your stroke color. Let's fix that.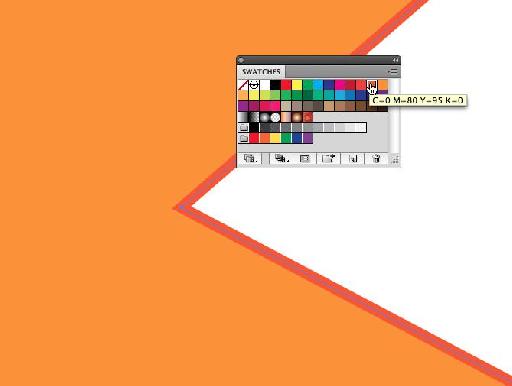 Step 8
Choose Window > Appearance to open Illustrator's Appearance panel. The Appearance panel is where a lot of the fun happens. Let's take a look. First, notice how it displays your fill and stroke. Try clicking on the stroke; now you can increase the stroke weight. Easy.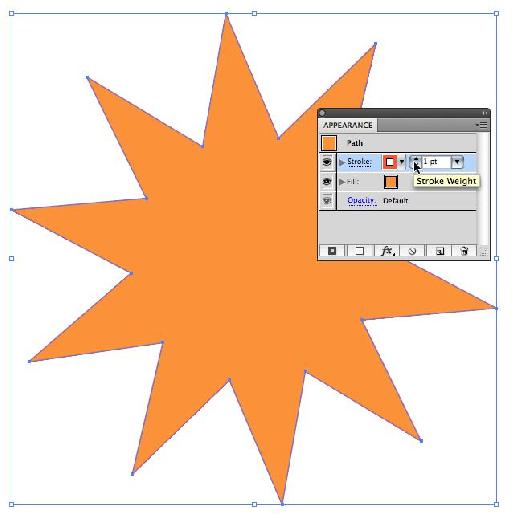 Step 9
In the Appearance panel, click just below "Opacity: Default." This deselects the stroke. You may need to extend the height of the panel to do this. Next, let's throw an effect onto our shape. Choose Effect > Distort & Transform > Pucker & Bloat.
In the Pucker & Bloat dialog box, turn on Preview and try dragging the slider to the left and right. Pretty sweet, huh? Fiddle around for a bit, then click OK when you're happy with the result. Notice that Pucker & Bloat gets added to the Appearance panel.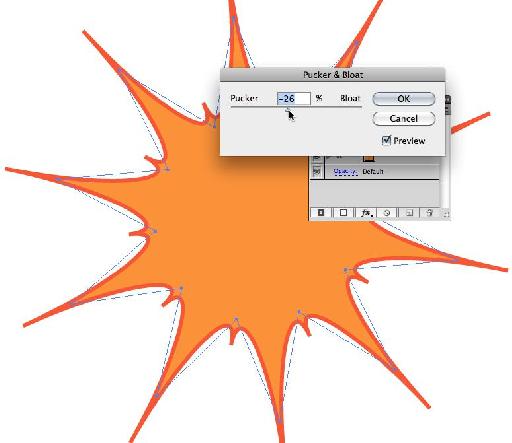 What's amazing is that this effect is
non-destructive
. In other words, we can come back to this file later on, and adjust our Pucker & Bloat, or remove it altogether, and we'd still have our original shape intact. Let's try something else. Traditionally, shapes in Illustrator could only have one stroke and one fill. This all changed a few versions back, and now what we can do is put multiple fills and multiple strokes onto a single vector object.
Step 10
In the Appearance panel, click on the stroke again, then click on "Duplicate Selected Item" at the bottom of the panel. Now your object has two strokes.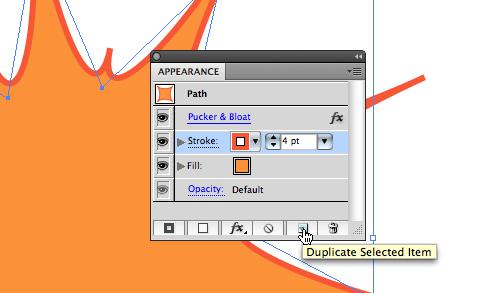 Using the color swatch and the weight settings, change your stroke.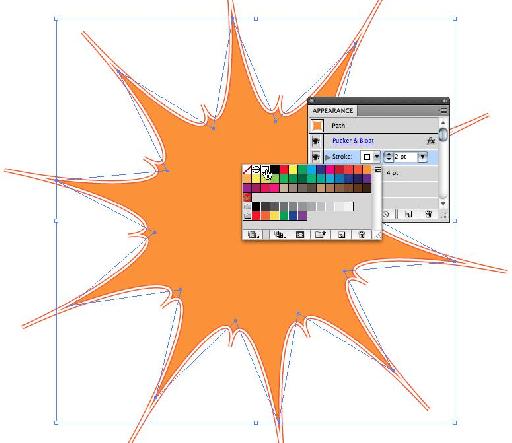 Step 11
Now lets apply an effect to our new stroke. Choose Effect > Path > Offset Path. In the dialog box that appears, turn on Preview and insert a negative value. Try a fairly low value, like -0.05. What's happening here is we're pulling our path inward, towards the center of the shape. Using a positive value pushes the stroke outwards.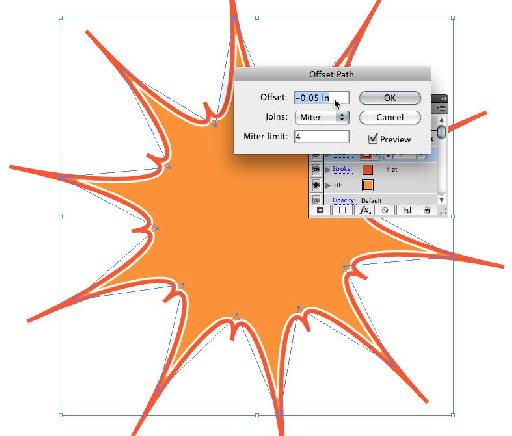 Fiddle around for a bit, then click OK when you're done.
This is such a brief introduction to Illustrator that it's almost unfair! I tried to balance a few basics with some cool effects as well, and hopefully the idea of being able to stack multiple strokes, apply multiple effects, and so on onto a single object makes sense. After you understand that, the only limit in Illustrator is your creativity!
Quite honestly, we've barely scratched the surface. Check out the Illustrator 101 and Illustrator 102 tutorials for a complete guide!