It's easy to gets your video clips and home movies into iMovie '11. You can capture directly from a Firewire video camera, an iSight camera, a tapeless video camera, or even import video files and old
Es ist einfach, wird Ihre Videoclips und Filme in iMovie '11. Sie können direkt von einem Firewire-Videokamera, eine iSight Kamera, eine bandlose Videokamera oder sogar importieren Video-Dateien und alte iMovie HD Projekte von Ihrem Mac.
Was auch immer Sie sich entscheiden, um Filme Clips in iMovie Sie gefragt, ob Sie diese zu einem vorhandenen Ereignis hinzufügen oder erstellen Sie einen neuen Termin wünschen werde importieren. Denken Sie an Veranstaltungen als Ordner zum Speichern und organisieren Sie Ihre Clips. Sobald Sie sich mit Events finden Sie sie sind eine sehr flexible Möglichkeit, einfache Verwaltung Ihrer digitalen Video-Clips werden.
For now, let's focus on getting your footage into iMovie!

Importieren aus einer FireWire Tape-basierten Kamera
Schließen Sie die Kamera und iMovie automatisch erkannt. Die Import-Fenster erscheint. Sie können die Transport-Steuerung zu zurückspulen, vorspulen, stoppen und spielen Sie die Inhalte der Kamera. Klicken Sie auf Automatisch, um das Band zurückspulen und erfassen die gesamte Band den Inhalt in iMovie. Die Auswahl Manuell können Sie wählen und aufzeichnen nur die Teile des Videos, das Sie wünschen.
Wenn Sie die Kamera angeschlossen ist, bevor iMovie geöffnet war, müssen Sie iMovie die Kamera zu bedienen erzählen. prüfen, ob die richtige Kamera in das Import-Fenster ausgewählt ist:

Wenn das Import-Fenster nicht automatisch geöffnet wird, auf dem Kamera-Import klicken, wie unten dargestellt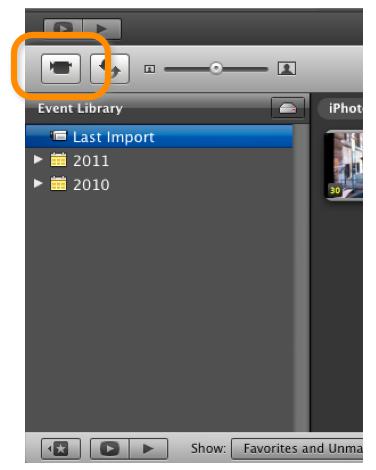 oder wählen Sie Datei
Importieren aus Ihrem Mac integrierten iSight
Die neueste Mac hat eine eingebaute iSight-Kamera. In der Tat, bis heute nicht nur die Mac Pro und Mac Mini nicht auch eine iSght Kamera (auch als "FaceTime Kamera" auf einem MacBook Air). Sie können diese auf einfache Aufzeichnen von Live-Videos in iMovie.
Click on the Camera Import Button and select the Built-in iSight camera.
Click on the Capture button to begin recording and click Done when finished.
The clips appear in the iMovie Event area.
Importieren Movie-Dateien vom Computer
If you have already transferred movie files from a USB Camcorder to your Mac or you're working on movie files you didn't shoot, you can import Quicktime movie files into iMovie directly:
File > Import movies...
You can decide where to save the movie project to, whether to add it to an existing Event (similar to iPhoto's Events) or create a new Event.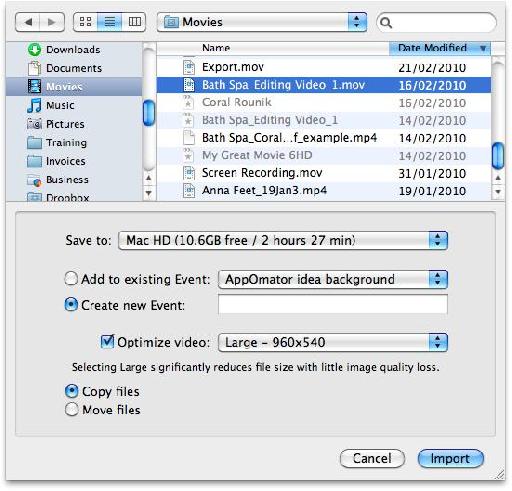 Also, you can choose whether the movie files are imported at their original size or are optimized for smoother playback and better performance by importing them at a lower resolution of 960x540. You can choose to copy the movie or move the movie files to the iMovie project location.
Importieren von iMovie HD Archives in iMovie'11
For those of you jumping over to the world of iMovie'11 from an iMovie HD version (e.g. iMovie '06 HD), you can import your old projects! Simply choose: File > Import > iMovie HD Project...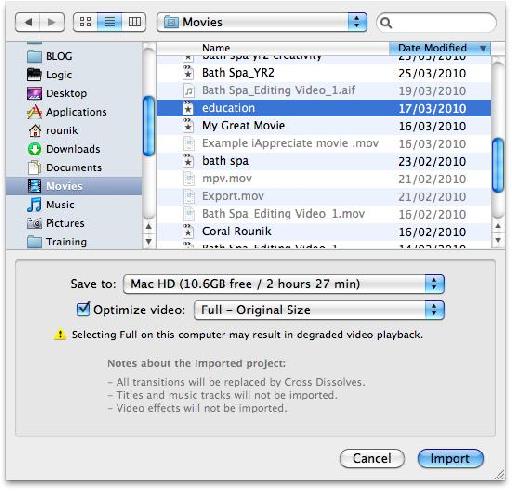 Be aware that while this will allow you to continue working on your iMovie HD projects there are some elements of your legacy project that will not import:
Custom transitions will be replaced by Cross Dissolves
No Titles or Music will be imported
No Video effects will be imported
Glücklicherweise macht iMovie'11 Arbeiten mit Effekten, Übergängen und Titeln zu einem Kinderspiel. Alle diese sind in Echtzeit angewendet, so gibt es keine Wartezeiten für eine Rendering-Fortschrittsbalken, bevor Sie fortfahren, um Ihren Film bearbeiten zu beenden! Dies sollte die Bearbeitung Ihrer iMovie HD Projekt in iMovie'11 eine viel schnellere Verfahren, als Sie es gewohnt sind. Denken Sie daran, eine Sicherungskopie Ihrer alten Legacy-Projekte unabhängig zu machen!
Und das ist alles dort ist zu ihm! Schauen Sie sich diese