It's easy to gets your video clips and home movies into iMovie '11. You can capture directly from a Firewire video camera, an iSight camera, a tapeless video camera, or even import video files and old
Es fácil se los clips de vídeo y películas en iMovie '11. Usted puede capturar directamente desde una cámara de vídeo Firewire, una cámara iSight, una cámara de vídeo sin cinta, o incluso importar archivos de vídeo y los viejos proyectos de iMovie HD de tu Mac.
Sea cual sea la forma en que va a importar clips de películas en iMovie se le pedirá si desea agregar estos a un evento ya existente o crear un nuevo evento. Piense en eventos como carpetas que se utilizan para almacenar y organizar los clips. Una vez que se familiarice con eventos usted encontrará que es una forma muy flexible para administrar fácilmente sus clips de vídeo digital.
For now, let's focus on getting your footage into iMovie!

Importar desde un puerto FireWire cinta basada en la cámara
Conecte la cámara y iMovie lo reconocerá automáticamente. La ventana de importación aparecerá. Puede utilizar los controles de transporte para rebobinar, avanzar rápido, detener y reproducir el contenido de la cámara. Haga clic en automático para rebobinar la cinta y capturar el contenido de la cinta entera en iMovie. Elegir Manual le permitirá seleccionar y grabar sólo las partes del vídeo que desee.
Si ha conectado la cámara antes de iMovie se abre, puede que tenga que decir que iMovie cámara para su uso. Compruebe que la cámara correcto está seleccionado en la ventana de importación:

Si la ventana de importación no se abre automáticamente, haga clic en el botón de importación de cámara, como se muestra a continuación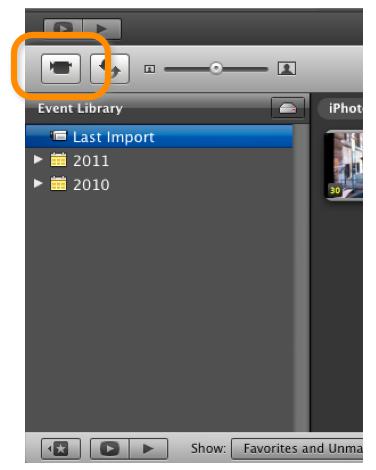 o seleccione Archivo
Importar desde tu Mac iSight integrada
Más reciente de Mac tienen una cámara incorporada iSight. De hecho, hasta la fecha, sólo el Mac Pro y Mac Mini no incluyen una cámara iSght (también llamada "cámara FaceTime" en un MacBook Air). Usted puede usar esto para grabar fácilmente video en vivo en iMovie.
Click on the Camera Import Button and select the Built-in iSight camera.
Click on the Capture button to begin recording and click Done when finished.
The clips appear in the iMovie Event area.
Importación de archivos de video de su computadora
If you have already transferred movie files from a USB Camcorder to your Mac or you're working on movie files you didn't shoot, you can import Quicktime movie files into iMovie directly:
File > Import movies...
You can decide where to save the movie project to, whether to add it to an existing Event (similar to iPhoto's Events) or create a new Event.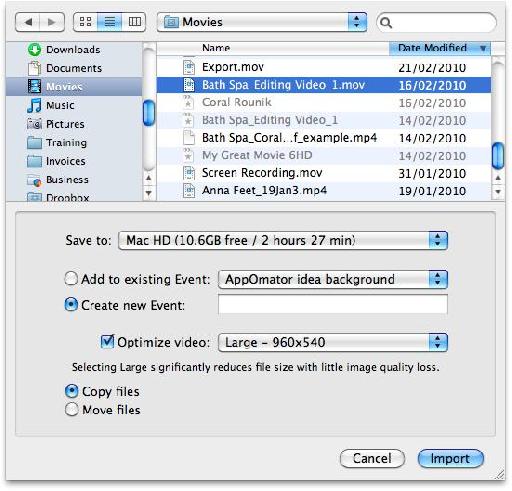 Also, you can choose whether the movie files are imported at their original size or are optimized for smoother playback and better performance by importing them at a lower resolution of 960x540. You can choose to copy the movie or move the movie files to the iMovie project location.
La importación de iMovie HD en Archivos iMovie'11
For those of you jumping over to the world of iMovie'11 from an iMovie HD version (e.g. iMovie '06 HD), you can import your old projects! Simply choose: File > Import > iMovie HD Project...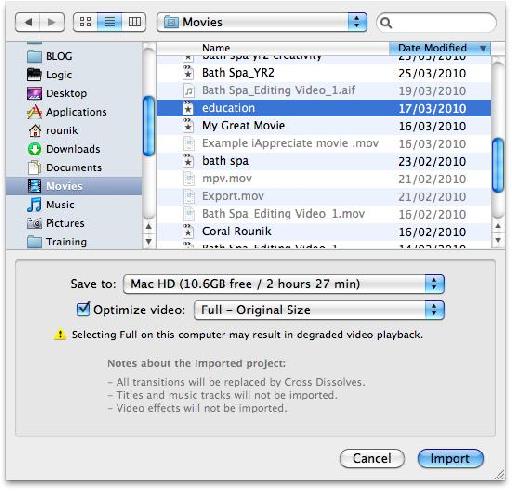 Be aware that while this will allow you to continue working on your iMovie HD projects there are some elements of your legacy project that will not import:
Custom transitions will be replaced by Cross Dissolves
No Titles or Music will be imported
No Video effects will be imported
Afortunadamente, iMovie'11 hace que trabajar con efectos, transiciones y títulos de una brisa. Todos estos se aplican en tiempo real, por lo que no hay que esperar para una barra de progreso que termine el renderizado antes de continuar para editar su película! Esto debería hacer que la edición de su proyecto de iMovie HD en iMovie'11 un proceso mucho más rápido de lo que estamos acostumbrados. Recuerde hacer una copia de seguridad de sus proyectos sin tener en cuenta el legado de edad!
Y eso es todo lo que hay! Echa un vistazo a estos