It's easy to gets your video clips and home movies into iMovie '11. You can capture directly from a Firewire video camera, an iSight camera, a tapeless video camera, or even import video files and old
آسان به می شود کلیپ های ویدئویی و فیلم های خانگی به های iMovie '11. شما می توانید به طور مستقیم ضبط از دوربین فیلمبرداری فایروایر ، دوربین iSight ، یک دوربین ویدئویی tapeless ، و یا حتی وارد کردن فایلهای ویدئویی و پروژه های iMovie HD قدیمی را از سیستم مک شما.
تا کنون کدام راه را انتخاب می کنید برای وارد کردن کلیپ فیلم به iMovie به شما خواسته می شود که آیا شما مایل به اضافه کردن این به یک رویداد های موجود و یا ایجاد رویداد تازه. فکر می کنم از رویدادها به عنوان پوشه های مورد استفاده برای ذخیره و سازماندهی کلیپ های خود را. هنگامی که شما با رویدادهای شما پیدا کردن آنها به شیوه ای بسیار انعطاف پذیر را به راحتی مدیریت دیجیتال کلیپ های ویدئویی خود را آشنا می شوند.
For now, let's focus on getting your footage into iMovie!

واردات از یک دوربین مبتنی بر نوار فایروایر
اتصال دوربین و iMovie به طور خودکار آن را تشخیص است. پنجره واردات ظاهر خواهد شد. شما می توانید کنترل حمل و نقل به عقب ، به سرعت رو به جلو ، توقف و بازی مطالب از دوربین استفاده کنید. با کلیک بر روی خودکار نوار را به عقب و ضبط محتویات کل نوار را به iMovie به . انتخاب کتابچه راهنمای به شما این امکان را می دهد به شما برای انتخاب و ثبت تنها بخش هایی از ویدئویی که می خواهید .
اگر شما متصل دوربین قبل از iMovie به باز بود ، شما ممکن است لازم باشد که به iMovie به کدام دوربین برای استفاده از. بررسی کنید که دوربین درست انتخاب شده در پنجره واردات :

اگر پنجره واردات به طور خودکار باز نمی شود ، با کلیک بر روی دکمه واردات دوربین همانطور که در زیر نشان داده شده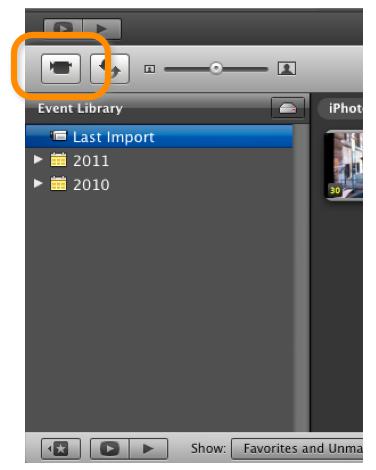 یا انتخاب کنید. فایل
واردات از شما ساخته شده است در مک iSight
جدید ترین مک ساخته شده در دوربین iSight. در واقع ، تا به امروز ، تنها طرفدار مک و مک مینی دوربین iSght (همچنین به نام "دوربین FaceTime" مک بوک ایر) را شامل نمی شود. شما می توانید از این به ضبط ویدئویی زنده را به iMovie به به راحتی استفاده کنید.
Click on the Camera Import Button and select the Built-in iSight camera.
Click on the Capture button to begin recording and click Done when finished.
The clips appear in the iMovie Event area.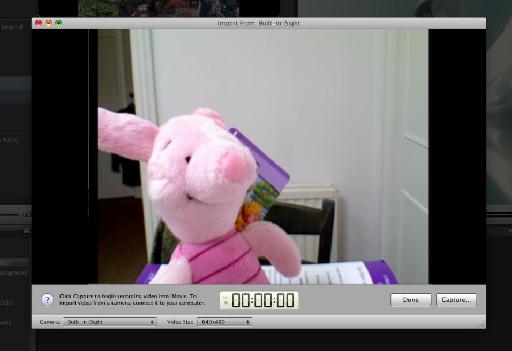 هیچ اسباب بازی یا حیوانات راحت در گیری از این آموزش صدمه شدند...
وارد کردن فایل های فیلم را از کامپیوتر شما
If you have already transferred movie files from a USB Camcorder to your Mac or you're working on movie files you didn't shoot, you can import Quicktime movie files into iMovie directly:
File > Import movies...
You can decide where to save the movie project to, whether to add it to an existing Event (similar to iPhoto's Events) or create a new Event.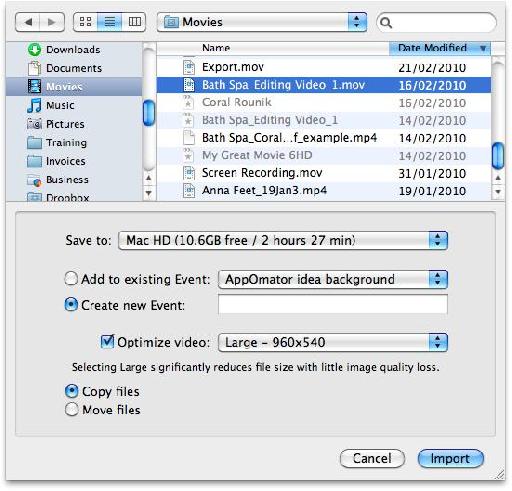 Also, you can choose whether the movie files are imported at their original size or are optimized for smoother playback and better performance by importing them at a lower resolution of 960x540. You can choose to copy the movie or move the movie files to the iMovie project location.
واردات آرشیو های iMovie HD به iMovie'11
For those of you jumping over to the world of iMovie'11 from an iMovie HD version (e.g. iMovie '06 HD), you can import your old projects! Simply choose: File > Import > iMovie HD Project...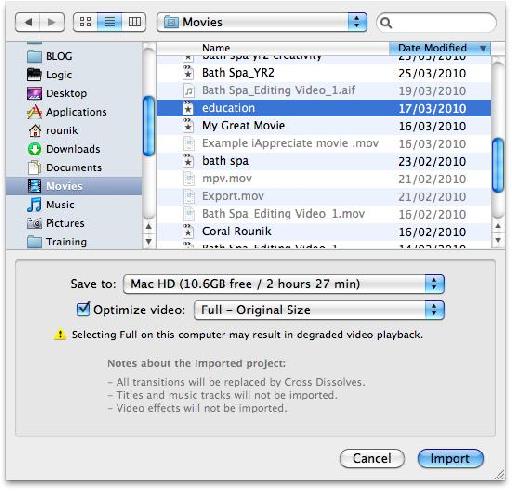 Be aware that while this will allow you to continue working on your iMovie HD projects there are some elements of your legacy project that will not import:
Custom transitions will be replaced by Cross Dissolves
No Titles or Music will be imported
No Video effects will be imported
خوشبختانه ، iMovie'11 باعث می شود کار با اثر ، انتقال و عنوان نسیم. همه این ها در زمان واقعی به کار روند ، بنابراین هیچ انتظار برای یک نوار پیشرفت رندر وجود دارد قبل از ادامه خود را برای ویرایش فیلم خود را به پایان برسد! این موضوع باید در حال ویرایش پروژه های iMovie HD خود را در iMovie'11 یک فرایند بسیار سریعتر از شما استفاده می شود به. به یاد داشته باشید یک نسخه ی پشتیبان از پروژه های میراث قدیمی خود را بدون در نظر گرفتن!
و این همه به آن وجود دارد! اتمام این