It's easy to gets your video clips and home movies into iMovie '11. You can capture directly from a Firewire video camera, an iSight camera, a tapeless video camera, or even import video files and old
Il est facile de se vos clips vidéo et films à la maison dans iMovie '11. Vous pouvez capturer directement à partir d'une caméra vidéo Firewire, une webcam iSight, un caméscope sans cassette ou de fichiers vidéo, même à l'importation et les vieux projets iMovie HD à partir de votre Mac.
Quelle que soit la façon dont vous choisissez d'importer des clips vidéos dans iMovie, vous serez demandé si vous souhaitez ajouter à un événement existant ou créez un nouvel événement. Penser à des événements comme des dossiers utilisés pour stocker et organiser vos clips. Une fois que vous vous familiariserez avec les événements que vous trouverez qu'ils sont un moyen très souple pour gérer facilement vos clips vidéo numériques.
For now, let's focus on getting your footage into iMovie!

Importation à partir d'un port FireWire sur bande caméra
Branchez la caméra et iMovie le reconnaîtra automatiquement. La fenêtre Importer apparaît. Vous pouvez utiliser les commandes de transport pour revenir en arrière, avance rapide, stop et jouer le contenu de la caméra. Cliquez sur Automatique pour rembobiner la bande et de capturer le contenu de la bande entière est dans iMovie. Choisir manuel vous permettra de sélectionner et d'enregistrer seulement les parties de la vidéo que vous souhaitez.
Si vous avez connecté l'appareil photo avant d'iMovie est ouvert, vous pouvez avoir besoin de raconter ce qui iMovie appareil photo à utiliser. vérifiez que l'appareil est sélectionné dans la fenêtre d'importation:

Si la fenêtre d'importation ne s'ouvre pas automatiquement, cliquez sur le bouton Importer appareil photo comme illustré ci-dessous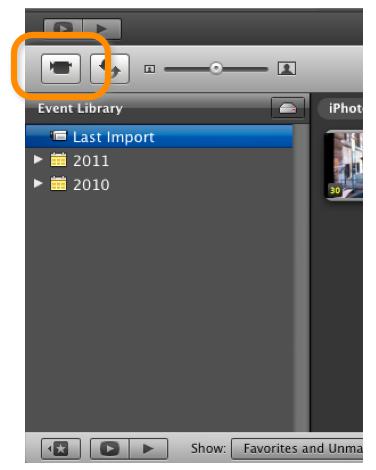 ou choisissez Fichier
Importation à partir de votre Mac iSight intégrée
La plus récente de Mac ont une caméra intégrée iSight. En fait, à ce jour, seuls les Mac Pro et Mac mini ne comprennent pas une caméra iSght (également appelé «caméra FaceTime" sur un MacBook Air). Vous pouvez l'utiliser pour enregistrer facilement des vidéos en direct dans iMovie.
Click on the Camera Import Button and select the Built-in iSight camera.
Click on the Capture button to begin recording and click Done when finished.
The clips appear in the iMovie Event area.
Importation de fichiers vidéo de votre ordinateur
If you have already transferred movie files from a USB Camcorder to your Mac or you're working on movie files you didn't shoot, you can import Quicktime movie files into iMovie directly:
File > Import movies...
You can decide where to save the movie project to, whether to add it to an existing Event (similar to iPhoto's Events) or create a new Event.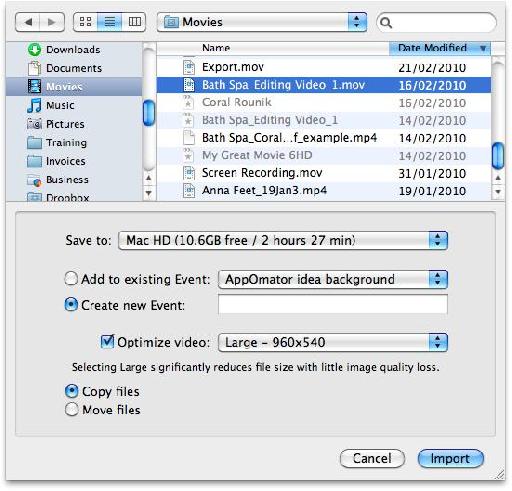 Also, you can choose whether the movie files are imported at their original size or are optimized for smoother playback and better performance by importing them at a lower resolution of 960x540. You can choose to copy the movie or move the movie files to the iMovie project location.
Importation iMovie HD dans les archives iMovie'11
For those of you jumping over to the world of iMovie'11 from an iMovie HD version (e.g. iMovie '06 HD), you can import your old projects! Simply choose: File > Import > iMovie HD Project...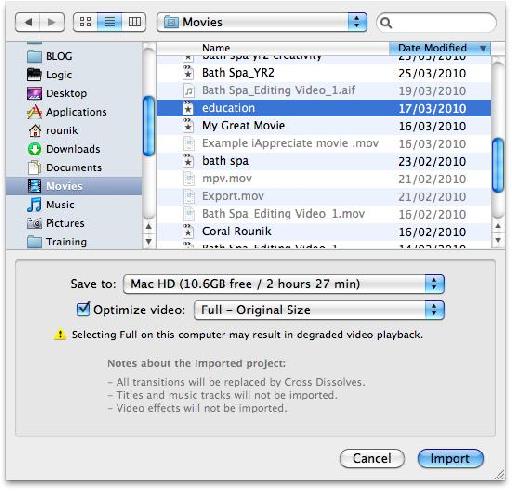 Be aware that while this will allow you to continue working on your iMovie HD projects there are some elements of your legacy project that will not import:
Custom transitions will be replaced by Cross Dissolves
No Titles or Music will be imported
No Video effects will be imported
Heureusement, iMovie'11 rend le travail avec des effets, des transitions et des titres une brise. Tous ces éléments sont appliqués en temps réel, il n'ya donc pas d'attente pour une barre de progression de rendu pour terminer avant de continuer à éditer votre film! Cela devrait rendre l'édition de votre projet iMovie HD dans iMovie'11 un processus beaucoup plus vite que vous êtes habitué. N'oubliez pas de faire une sauvegarde de vos projets patrimoniaux anciens indépendamment!
Et c'est tout ce qu'il ya à faire! Consultez ces