It's easy to gets your video clips and home movies into iMovie '11. You can capture directly from a Firewire video camera, an iSight camera, a tapeless video camera, or even import video files and old
E 'facile ottiene il vostro video clip e filmati in iMovie '11. È possibile acquisire direttamente da una videocamera Firewire, una webcam iSight, una videocamera tapeless, o file video anche importare progetti iMovie e vecchi HD dal Mac.
In qualunque modo si sceglie di importare clip filmati in iMovie ti verrà chiesto se si desidera aggiungere questi a un evento esistente o creare un nuovo evento. Pensate Eventi come cartelle utilizzate per memorizzare e organizzare i clip. Una volta acquisita familiarità con eventi troverete sono un modo molto flessibile per gestire facilmente i tuoi video digitali.
For now, let's focus on getting your footage into iMovie!

Importazione da una porta FireWire basato su nastro videocamera
Collegare la fotocamera e iMovie lo riconoscerà automaticamente. La finestra di importazione verrà visualizzato. È possibile utilizzare i controlli di trasporto per il riavvolgimento, avanzamento rapido, stop e riprodurre il contenuto della fotocamera. Fare clic su automatico per riavvolgere il nastro e catturare il contenuto del nastro intero in iMovie. La scelta manuale vi permetterà di selezionare e registrare solo le parti del video che si desidera.
Se si collega la fotocamera prima di iMovie è stato aperto, potrebbe essere necessario dire che iMovie fotocamera da usare. Verificare che la fotocamera sia selezionata nella finestra di importazione:

Se la finestra di importazione non si apre automaticamente, fare clic sul pulsante Importa fotocamera come illustrato di seguito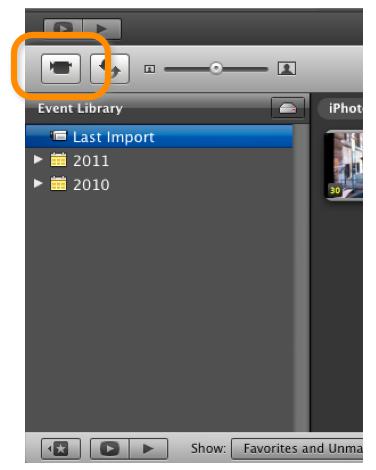 o scegliere File
Importazione da del Mac videocamera integrata iSight
Più recenti di Mac hanno una costruito nel fotocamera iSight. Infatti, ad oggi, solo i Mac Pro e Mac Mini non includono una fotocamera iSght (chiamato anche "camera FaceTime" su un MacBook Air). È possibile utilizzare questo per registrare facilmente video dal vivo in iMovie.
Click on the Camera Import Button and select the Built-in iSight camera.
Click on the Capture button to begin recording and click Done when finished.
The clips appear in the iMovie Event area.
Importazione di file filmato dal computer
If you have already transferred movie files from a USB Camcorder to your Mac or you're working on movie files you didn't shoot, you can import Quicktime movie files into iMovie directly:
File > Import movies...
You can decide where to save the movie project to, whether to add it to an existing Event (similar to iPhoto's Events) or create a new Event.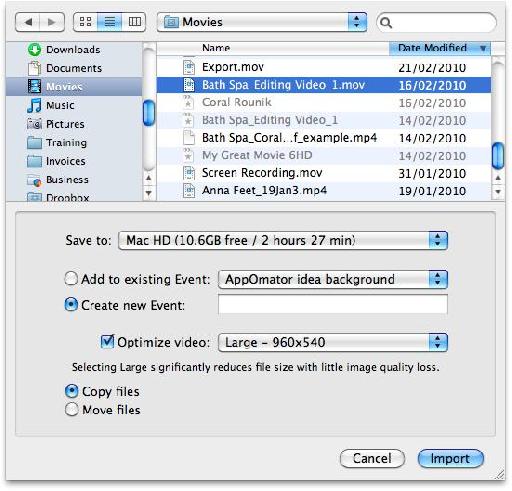 Also, you can choose whether the movie files are imported at their original size or are optimized for smoother playback and better performance by importing them at a lower resolution of 960x540. You can choose to copy the movie or move the movie files to the iMovie project location.
Importazione di iMovie HD in Archivio iMovie'11
For those of you jumping over to the world of iMovie'11 from an iMovie HD version (e.g. iMovie '06 HD), you can import your old projects! Simply choose: File > Import > iMovie HD Project...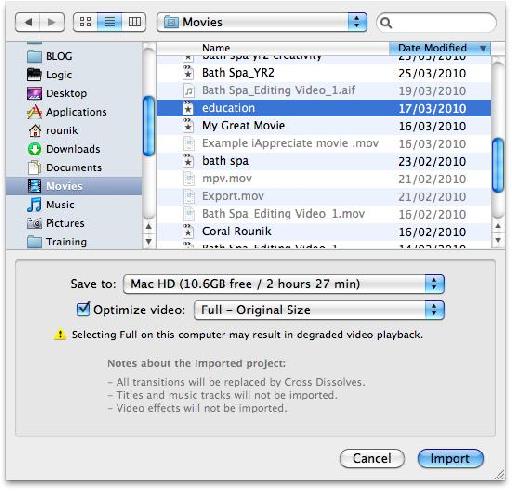 Be aware that while this will allow you to continue working on your iMovie HD projects there are some elements of your legacy project that will not import:
Custom transitions will be replaced by Cross Dissolves
No Titles or Music will be imported
No Video effects will be imported
Fortunatamente, iMovie'11 rende il lavoro con effetti, transizioni e titoli un gioco da ragazzi. Tutti questi sono applicati in tempo reale, quindi non c'è nessuna attesa per una barra di avanzamento che finisca prima di continuare a modificare il tuo film! Questo dovrebbe rendere l'editing iMovie HD progetto in iMovie'11 un processo molto più rapido di quanto siete abituati. Ricordarsi di fare un backup dei vostri progetti retaggio vecchio prescindere!
E questo è tutto ciò che devi fare! Dai un'occhiata a queste