It's easy to gets your video clips and home movies into iMovie '11. You can capture directly from a Firewire video camera, an iSight camera, a tapeless video camera, or even import video files and old
É fácil se seus videoclipes e filmes caseiros para o iMovie '11. Você pode capturar diretamente de uma câmera de vídeo Firewire, uma câmera iSight, uma câmera de vídeo sem fita, ou arquivos de vídeo até importar projetos do iMovie e velho HD de seu Mac.
Que sempre maneira que você optar por importar clips de filmes no iMovie, você será perguntado se deseja adicioná-los um evento existente ou criar um novo evento. Pense em eventos como pastas usadas para armazenar e organizar seus clipes. Uma vez que você se familiarizar com eventos você verá que eles são uma maneira muito flexível para gerenciar facilmente seus clipes de vídeo digital.
For now, let's focus on getting your footage into iMovie!

Importar de uma câmera baseados em fita FireWire
Ligue a câmara eo iMovie irá reconhecê-lo automaticamente. A janela de importação será exibida. Você pode usar os controles de transporte para voltar, avançar, parar e reproduzir o conteúdo da câmera. Clique em Automático para rebobinar a fita e capturar o conteúdo da fita inteira para o iMovie. Escolhendo manual permitirá que você selecionar e gravar somente as partes do vídeo que você deseja.
Se você conectou a câmera antes de iMovie foi aberta, você pode precisar dizer iMovie qual câmera usar. Verifique se a câmera correto está selecionado na janela de importação:

Se a janela de importação não abrir automaticamente, clique no botão Importar da câmara conforme mostrado abaixo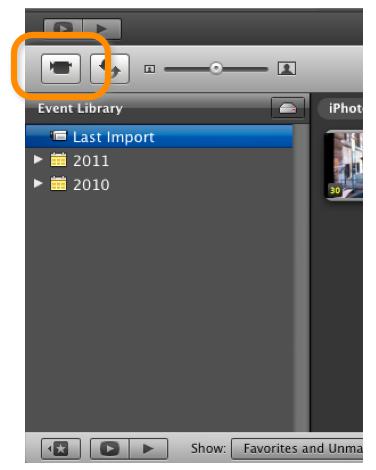 ou escolha Arquivo
Importação a partir do seu Mac iSight embutida
Mais recente do Mac tem um construído em câmera iSight. Na verdade, até à data, apenas o Mac Pro e Mac Mini não incluem uma câmera iSght (também chamado de "câmera FaceTime" em um MacBook Air). Você pode usar isso para facilmente gravar vídeo ao vivo para o iMovie.
Click on the Camera Import Button and select the Built-in iSight camera.
Click on the Capture button to begin recording and click Done when finished.
The clips appear in the iMovie Event area.
Importação de arquivos de filme a partir do seu computador
If you have already transferred movie files from a USB Camcorder to your Mac or you're working on movie files you didn't shoot, you can import Quicktime movie files into iMovie directly:
File > Import movies...
You can decide where to save the movie project to, whether to add it to an existing Event (similar to iPhoto's Events) or create a new Event.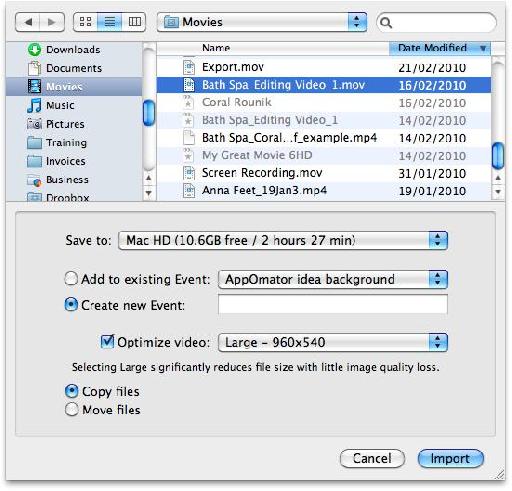 Also, you can choose whether the movie files are imported at their original size or are optimized for smoother playback and better performance by importing them at a lower resolution of 960x540. You can choose to copy the movie or move the movie files to the iMovie project location.
Importação iMovie HD Arquivos em iMovie'11
For those of you jumping over to the world of iMovie'11 from an iMovie HD version (e.g. iMovie '06 HD), you can import your old projects! Simply choose: File > Import > iMovie HD Project...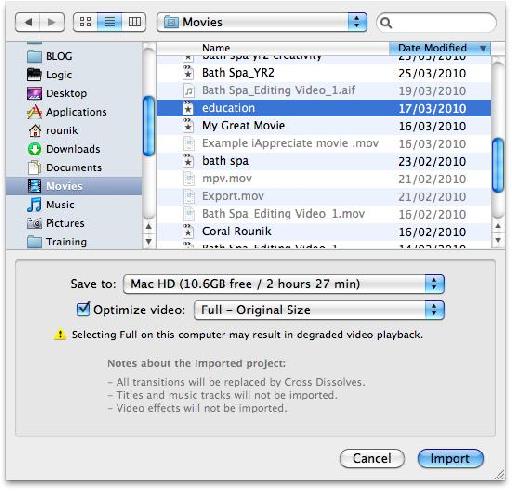 Be aware that while this will allow you to continue working on your iMovie HD projects there are some elements of your legacy project that will not import:
Custom transitions will be replaced by Cross Dissolves
No Titles or Music will be imported
No Video effects will be imported
Felizmente, iMovie'11 faz trabalhar com efeitos, transições e títulos uma brisa. Todos estes são aplicados em tempo real, por isso não há espera de uma barra de progresso de renderização para terminar antes de continuar a editar seu filme! Isso deve tornar a edição do iMovie HD projeto em iMovie'11 um processo muito mais rápido do que você está acostumado. Lembre-se de fazer um backup de seus projetos legados independentemente!
E isso é tudo que há para fazer! Confira essas