So, you want to edit video on your iPad? Perhaps looking for an alternative to iMovie? TouchEdit Pro for iOS promises a bunch of pro features for your touch screen iDevice. Ben Balser checks it out.
There are many iPad-based video editing applications found in the iOS App Store today. The newest one, TouchEdit Pro by Dan Lebental. Who is an accomplished editor himself having worked on films such as Iron Man 2, Cowboys & Aliens, Dead Presidents, and many more. This app touts itself as being made by editors for editors.

Initial Launch
When I first opened up TouchEdit, it was loaded up with a tutorial ready to play. There is no user manual and 8 video tutorials at toucheditpro.com/tutorials.html. I recommend going through these with TouchEdit Pro in front of you to get started. Even having watched all of these, I was left with many questions once I started working. Let's hope an actual user manual is in the works.
At first glance, you'll see two monitors at the top, some text-based buttons above them, two video tracks below that, and more pronounced icon-based buttons below that. The screen looks like a celluloid film editing machine like the Moviola.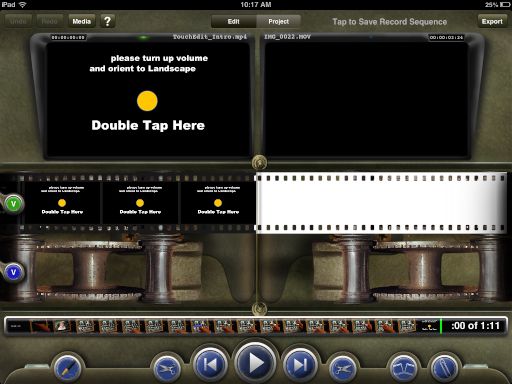 My first immediate impression threw me for a loop. The film strips and timeline strip run backwards to every NLE that I've worked with for the past 15 years. Personally, I find it very disorienting. Edits are likewise done on the opposite side of the playhead than modern NLEs. I'm still not used to it after having worked with the app for several hours. I don't find it intuitive, like reading backwards.
My second immediate impression from watching the instructional videos was being able to edit clips from the 'Source' track to the 'Record' track. Again, disorienting as I'm not actually recording anything. I'm editing media that has already been recorded. With time, I started to get somewhat used to it, but it still throws me and I can't get very accurate edits, even after a few hours of use.
Import & Export
Importing video files is pretty easy and can be done via the iPad's photo library, iTunes sharing, or Dropbox, into a Collection for a Project. I find this, and exporting to be the major highlights of this app. FCPXML exports are done via iTunes sharing or to Dropbox. QuickTime movie exports are done via iTunes sharing, Dropbox, or the iPad's photo library. Super easy, the way everything should work. The support of FCPXML is very welcomed.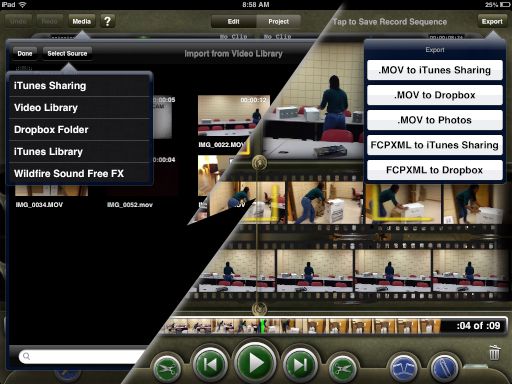 Creating Edits
Editing can be done in one of two modes, scissors or grease pencil, both perform the same function. In Portrait mode, I can jump between my media browser and my timeline editing screens easily. I found the grease pencil method to be the easiest way to edit without becoming too confused, but to trim you'll need to learn how the scissors work. I found most all of my audio editing was easiest in Portrait mode. There is also a very basic mixer.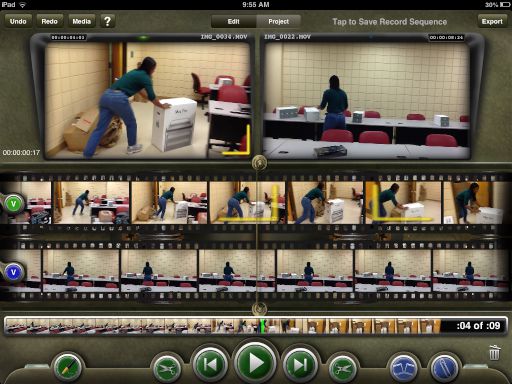 I jumped between the multitrack audio screen and the mixer screen quite a lot and am still trying to orient myself to it. Having eight audio tracks is interesting, though.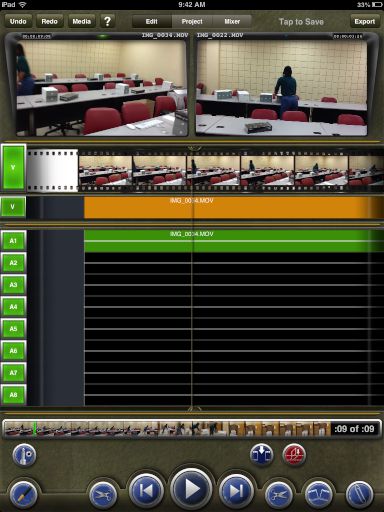 Conclusion
Eight audio tracks, one track of video, no transitions, no effects, no titles, yet great import/export, I expect to see many new features and refinements based on user feedback for the $49.99 price tag. At present, I think the price is a quite steep for the features, compared to the other options available. I found the editing interface awkward, but it can be a fun app to play with. It has great potential, it looks pretty, and I'm sure there will be a good following for this app.