We live in a day and age where the perception others have of us hinges not only on our public appearance, but also on our online appearance. After all, online communication is becoming more common...
We live in a day and age where the perception others have of us hinges not only on our public appearance, but also on our online appearance. After all, online communication, it seems, has become more popular than the telephone, right? Think about it: when you meet someone new these days, do you find yourself asking about their Facebook details before their phone number?

With this in mind, and especially if you're an artist, musician, etc., it's extremely important to have a few good pictures of yourself lying around. And, if online dating ever becomes a twinkle in your eye...well, a bad picture is not even an option.
Not all of us have access to a good photographer, and those '˜interesting' pictures of us pointing a camera at ourselves in the bathroom mirror do tend to make a terrible first impression. Have you seen the lighting in some of those bathrooms?!
Recently, I was faced with just such an issue. I needed some good shots of myself, but I really didn't have anyone available to help. When I tried using a regular camera, I noticed that many of my pictures seemed very forced, and didn't seem very natural. Then I had an idea...
In this tutorial, I'd like to show you the fruits of my labor, along with the advantages, and some of the tricks I learned for getting great pictures of yourself when you're, well, by yourself. First, let me tell you what you'll need, and why.
Video as Opposed to Still

Most of us are accustomed to using still cameras when we think of an individual photograph. But here's a problem: We always seem to stiffen when we know a camera is about to snap a picture. But if a camera is constantly rolling, this gives us a chance to loosen up after the initial shock of recording takes place.
So try using a video camera instead. Here are the advantages:
When a video camera is recording, you're getting hundreds of pictures of yourself within seconds. Why? Because it takes many frames to make one second of video!

As I mentioned, most of us tend to be a little camera shy at first. We actually need a little time to loosen up so that we can produce a picture that really showcases our personality. With a video camera, you can press record and then sit back and pose until you get comfortable. Not an easy thing to do when you're the subject and the photographer is using a still camera.

Most video cameras these days can shoot at just as high a resolution as some still cameras allowing you to get a crisp, high resolution shot.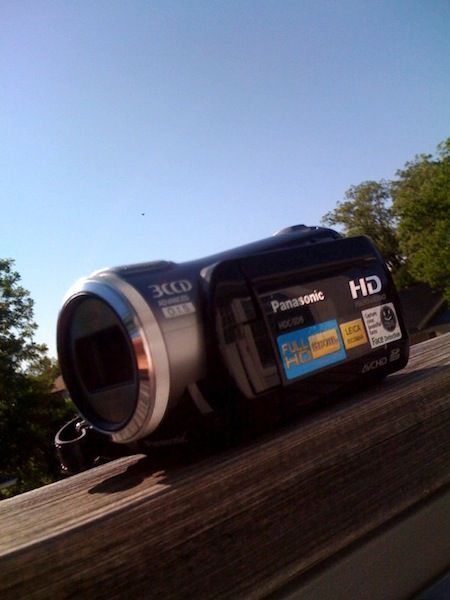 Tripods for Better Success

Now that I've convinced you of the validity of using a video camera for this exercise, let me introduce you to another helpful item before you continue: a tripod!

Tripods allow you to go ahead and set up a very stable shot with, or without your subject (you!) in the picture. This not only ensures some nice photos, but will also prevent your video camera from falling into a lake, get knocked off a stairwell rail, or worse.

If you don't have the money, or can't borrow one, consider taping your camera to a fixed location with some electrical tape. Consider the railing of a staircase, a wooden chair, someone else's hand, etc.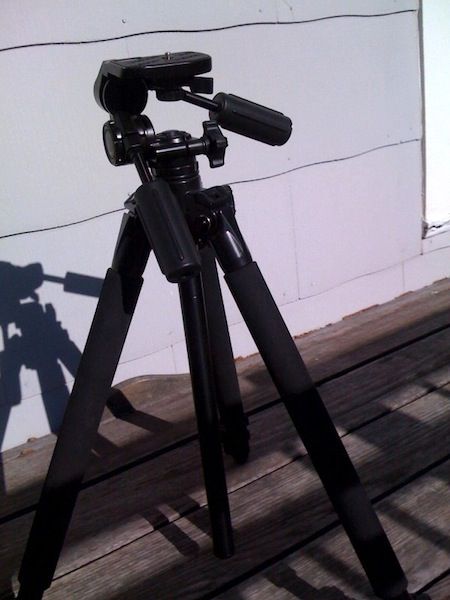 Shoot Outdoors
Even if you have access to an extremely expensive lighting kit, it's going to be very tricky to set the lights up for yourself. Best advice? Shoot outdoors in the sunlight! This has many advantages:
First, natural lighting looks, well, more natural. Sunlight has an amazing ability to accent and provide shadow in ways that can be tricky to achieve indoors.
Secondly, the hues of natural light tend to be warmer, which is more inviting. Later, you can always play with the color in a graphical editing program to make it look like it's night, or colder, etc., but this way you are fully captured, without any low-light graininess that never looks good.
Be Natural
Once you start shooting, relax! Now you can just start walking around aimlessly, smiling at random, experimenting with different postures, different angles. The main thing is that you take your time. Most digital video cameras have tons of recording time, so there's no rush.
Remember, because you're recording video that will later have one, or several frames taken for individual shots, it's also possible to do action shots of yourself. If you ride a bike, film yourself riding a bike. If you ride skateboard, set up that tripod in a comfy spot and film yourself skating. Later on you can get that perfect action shot of yourself.
Capturing Stills with iMovie
Once you've captured all of those key moments, boot up iMovie and use the File > Import Camera function to bring in all of your clips. Different cameras have different import procedures in iMovie, so be sure to read your manual and check out the iMovie '11 101 - Core iMovie '11 for more in-depth guidance.
Once all of your clips are in iMovie, drag the ones you want into a new project. Then go into fullscreen mode using the keyboard shortcut Command-G.
Fullscreen allows you to see the movie at a higher resolution, which means you can do a much better quality screen capture.
Screen Capturing
When screen capturing, it's important to note that while your Mac does have screen capture capability using the Command-Shift-4 and Command-Shift-3 shortcuts, it only captures at 72 dpi'"a resolution suitable for computer displays. However, applications like Snapz Pro from Ambrosia let you select different screen capture resolutions, which is important if you want a quality photo from your high-resolution video shoot. iMovie also gives you the option of converting a frame of video into a photo as well.
Once the screen capture software is set up, simply scroll through your footage in iMovie while in Fullscreen Mode, and find shots of yourself you like. As you find pictures you like, screen shot, screen shot or convert to frame.
After you're done collecting all of your favorite shots, just pop '˜em into your favorite photo editor and tweak until you're satisfied with the results!
And when you fall in love with yourself, it's much more likely someone else might fall in love with you too. Be they either fans, groupies, or potential love interests!
Check out these iMovie 101 & iPhoto 101 & Photoshop CS5 105 - Image Adjustment Video Tutorials for more tips and tricks!