InDesign is a deep application with an equally well developed set of features. If you spend a lot of time working with text in InDesign take a look at these shortcuts by Adobe Trainer, David Smith.
Every designer who uses InDesign will tell you that there are some absolutely cracking shortcuts that can really make a difference to their workflow. The really good ones can even tell you what they are!

To help you to join this higher echelon of InDesign users I have put together a list of some of the best shortcuts I have ever used when working with text along with a description of when you might find it most useful to use them.
1 - Selecting Text
Now there are lots of ways people like to select text. Most people I meet have taught themselves, or have been taught, to select text by clicking and dragging along all the text until its selected. This is both time consuming and awkward. Not to mention sometimes inaccurate. Instead try the following:
To select:
one word: double-click on the word with the Type Tool

one line: click three times with the Type Tool

a paragraph: click four times with the Type Tool

the whole story: click five times with the Type Tool

all the text from the cursor to the end of the story press Command - Shift - End

all the text from the start of the story to the cursor press Command - Shift - Home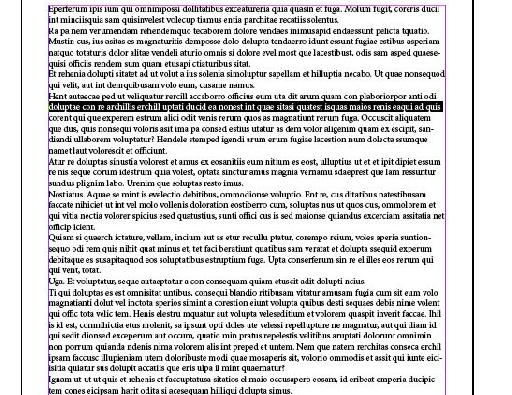 2 - Formatting Text
Formatting text to make it look how you want, when you're not sure exactly what that should be, can be frustrating. Always making changes in the control panel, only to find they still don't look right, then changing them again? What a drag! Here's my preferred method: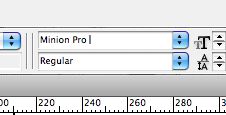 To change a font style select the text (see above) and then click in the Font drop down menu in the Control Panel. With the cursor placed in the panel press Arrow Up and Arrow Down to cycle through your fonts. The selected text will change as you go, giving you a preview. Stop when you see the one you like.
Changing the font size is much easier to do if you use this shortcut. Press Shift - Command - > to increase the size of any selected text and Shift - Command - < to decrease. Once you start using this method you don't go back.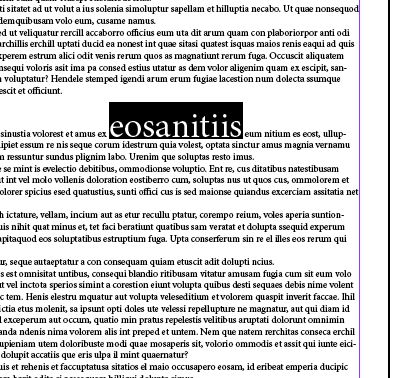 Leading and Tracking are two very effective tools for anyone looking to make their text stand out from the rest. To change these settings in the same funky way as the font size use Option and Arrow Up/Down to adjust the Leading. Use Option and Arrow left/right to adjust the tracking.
Once you have tweaked the style of your text using these methods, you may wish to redefine any styles that were already applied to the text, so that all the text using that style is updated with your improvements. To redefine a Paragraph style select the modified text and press Command - Option - Shift - R. Or, for a Character style, use Command - Option - Shift - C. Brilliant!
3 - Zooming and Navigation
Now I, for one, really don't like using tools from the tool bar like the Zoom tool, or zooming in using Command - + and then scrolling around looking for the bit I wanted. InDesign has some exceptional techniques you should be using instead to really boost your workflow.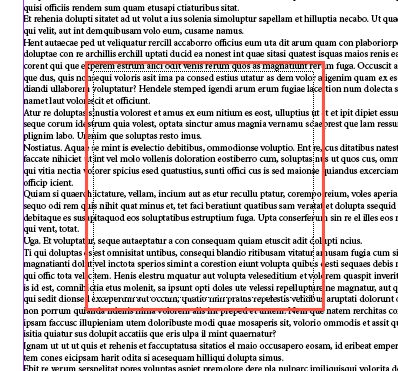 When you want to Zoom in on a Page, try pressing and holding Z. This turns whatever tool you had in your hand (OK then, cursor) into the zoom tool, but only temporarily. Click - Drag a marquee over the area you want to zoom in on and then release the mouse. The marquee now fills the screen. Release Z to return to your original tool.
Once you're done with the zoom, like an artist stepping back from an easel you may want to look at the whole page again, just to make sure. To zoom out instantly to 100% of a page press Command - 0. Or if it's a spread, try Option - Command - 0 instead to see the spread at 100%.
You might want to go back in again, to the last zoomed image. Luckily for you InDesign has a very good memory. Press Command - Option - 2 to return to the previous zoom level once more. Keep repeating this shortcut to toggle between the last 2 zoom levels. This I love.
There are still lots more of these to share with you... Enjoy these shortcuts, try practicing them until they stick. And until next time, have fun.