InDesign is a deep application with an equally well developed set of features. If you spend a lot of time working with text in InDesign take a look at these shortcuts by Adobe Trainer, David Smith.
Cada diseñador que utiliza InDesign le dirá que hay algunos atajos absolutamente grietas que pueden realmente hacer una diferencia en su flujo de trabajo. Los realmente buenos, incluso puedo decir lo que son!

Para ayudar a que te unas a este escalón más alto de los usuarios de InDesign he reunido una lista de algunos de los mejores atajos que he utilizado cuando se trabaja con texto, junto con una descripción de cuándo se podría encontrar más útil para su uso.
1 - Selección de texto
Ahora bien, hay muchas maneras de la gente como para seleccionar texto. La mayoría de la gente que conozco han aprendido o han enseñado, para seleccionar texto haciendo clic y arrastrando a lo largo de todo el texto hasta su seleccionado. Esto consume tiempo y torpe. Por no mencionar en ocasiones inexacta. En su lugar, intente lo siguiente:
Para seleccionar:
one word: double-click on the word with the Type Tool

one line: click three times with the Type Tool

a paragraph: click four times with the Type Tool

the whole story: click five times with the Type Tool

all the text from the cursor to the end of the story press Command - Shift - End

all the text from the start of the story to the cursor press Command - Shift - Home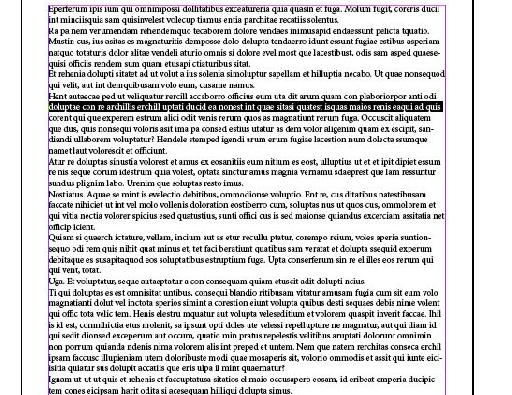 2 - el formateo del texto
Formato de texto para que se vea cómo usted desea, cuando usted no está seguro exactamente lo que debe ser, puede ser frustrante. Siempre hacer cambios en el panel de control, sólo para encontrar que todavía no mirar bien, a continuación, cambiar de nuevo? ¡Qué lata! Heres mi método preferido: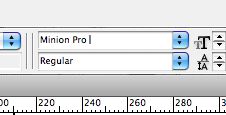 Para cambiar un estilo de fuente, seleccione el texto (ver arriba) y haga clic en la caída de Fuente el menú desplegable en el panel de control. Con el cursor colocado en el panel de arriba Presione la flecha y flecha abajo para desplazarse por las fuentes. El texto seleccionado va a cambiar a medida que avanza, que le da una vista previa. Pare cuando vea la que más te guste.
Cambiar el tamaño de la fuente es mucho más fácil de hacer si se utiliza este acceso directo. Pulse Mayús - Comando -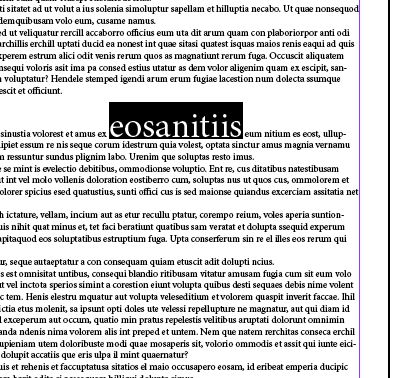 Principales y de seguimiento son dos herramientas muy eficaces para cualquiera que quiera hacer su texto se destacan del resto. Para cambiar esta configuración de la misma manera cobarde como la opción de utilizar el tamaño de la fuente y la flecha arriba / abajo para ajustar el líder. Use la opción y la flecha izquierda / derecha para ajustar el seguimiento.
Una vez que haya ajustado el estilo del texto utilizando estos métodos, puede que desee volver a definir los estilos que se han aplicado ya en el texto, por lo que todo el texto con ese estilo se actualiza con mejoras. Para volver a definir un estilo de párrafo, seleccione el texto modificado y pulse Comando - Opción - Shift - R O, para un estilo de carácter, utilice el comando -. Opción - Shift - C brillante.!
3 - Ampliación y Navegación
Ahora yo, por mi parte, realmente no me gusta el uso de herramientas de la barra de herramientas como la herramienta de zoom, el zoom o en el uso de C ommand - y luego desplazarse en busca de los poco que yo quería. InDesign tiene algunas de las técnicas excepcionales, usted debe utilizar en lugar de realmente aumentar su flujo de trabajo.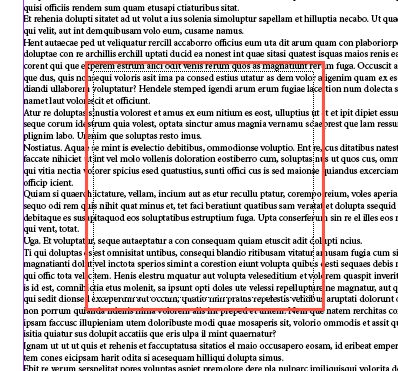 Cuando se desea utilizar el zoom en una página, intente presionando Z. Esto convierte a cualquier herramienta que tenía en su mano (Vale, entonces el cursor) en la herramienta de zoom, pero sólo temporalmente. Haga clic en - Arrastrar un marco sobre el área que desea acercar y suelte el ratón. La carpa ahora ocupa toda la pantalla. Liberación Z para volver a su herramienta original.
Una vez que haya terminado con el zoom, como un artista dando un paso atrás desde un caballete es posible que desee ver la página entera otra vez, sólo para asegurarse. Para alejar inmediatamente al 100% de un comando de prensa de la página - 0. O si se trata de una extensión, tratar de Opción - Comando - 0 en lugar de ver la extensión del 100%.
Es posible que desee volver de nuevo, a la última imagen ampliada. Por suerte para que InDesign tiene muy buena memoria. Pulse Comando - Opción - 2 para volver al nivel de zoom anterior, una vez más. Repita este acceso directo para cambiar entre los niveles de zoom últimos 2. Esta me encanta.
Todavía hay muchas más de estas para compartir con ustedes ... Disfrute de estos accesos directos, intentar practicar hasta que se pegan. Y hasta la próxima vez, divertirse.