InDesign is a deep application with an equally well developed set of features. If you spend a lot of time working with text in InDesign take a look at these shortcuts by Adobe Trainer, David Smith.
Chaque concepteur qui utilise InDesign vous diront qu'il ya des raccourcis absolument fissuration qui peut vraiment faire une différence dans leur flux de travail. Les vrais bons peuvent même vous dire ce qu'ils sont!

Pour vous aider à rejoindre ce échelon supérieur des utilisateurs d'InDesign, j'ai dressé une liste de certains des meilleurs raccourcis je n'ai jamais utilisé lorsque vous travaillez avec du texte avec une description du moment où vous pourriez trouver le plus utile de les utiliser.
1 - Sélection de texte
Maintenant il ya beaucoup de façons les gens comme pour sélectionner du texte. La plupart des gens que je rencontre ont eux-mêmes enseigné, ou qui ont été enseignés, de sélectionner du texte en cliquant et en traînant tout le texte jusqu'à ce que son sélectionné. C'est à la fois du temps et maladroit. Sans oublier parfois inexacte. Au lieu d'essayer ceci:
Pour sélectionner:
one word: double-click on the word with the Type Tool

one line: click three times with the Type Tool

a paragraph: click four times with the Type Tool

the whole story: click five times with the Type Tool

all the text from the cursor to the end of the story press Command - Shift - End

all the text from the start of the story to the cursor press Command - Shift - Home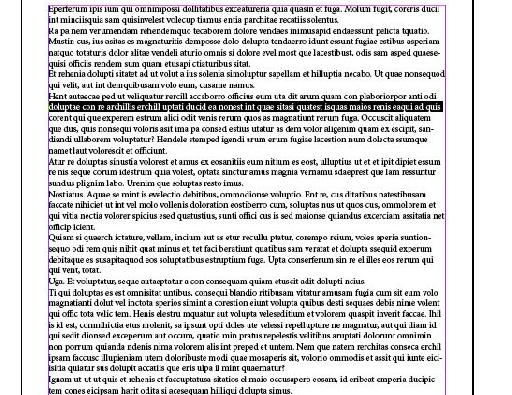 2 - Formatage d'un texte
Formatage du texte pour le faire paraître comme vous voulez, quand vous n'êtes pas sûr de ce que devrait être, peut être frustrant. Toujours faire des changements dans le panneau de contrôle, seulement pour trouver ils encore Dont Look droite, puis de les changer à nouveau? Qu'est-ce une traînée! Heres ma méthode préférée: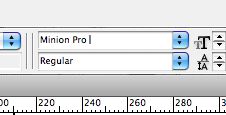 Pour modifier un style de police de sélectionner le texte (voir ci-dessus), puis cliquez dans le menu déroulant Police dans le menu déroulant dans le Panneau de configuration. Avec le curseur placé dans le panneau de Flèche de presse et flèche vers le bas pour faire défiler vos polices. Le texte sélectionné change que vous allez, vous donnant un aperçu. Arrêtez lorsque vous voyez celui que vous aimez.
Changer la taille des caractères est beaucoup plus facile à faire si vous utilisez ce raccourci. Appuyez sur Maj - Commande -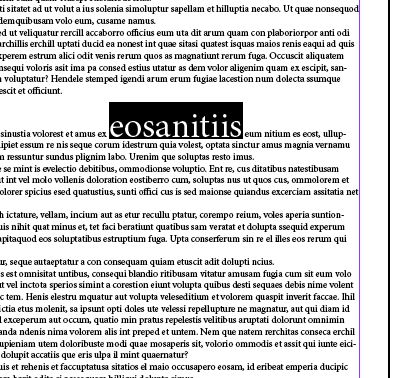 Diriger et suivi sont deux outils très efficaces pour ceux qui cherchent à rendre leurs textes se démarquent du reste. Pour modifier ces paramètres de la même manière funky que l'option Utiliser la taille du texte et les flèches Haut / Bas pour régler le leader. Utiliser l'option et la flèche gauche / droite pour ajuster l'alignement.
Une fois que vous avez peaufiné le style de votre texte en utilisant ces méthodes, vous pouvez redéfinir les styles qui ont déjà été appliquées au texte, afin que tout le texte utilisant ce style est mis à jour avec vos améliorations. Pour redéfinir un style Paragraphe de sélectionner le texte modifié et appuyez sur Commande - Option - Maj - R ou, pour un style de caractère, utilisez la commande -. Option - Maj - C Brillant.!
3 - Zoom et Navigation
Maintenant, moi, pour l'un, vraiment n'aime pas utiliser des outils de la barre d'outils comme l'outil de zoom, ou de zoomer en utilisant C ommand - et puis en faisant défiler autour de la recherche pour le bit que je voulais. InDesign a quelques techniques exceptionnelles, vous devriez utiliser au lieu de vraiment augmenter votre flux de travail.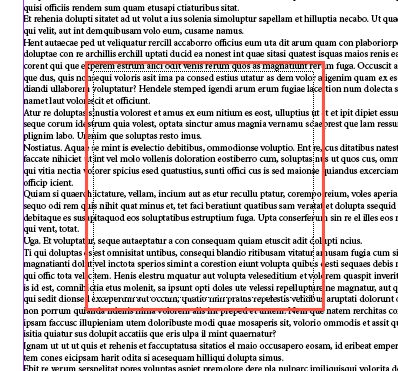 Lorsque vous souhaitez zoomer sur une page, essayez d'appuyer sur Z et la tenue. Cela transforme n'importe quel outil que vous aviez dans votre main (OK alors, le curseur) dans l'outil de zoom, mais seulement temporairement. Cliquez - Faites glisser un rectangle de sélection sur la zone que vous voulez zoomer sur puis relâchez la souris. Le chapiteau se remplit désormais l'écran. Communiqué de Z pour revenir à votre outil original.
Une fois que vous en avez terminé avec le zoom, comme un artiste en reculant d'un chevalet, vous voudrez peut-être à regarder toute la page à nouveau, juste pour s'assurer. Pour effectuer un zoom arrière instantanément à 100% d'un commandement de presse page - 0. Ou si c'est un spread, essayez l'option - Commande - 0 au lieu de voir la propagation à 100%.
Vous pouvez revenir en arrière encore, à la dernière image zoomée. Heureusement pour vous InDesign a une très bonne mémoire. Appuyez sur Commande - Option - 2 pour revenir au niveau de zoom précédent une fois de plus. Continuez à répéter ce raccourci pour basculer entre les 2 derniers niveaux de zoom. Ce que j'aime.
Il ya encore beaucoup plus de ces derniers à partager avec vous ... Profitez de ces raccourcis, essayez de les pratiquer jusqu'à ce qu'ils bâton. Et jusqu'à la prochaine fois, avoir du plaisir.