InDesign is a deep application with an equally well developed set of features. If you spend a lot of time working with text in InDesign take a look at these shortcuts by Adobe Trainer, David Smith.
Todo designer que usa o InDesign irá dizer-lhe que existem alguns atalhos absolutamente rachaduras que podem realmente fazer a diferença para seu fluxo de trabalho. Os realmente bom pode mesmo dizer-lhe o que são!

Para ajudá-lo a aderir a este alto escalão dos usuários do InDesign tenho a reunir uma lista de alguns dos melhores atalhos que já usei quando se trabalha com texto, juntamente com uma descrição de quando você pode encontrá-la mais útil para usá-los.
1 - Selecionando texto
Agora, existem muitas maneiras de as pessoas gostam de selecionar o texto. A maioria das pessoas que conheço têm ensinado-se, ou foram ensinadas, para selecionar o texto, clicando e arrastando ao longo de todo o texto até o seu selecionado. Isto é tanto demorado e difícil. Para não mencionar por vezes imprecisas. Em vez disso tente o seguinte:
Para selecionar:
one word: double-click on the word with the Type Tool

one line: click three times with the Type Tool

a paragraph: click four times with the Type Tool

the whole story: click five times with the Type Tool

all the text from the cursor to the end of the story press Command - Shift - End

all the text from the start of the story to the cursor press Command - Shift - Home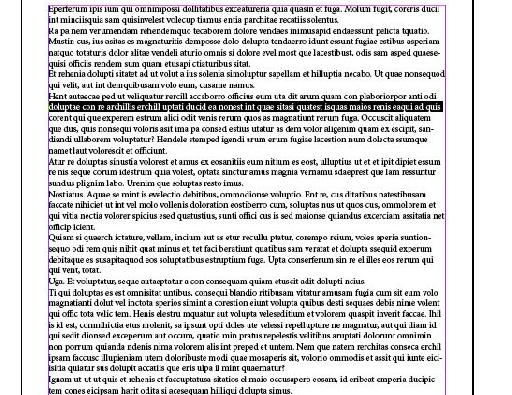 2 - a formatação do texto
Formatação de texto para torná-la como quiser, quando você não tem certeza exatamente o que deve ser, pode ser frustrante. Sempre fazendo mudanças no painel de controle, apenas para descobrir que ainda não parece certo, em seguida, alterando-los novamente? O que é uma drag! Heres meu método preferido: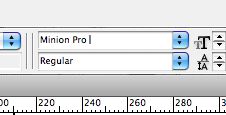 Para alterar um estilo de fonte selecione o texto (veja acima) e clique no drop down menu Font no Painel de Controle. Com o cursor colocado na seta para cima do painel de imprensa e Seta para baixo para percorrer suas fontes. O texto selecionado irá mudar à medida que você vá, dando-lhe uma pré-visualização. Pare quando você vê o que você gosta.
Alterar o tamanho da fonte é muito mais fácil de fazer se você usar esse atalho. Pressione Shift - Comando -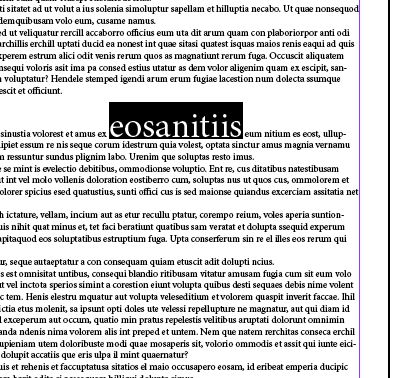 Liderança e de rastreamento são duas ferramentas muito eficazes para quem quer fazer seu texto se destacam do resto. Para alterar essas configurações da mesma forma funky como a opção Usar o tamanho da fonte e Seta para cima / para baixo para ajustar o Leading. Use Option e seta esquerda / direita para ajustar o tracking.
Depois de ter ajustado o estilo de seu texto usando esses métodos, você pode querer redefinir todos os estilos que já foram aplicadas ao texto, para que todo o texto usando esse estilo é atualizado com suas melhorias. Para redefinir um estilo de parágrafo, selecione o texto modificado e pressione Command - Option - Shift - R Ou, para um estilo de caracteres, use Command -. Opção - Shift - C Brilliant.!
3 - Ampliação e Navegação
Agora eu, por exemplo, realmente não gostam de usar as ferramentas da barra de ferramentas como a ferramenta de zoom, ou zoom no uso de C ommand - e depois de rolagem em torno de procurar o pouco que eu queria. InDesign tem algumas técnicas excepcionais, você deve estar usando, em vez de realmente aumentar o seu fluxo de trabalho.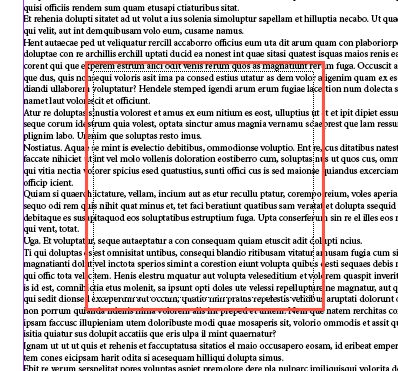 Quando você quiser Zoom in em uma página, tente pressionar e segurar Z. Isso transforma qualquer ferramenta que você tinha em sua mão (OK, em seguida, cursor,) para a ferramenta de zoom, mas apenas temporariamente. Click - Arraste um letreiro sobre a área que deseja ampliar e solte o mouse. O letreiro agora enche a tela. Liberação Z para retornar ao seu instrumento original.
Depois que você fez com o zoom, como um artista, afastar-se um cavalete você pode querer olhar para toda a página novamente, só para ter certeza. Para diminuir o zoom instantaneamente para 100% de uma página pressione Command - 0. Ou se é um diferencial, tente Opção - Comando - 0 em vez de ver a expansão em 100%.
Você pode querer voltar de novo, para a última imagem ampliada. Felizmente para você InDesign tem uma memória muito boa. Pressione Command - Option - 2 para voltar ao nível de zoom anterior, mais uma vez. Mantenha repetir este atalho para alternar entre os últimos dois níveis de zoom. E eu amo isso.
Ainda há muito mais destes para compartilhar com você ... Aproveite estes atalhos, tentar praticá-las até que elas perdurem. E até a próxima vez, se divertir.