Anyone tackling large publications in InDesign should consider using the built-in Book feature to manage the process. Iain Anderson shows how in this useful tutorial.
InDesign's built-in book feature is a way to link several separate documents together into one, to let page numbers flow from one to the next, and to export the entire collection together. Let's find out how it works.

Create a new book
File > New > Book is all you need to get started, but counter to expectation, you'll immediately have to Save your book — so call it "test book". Unlike a document, a book must be saved immediately — no experimentation here. Further, a book doesn't look like a real document at all. After you save, you'll see a floating panel, like Paragraph Styles or Pages. This panel, though, is named for your book.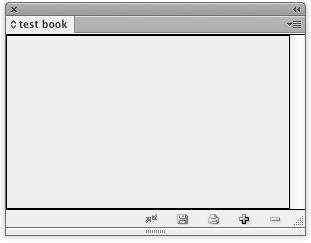 The new book panel.
Add a document to your book
There's a big plus button at the bottom of your "test book" panel. Press it, then locate one of your InDesign documents. Page numbers could be affected, so make sure it's a document you can safely modify. I've created a new document and added it in.
Add a few more documents to your book
Another way to add documents is to use the first item in the panel's submenu, so give it a shot too, adding a few more documents.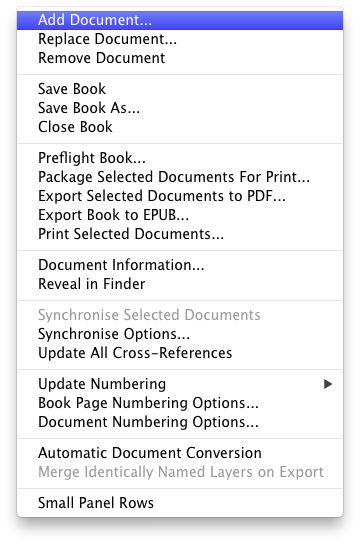 Here's the submenu in question.
You'll see that the panel now shows all the documents you've added, with ascending page numbers for the sequence of books.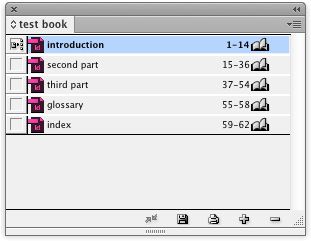 And here's the panel with a few documents added.
Here's the magic: you can drag documents around, and the page numbers will reflow like magic. Be careful, though: if, for example, you were to remove a page from the first document in your book, every other document will be affected and will need to be resaved. That's easy, though — double-click a document in the list to open it if required, then just Command-S as usual.
Synchronizing
Each document in the list shows a box to the left of the filename, and one of your documents has an icon there. That document is the style source, and if you were to select one or more of the other documents in your book, you can force them to conform to the style source in terms of all kinds of styles, numbered lists, master pages and more. It's much easier to keep longer documents on track if you use Paragraph Styles religiously, and the Synchronize Options, available from the submenu, give you control over just what will be synced.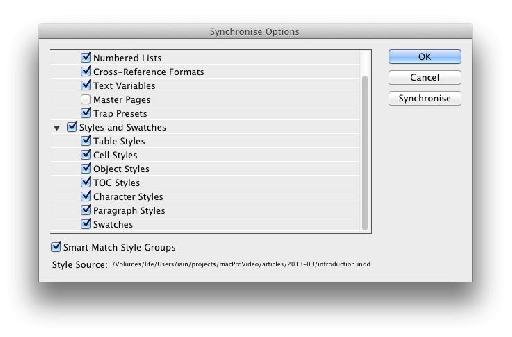 Just some of the synchronization options.
Table of Contents
If you've used the Table of Contents feature, likely in the first document in your book, you'll want to look for the "Include Book Documents" checkbox in the Options section at the bottom of the dialog. This magic setting allows the TOC to span every document in your book. The same goes for cross-references, though there's an option in the panel submenu to Update All Cross-References if needed.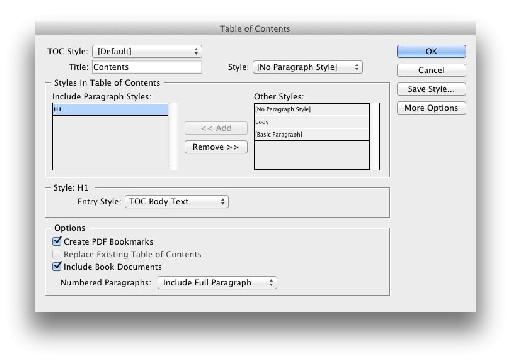 Don't forget to Include Book Documents.
Saving and Exporting
Do remember to Save your book periodically; as a floating panel it doesn't seem to inspire the same determination to Command-S as a document. And when you're done, select the documents you want to export — or none at all to export everything — and choose to Package, Preflight, Export to PDF or EPUB, or even Print the thing.

If you still want to print to dead trees, that's OK too.
Conclusion
Books are great for distributing a workload to a team. Farm out chunks of a publication to multiple designers, add the completed documents back into a book, then force the styles back into consistency, and export. They can also help avoid the pain of huge monolithic complex documents, and are well worth mastering. Good luck!