No matter how experienced you are with Adobe InDesign, this promise to be an interesting read. Are you aware of all five of these features which Iain Anderson shares here?
Well, you might have used some of them, but almost certainly not all. InDesign is a huge app, and there's a good chance that you don't know about a feature or two that could really help you out. Sometimes, it's a known feature that's worth using in an unusual way, and other times it's a little-known underused feature that you just didn't know about. Let's take a look
Quick Apply
I'm a keyboard junkie, but for some reason, I've never quite made friends with Quick Apply. Though it's not a new feature, I've rarely encountered its use in the wild. It's not hard to find, though: press Command-Return, or look to the top right corner of the screen, and press the lightning bolt icon.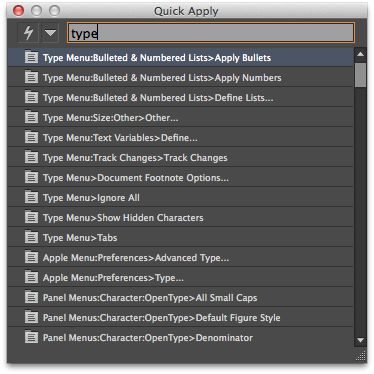 Quick Apply in action, searching 'type'.
The Quick Apply window appears, and you can type the name of any InDesign feature to quickly access that menu item or panel. Use the up and down arrows on the keyboard to move through the displayed options, then press Return again to pick one. It's like Spotlight or Alfred, but for InDesign.
GREP Styles to style particular words or phrases
If your company's style guide dictates that a particular phrase always appear in a particular way, then I can make your life easier. Edit the Paragraph Style that your body text uses, then head to the GREP Style section. Click New GREP Style, then click on the [None] next to Apply Style, and choose New Character Style.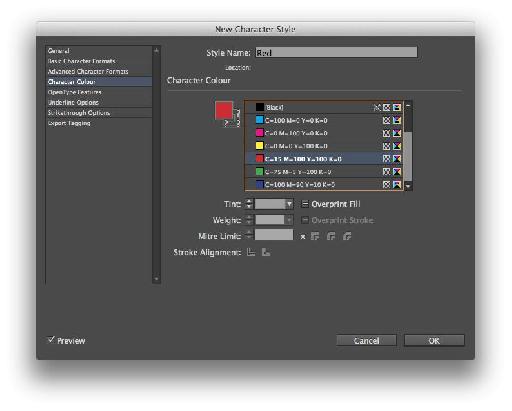 Making that Character Style'"and of course you can change it to whatever style you wish.
In the new dialog that appears, name the style Red, then choose red from Character Color. Press OK.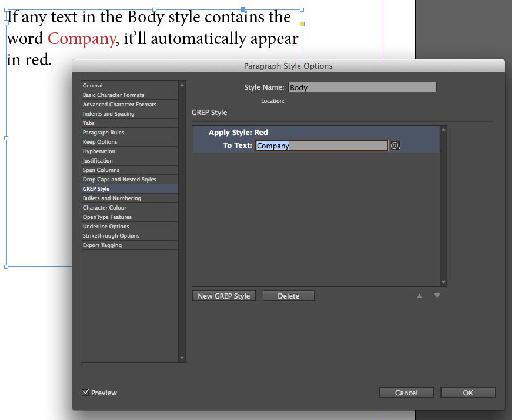 Here's the completed GREP Style within the Paragraph Style.
Back in the Paragraph Style dialog, click the '\d+' next to 'To Text' and simply type the name of the phrase you want to change, like the company name. Wherever it appears, the character style will now be applied'"it's a powerful time-saver.
Paragraph Rules for inverted block text
Another style-based tip now, and one which will help if you like to reverse out text from a block colored background. In a new Paragraph Style, change the character color to Paper (white) and then head to Paragraph Rules.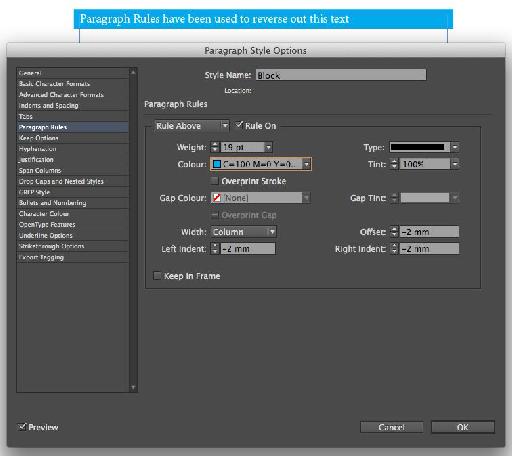 The background block can even extend beyond the text frame.
Turn on the Rule Above, set its color explicitly rather than using Text Color, then make it thicker, offset it a little, and you're sorted. You can also tweak the width to match the text itself, or the column the text is in.
Running Headers
Page numbers are useful, Section Markers are useful, but what if you want the footer to show the last heading in a particular style?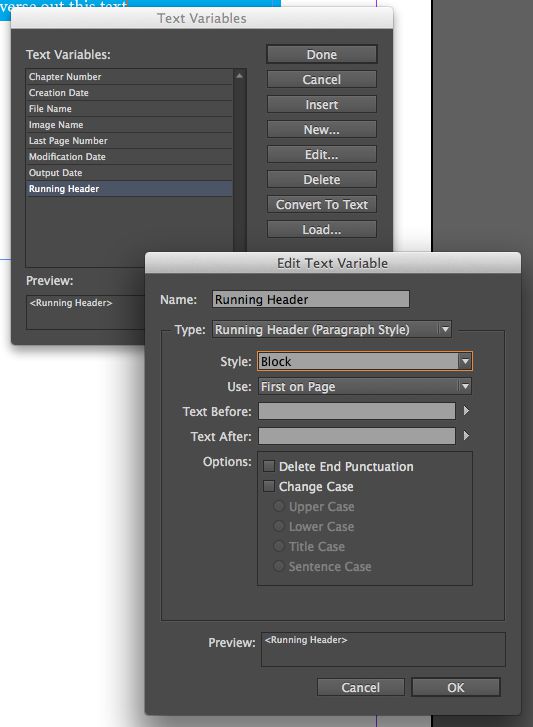 Here, the first text on the page written in the 'Block' Paragraph Style can find its way into the header or footer automatically.
Type > Text Variables > Define will let you change the Running Header (or define a new variable). You can then insert the Running Header on a Master Page with Type > Text Variables > Insert > Running Header.
Pathfinder's shape convert tools
To close out this list, here's a feature that's so niche you may never use it. If you select an object, did you know that you can convert that object into a triangle? Or a rounded rectangle? Or a cross? Well, you can.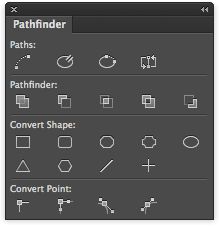 Why? I'm not sure!
Window > Object & Layout > Pathfinder is where you can find this dialog, which actually has plenty of useful stuff alongside these Convert Shape buttons. I guess if you've accidentally made a grid of circles (by pressing the up/down/left/right keys while drawing a circle) when you really wanted a grid of triangles, then I guess this is the tool for you.
Conclusion
There's always more than meets the eye to any large program, and there are plenty more hidden features to InDesign itself. Let us know if there's anything you'd like us to explore next time.