Follow this fantastic quick tip to learn how to use the Baseline Grid settings in InDesign to help align the text in your documents across all pages. In short, make your documents look professional.
Ich erinnere mich, wie nützlich es in der Schule war für Notebooks bis in die Linien um mich zu führen, wie ich schrieb, hatte arbeiten müssen. Eine Sache habe ich noch nie doand könnte noch cantis halten schriftlich in schönen geraden Linien.
Schritt 1 - Die Baseline
InDesign hat auch diese Richtlinien über die Grundlinienraster so lasst uns gehen und zu sehen. In der Menüleiste gehen Sie zu Ansicht
Was soll angezeigt werden, sind eine ganze Reihe von parallelen, horizontalen blauen Linien in Ihrem Dokument. Dies ist das Dokument Baseline Grid.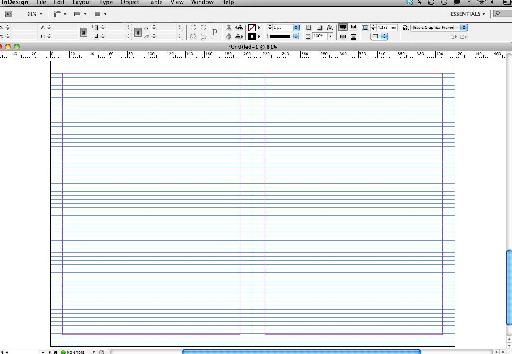 Wenn Sie noch kein Konto haben schon ziehen Sie einen Textrahmen auf Ihr Dokument (wenn Sie einige Spalten hinzufügen, dann das wird uns später helfen) und füllen Sie mit Platzhaltertext. Wählen Sie im Menü Type
Wiederholen Sie diese Aufgabe auf einen anderen Bereich der Seite oder auf einer angrenzenden Seite, wenn Sie auf einer Doppelseite suchen. Sie sollten so etwas (beachten Sie, dass ich die Textrahmen auf verschiedene X-Positionen gesetzt, da dies mehr Auswirkungen):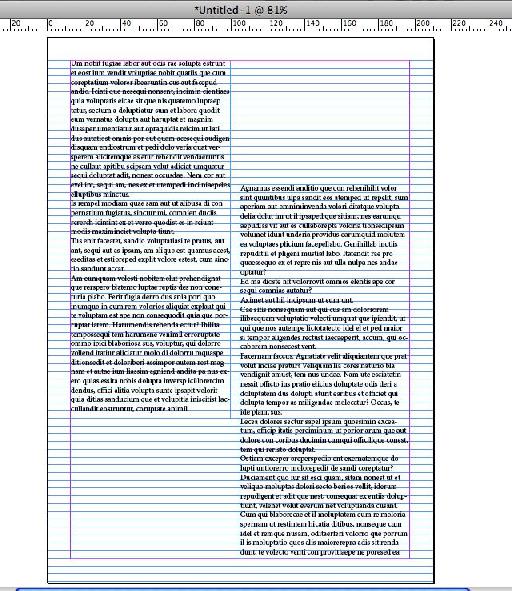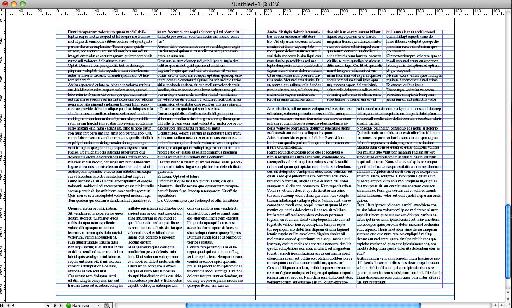 Offensichtlich InDesign, im Gegensatz zu mir nicht benötigen Hilfe bei der Einrichtung Text in geraden Linien. Doch wir einen genaueren Blick auf die Ausrichtung des Textes in beiden Textrahmen. Die Abstimmung zwischen den Spalten in jedem Frame perfekt sind, aber zwischen den 2 separate Frames sind sie nicht. Vergrößern Sie schauen genauer, oder versuchen Sie bringen eine horizontale Hilfslinie nach unten aus dem Lineal, das sollte es tun. Beachten Sie, dass sie nicht auf!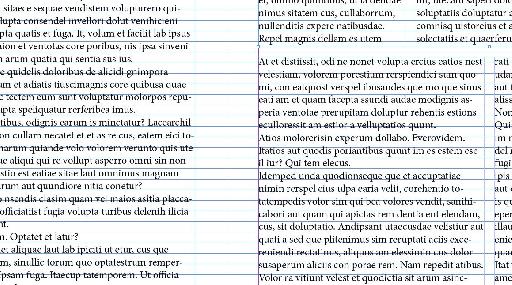 Der Grund ist der Text falsch ausgerichtet ist auf die Tatsache, dass beide Textrahmen verschiedenen x-Positionen haben, und das einzige, was die Ausrichtung der Text der einzelnen Leading Größe in jeder Box. Es gibt keine allgemeine Angleichung an Stelle des Dokuments.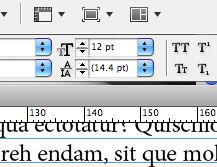 Schritt 2 - Bringen Sie auf der Grundlinie!
Das Grundlinienraster wird dieses Problem lösen und sicherstellen, dass der gesamte Text in allen Bildern, egal wo sie positioniert sind, perfekt ausgerichtet sind. Als Ergebnis des Dokuments anzusehen, viel befriedigender und professionell. Sagen wir es an die Arbeit.
Wussten Sie, dass, wenn Sie auf Text 5 mal kurz hintereinander in InDesign den gesamten Text (einschließlich Übersatz) wird als Highlight ausgewählt? Probieren Sie es aus.
Mit der Absatzformatierung Systemsteuerung auf das Symbol klicken, um zu Baseline Align: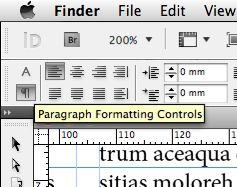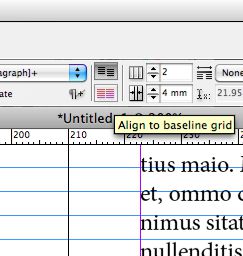 Alle ausgewählten Text wird dem Grundlinienraster nicht die Tech-Rahmen entsprechen. Machen Sie dasselbe in der anderen Box und schauen Sie sich die Ausrichtung.
Schritt 3 - Oops?
Hat sich Ihre Textausrichtung sprang plötzlich auf Abstand wie meine verdoppeln? Keine Sorge, es gibt einen Konflikt zwischen der Baseline Grid-Einstellungen und die Font führende Größe (beide versuchen, die Schriftart zu sagen, wie weit in den Weltraum, die zwischen Linien) entstanden.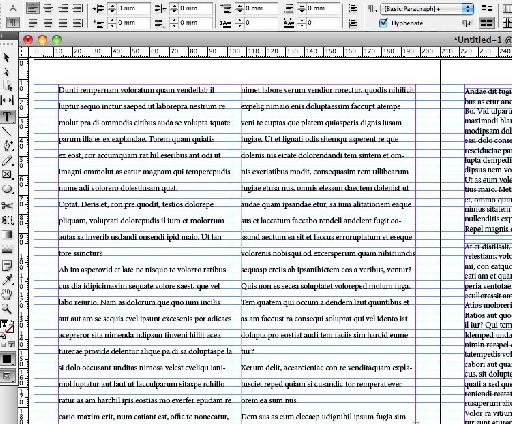 Zu beheben Dinge zu InDesign
Sie können Ihre Grundlinienraster-Einstellungen direkt vor sich sehen.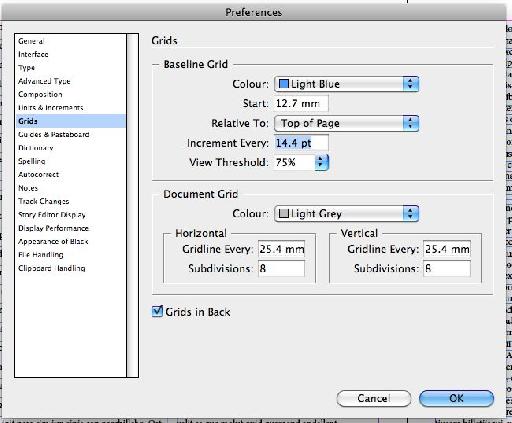 Der Täter ist der Zuwachs Jede Einstellung, mir sagt 12 pt. Es muss der Führende Einstellung für die Schriftgröße anzupassen. Ändern sie auf 14,4 pt korrigiert die doppelte Abstand.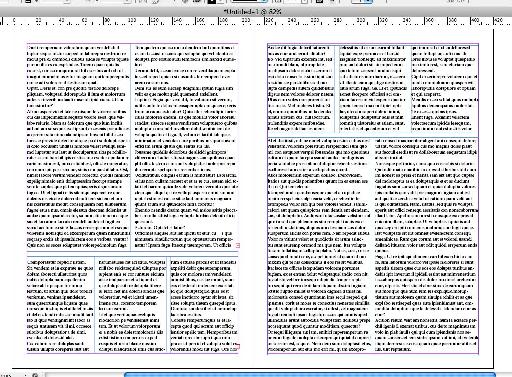 Nun, genau wie in diesem Bild oben, ist der Text schön in allen Textrahmen auf alle Ihre Seiten und Druckbögen ausgerichtet. Ihre Dokumente werden schärfer und professioneller als Ergebnis.
Werfen Sie einen mehr in die Tiefe Tour mit diesen InDesign Tutorial-Videos .