In this exclusive interview with MPVHub, Rik Simpson of Coldplay and Jay Z fame, talks about the Mac and iOS music platforms and his personal favorite music creation apps for iPad.
Rik Simpson, Grammy Award-winning producer, has worked with some of the biggest names in the music industry to date. His list of credits as an engineer and producer include Coldplay, Jay Z, Portishead, Kasabian and PJ Harvey!
So what does the co-producer of the last two Coldplay albums use in the studio? Pro Tools, Logic, SSL Matrix, SE Eggs, Apogee converters? All true'¦ but what comes as more of a surprise is how the iPad has creeped into his personal (and Coldplay's) studio music production workflows.
Editor's note: This interview was first published in MPVHub Audio Magazine, issue 3, as part of the iOS Artists series.
MPVHub: I hear you used an iPad on Coldplay's recent album, Mylo Xyloto?
Rik: We did use an iPad in the production of the album. But, I'm afraid I can't be specific exactly how it was used or which apps were used at this time.
MPVHub: Is the iPad also used during Coldplay's tour?
Rik: Only as time wasters while waiting for showtime I'm afraid! My feeling is that touch screens work best in a club environment. Stadium gigs are too large for that level of detail to be seen by the audience. I also think that as yet the iOS platform isn't sturdy enough for proper touring. Saying that though, I am prepared to be proven wrong...
MPVHub: In your studio, what's your go-to (desktop-based) music software and hardware?
Rik: The main hub of the studio is a big Pro Tools rig with Apogee converters. I try to keep software instruments away from this system, it's important that it's a rock solid workhorse, no time for crashes and waiting for libraries to load! To this end I use a MacBook Pro running Logic, Ableton Live and Reason, all of which do a certain something different for me. I'm a massive fan of Universal Audio, Native Instruments, IK Multimedia, Spectrasonics, Arturia, Celemony, Moog and FXpansion. As musicians we are truly spoilt by the vast choice of amazing gear available to us. The only possible downside to this is that there's a tendency for records to sound the same because everyone's using the same gear. I manage to get around this by sending stuff to guitar amps and recording or just recording the sound in a real room.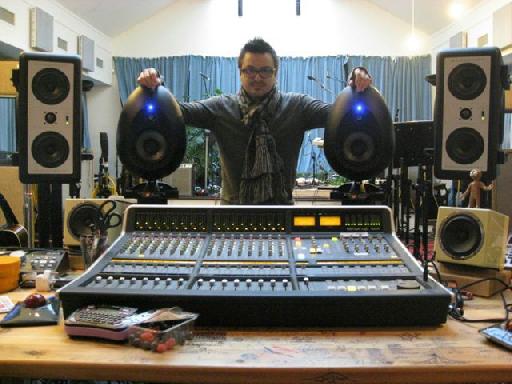 Rik with his prized SE Egg monitors and SSL Matrix in the Coldplay studio. (Rasberries infront of desk not included.)
MPVHub: How has the iOS platform changed the way you record / mix / make or control music?
Rik: It's made things very spontaneous. I find that parts will be captured swiftly and the focus will be more on performance as opposed to editing the life out of the MIDI afterwards (which is all too easy to do in a desktop or laptop environment). Another very important role of iOS devices in the studio is to capture ideas. I lose count of the times I've been asked to bring my iPhone over to the piano to record a new idea that Chris has come up with, something that may well be lost if not captured immediately. The app Voice Recorder is great for this.
MPVHub: Do you use any apps to sketch ideas on iOS on-the-go? Which apps?
Rik: I do indeed... Garageband on the iPad is a wonderful app, its simplicity belies its power. FL Studio HD is also amazing, very vibey. It has a crunchiness that I really enjoy. The only problem is that I'm Mac only so can't import my sessions into a computer, I need to bounce the parts as audio first, which is a shame (I think it's in development though, hurry up guys!)
Omni TR gives me a lot of control over Spectrasonics Omnisphere, I can change things like the synth's filters using the touchscreen of my iPad, it really opens up the synth for me. iMaschine is a lovely drum machine (especially if you own its wonderful big brother on your computer). Synth-wise the Yamaha TNR-i, the Moog Animoog, Propellerhead Figure, Korg Kaossilator and Camel Audio Alchemy are all must-haves.

Then there are the utilities. PolyTune, Cleartune, Songwriter's Pad and GuitarToolkit are all amazing, I'd recommend all of them.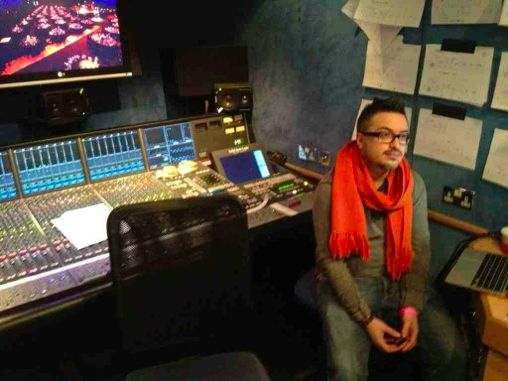 Rik Simpson, in another studio with MacBook Pro ready to capture ideas.
MPVHub: What features would you like to see for future iOS / music tablet devices?
Rik: Hmmm, I think a lot of it is dictated by the power available from the device. As processors get more powerful, tablets will become more like a laptop. We'll be able to do the same things, but with more portability. It's just a matter of time. I would also love a truly high-quality audio interface that has MIDI too, something that protects the device from external knocks without increasing its footprint too much.
Discover more about Rik Simpson here: www.riksimpson.com

Pick up your copy of MPVHub Audio Magazine: http://www.mpvhub.com