In this exclusive interview with MPVHub, Rik Simpson of Coldplay and Jay Z fame, talks about the Mac and iOS music platforms and his personal favorite music creation apps for iPad.
Rik Simpson, Grammy Award-Gewinner, hat mit einigen der größten Namen in der Musikindustrie bisher gearbeitet. Seine Liste der Credits als Toningenieur und Produzent zählen Coldplay, Jay Z, Portishead, Kasabian und PJ Harvey!
Also, was bedeutet das Co-Produzent der letzten zwei Coldplay Alben im Studio verwenden? Pro Tools, Logic, SSL Matrix, SE Eier, Apogee Wandler? All wahr, aber was kommt eher als eine Überraschung ist, wie das iPad hat sich in seiner persönlichen (und Coldplay) Studiomusik Produktionsabläufe creeped.
Anmerkung der Redaktion: Dieses Interview erschien zuerst in MPVHub Audio-Magazin, Ausgabe 3 , als Teil des iOS Artists Serie.
MPVHub: Ich höre Sie verwendet ein iPad auf Coldplays letzten Album, Mylo Xyloto?
Rik: Wir nutzen ein iPad in der Produktion des Albums. Aber ich fürchte ich kippe spezifisch genau, wie es verwendet wurde oder welche Anwendungen wurden zu dieser Zeit verwendet.
MPVHub: Ist das iPad auch während Coldplays Tour verwendet?
Rik: Nur als Zeitfresser während des Wartens auf showtime Im Angst! Mein Gefühl ist, dass Touchscreens am besten funktionieren in einem Club Umwelt. Stadium Konzerte sind zu groß für diesen Level of Detail, vom Publikum gesehen werden. Ich denke auch, dass noch die iOS-Plattform nicht robust genug für die richtige Tour. Sagen, dass, obwohl ich bereit bin, als falsch erwiesen werden ...
MPVHub: In Ihrem Studio, whats your go-to (desktop-based) Musiksoftware
Rik: Das wichtigste Drehkreuz des Studios ist ein großes Pro Tools Rig mit Apogee Wandlern. Ich versuche, Software-Instrumente fern von diesem System, es ist wichtig, dass ihr ein Fels in der Brandung Arbeitstier, keine Zeit für Abstürze und wartet für Bibliotheken zu laden! Zu diesem Zweck benutze ich ein MacBook Pro mit Logic, Ableton Live und Reason, von denen alle eine gewisse etwas anderes für mich tun. Im ein großer Fan von Universal Audio, Native Instruments, IK Multimedia, Spectrasonics, Arturia, Celemony, Moog und FXpansion. Als Musiker sind wir wirklich von der großen Auswahl an erstaunlichen Ausrüstung zur Verfügung, um uns verwöhnt. Die einzige mögliche Nachteil ist, dass Theres eine Tendenz für Datensätze, die gleich klingen, weil jedermanns mit dem gleichen Gang. Ich schaffe es, um dieses per Zeug zu Gitarren-Amps und die Aufnahme oder einfach nur die Aufzeichnung der Klang in einem realen Raum zu erhalten.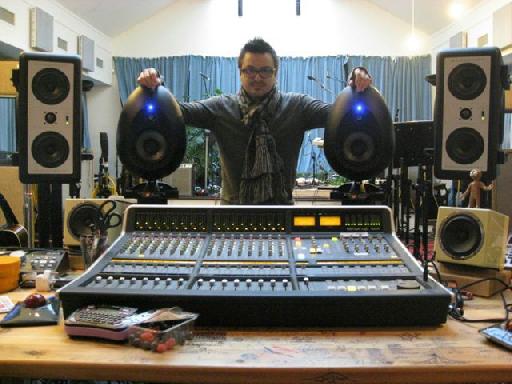 Rik mit seiner wertvollen SE Egg Monitore und SSL Matrix in der Coldplay-Studio. (Rasberries Infront Schreibtisch nicht enthalten.)
MPVHub: Wie hat sich die iOS-Plattform geändert, wie Sie aufnehmen / mischen / make
Rik: Seine machte die Dinge sehr spontan. Ich finde, dass die Teile schnell eingefangen werden, und der Fokus wird mehr auf Leistung als die Bearbeitung, das Leben aus dem MIDI danach (das ist nur allzu leicht in einem Desktop-oder Laptop-Umwelt tun) entgegen. Eine weitere sehr wichtige Rolle der iOS-Geräte im Studio ist es, Ideen zu erfassen. Ich verliere Zählung der Zeiten Ive gebeten, mein iPhone zu bringen zum Klavier, um eine neue Idee festhalten, dass Chris hat sich mit, etwas, das gut verloren gehen können, wenn nicht erfasst sofort kommen. Die App Voice Recorder eignet sich hervorragend für diese.
MPVHub: Benutzen Sie keine apps, Ideen zu iOS skizzieren on-the-go? Welche apps?
Rik: Ich mache in der Tat ... Garageband auf dem iPad ist ein wunderbares app, das trotz seiner Einfachheit seiner Macht. FL Studio HD ist auch erstaunlich, sehr vibey. Es hat eine Knusprigkeit, dass ich wirklich genieße. Das einzige Problem ist, dass Im Mac nur so cant import meine Sitzungen in einen Computer, ich die Teile als Audio ersten, was eine Schande ist (ich glaube, ihre in der Entwicklung aber beeilen guys!) Hüpfen müssen
Omni TR gibt mir eine Menge Kontrolle über Spectrasonics Omnisphere, kann ich Dinge wie die Synthesizer-Filter über den Touchscreen meines iPad zu ändern, ist es wirklich eröffnet die Synth für mich. iMaschine ist eine schöne Drum Machine (vor allem wenn man seine wunderbaren großen Bruder auf Ihrem Computer besitzen). Synth-weise die Yamaha TNR-i, die Moog Animoog, Propellerhead Abbildung, Korg Kaossilator und Camel Audio Alchemy sind alle Must-Haves.

Dann gibt es die Versorgungsunternehmen. PolyTune, Cleartune, Songwriters Pad und GuitarToolkit sind alle erstaunlich, empfehlen Id alle von ihnen.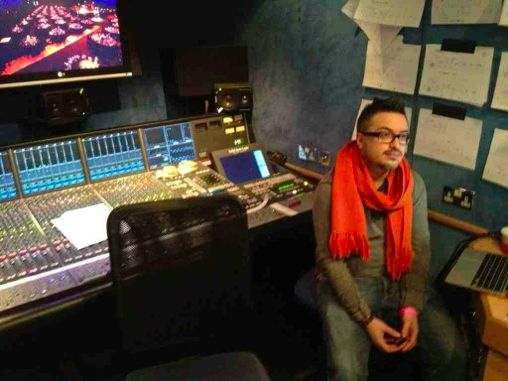 Rik Simpson, in einem anderen Studio mit MacBook Pro bereit, Ideen festzuhalten.
MPVHub: Welche Funktionen möchten Sie für zukünftige iOS / music Tablet-Geräte zu sehen?
Rik: Hmmm, ich denke, ein großer Teil davon durch die verfügbare Leistung des Gerätes wird diktiert. Als Prozessoren leistungsfähiger zu bekommen, wird Tabletten mehr einem Laptop werden. Nun in der Lage sein, die gleichen Dinge zu tun, aber mit mehr Portabilität. Seine nur eine Frage der Zeit. Ich würde auch gerne eine wirklich hochwertige Audio-Interface, MIDI hat auch etwas, das Gerät vor äußeren Stößen ohne Erhöhung seine Präsenz zu viel.
Erfahren Sie mehr über Rik Simpson hier: www.riksimpson.com

Nehmen Sie Ihre Kopie von MPVHub Audio Magazine: