In this exclusive interview with MPVHub, Rik Simpson of Coldplay and Jay Z fame, talks about the Mac and iOS music platforms and his personal favorite music creation apps for iPad.
Rik Simpson, ganador del Premio Grammy productor, ha trabajado con algunos de los grandes nombres de la industria de la música hasta la fecha. Su lista de créditos como un ingeniero y productor incluyen Coldplay, Jay Z, Portishead, Kasabian y PJ Harvey!
Entonces, ¿qué hace el co-productor de los álbumes de Coldplay dos últimas utilizar en el estudio? Pro Tools, Logic, SSL Matrix, huevos SE, convertidores Apogee? Todo esto es cierto, pero lo que se presenta como más de una sorpresa es cómo el iPad se ha infiltrado en sus personales (y de Coldplay) los flujos de trabajo de producción de estudio de música.
Nota del Editor: Esta entrevista fue publicada por primera vez en la revista Audio MPVHub, número 3 , como parte de la serie iOS Artistas.
MPVHub: He oído que usa un iPad en el álbum Coldplays reciente, Mylo Xyloto?
Rik: Hicimos uso de un iPad en la producción del álbum. Pero, me temo que puedo estar determinado exactamente cómo se han utilizado o qué aplicaciones se utilizan en este momento.
MPVHub: ¿El iPad también se utiliza durante Coldplays tour?
Rik: Sólo como pérdida de tiempo a la espera de showtime Im miedo! Mi sensación es que las pantallas táctiles funcionan mejor en un ambiente de club. Estadio conciertos son demasiado grandes para ese nivel de detalle para ser vistos por el público. También creo que por el momento la plataforma iOS no es lo suficientemente resistente para viajar adecuada. Dicho esto, sin embargo, estoy dispuesto a estar equivocado ...
MPVHub: En su estudio, cuál es su ir-a (basada en el escritorio) music software
Rik: El eje principal del estudio es una gran plataforma Pro Tools con Apogee convertidores. Trato de mantener los instrumentos de software fuera de este sistema, es importante que su caballo de batalla de una roca sólida, no hay tiempo para los choques ya la espera de las bibliotecas para cargar! Para ello utilizo una lógica MacBook Pro corriendo, Ableton Live y Reason, todo lo cual hace un cierto algo diferente para mí. Im un gran fan de Universal Audio, Native Instruments, IK Multimedia, Spectrasonics, Arturia, Celemony, Moog y FXpansion. Como músicos estamos verdaderamente mimados por la amplia gama de equipos increíble a nuestra disposición. El único inconveniente posible a esto es que hay un tendencia a que los registros de sonar igual porque everyones utilizando el mismo equipo. Me las arreglo para evitar esto mediante el envío de material para amplificadores de guitarra y la grabación o simplemente grabar el sonido en una habitación real.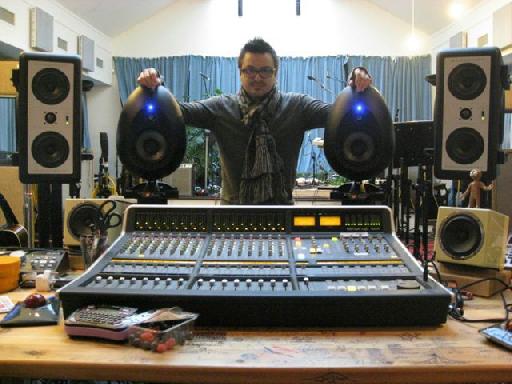 Rik con sus preciados huevos SE monitores y Matriz de SSL en el estudio de Coldplay. (No enfrente Rasberries de escritorio incluido.)
MPVHub: ¿Cómo ha sido la plataforma iOS cambiado la forma de grabar / mezclar / hacer
Rik: Su puesto las cosas muy espontánea. Me parece que se va a capturar piezas con rapidez y la atención se centrará más en el rendimiento en comparación a la edición de la vida a partir de la tarde MIDI (que es muy fácil de hacer en un entorno de escritorio o portátil). Otra función muy importante de los dispositivos iOS en el estudio es captar ideas. Pierdo la cuenta de las veces Ive ha pedido a traer a mi iPhone hacia el piano para registrar una nueva idea que Chris ha creado, algo que bien puede perderse si no se captura inmediatamente. La grabadora de voz aplicación es ideal para esto.
MPVHub: ¿Utiliza cualquier aplicación para esbozar ideas sobre iOS on-the-go? ¿Qué aplicaciones?
Rik: yo en realidad ... Garageband en el iPad es una aplicación maravillosa, su simplicidad oculta su poder. FL Studio HD es también vibey increíble, muy. Tiene una textura crujiente que me gusta mucho. El único problema es que Im sólo Mac así que no puedo importar mis sesiones en un ordenador, lo que necesito para hacer rebotar las partes como de audio de primera, que es una vergüenza (creo que es en desarrollo, sin embargo, darse prisa chicos!)
Omni TR me da un gran control sobre Spectrasonics Omnisphere, puedo cambiar cosas como los filtros de sintetizadores que utilizan la pantalla táctil de mi iPad, que expande el sintetizador para mí. iMaschine es una caja de ritmos preciosa (especialmente si usted es dueño de su maravilloso hermano grande en su ordenador). Synth-sabio al Yamaha TNR-i, el Animoog Moog, Figura Propellerhead, Korg Kaossilator y Camel Audio Alchemy son imprescindibles.

Luego están los servicios públicos. PolyTune, Cleartune, Bloc de Compositores y GuitarToolkit son increíbles, Id recomiendo a todos.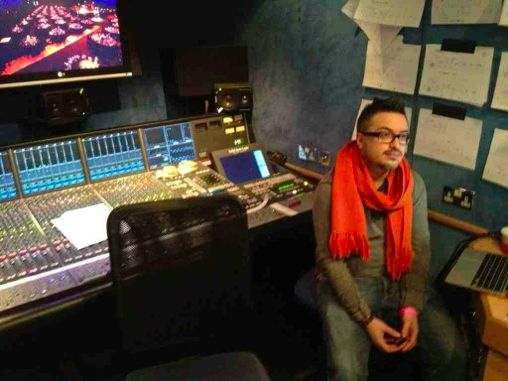 Rik Simpson, en otro estudio con el MacBook Pro está listo para capturar ideas.
MPVHub: ¿Qué características le gustaría ver para futuros dispositivos de tableta iOS / música?
Rik: Hmmm, creo que mucho de eso es dictado por la potencia disponible en el dispositivo. Como los procesadores obtener más poderoso, las tabletas será más como un ordenador portátil. Bueno será capaz de hacer las mismas cosas, pero con más movilidad. Es sólo una cuestión de tiempo. También me encanta una interfaz realmente de alta calidad de audio que tiene MIDI también, algo que protege el dispositivo de golpes externo sin aumentar su presencia en exceso.
Descubra más sobre Rik Simpson aquí: www.riksimpson.com

Recoge tu copia de la revista MPVHub Audio: