In this exclusive interview with MPVHub, Rik Simpson of Coldplay and Jay Z fame, talks about the Mac and iOS music platforms and his personal favorite music creation apps for iPad.
Rik Simpson, Grammy Award-winning producteur, a travaillé avec certains des plus grands noms de l'industrie de la musique à ce jour. La liste de ses crédits en tant qu'ingénieur et producteur notamment Coldplay, Jay-Z, Portishead, Kasabian et PJ Harvey!
Alors qu'est-ce que le co-producteur des deux derniers albums de Coldplay utiliser dans le studio? Pro Tools, Logic, SSL Matrix, SE oeufs, convertisseurs Apogee? Tout cela est vrai, mais ce qui vient en plus d'une surprise est de savoir comment l'iPad a creeped dans ses workflows personnels et studio (Coldplay) de production de musique.
NDLR: Cette interview a été publiée dans Audio Magazine MPVHub, numéro 3 , dans le cadre de la série Artistes iOS.
MPVHub: Je vous entends utilisé un iPad sur Coldplays récent album, Mylo Xyloto?
Rik: Nous avons utilisé un iPad dans la production de l'album. Mais, Im peur que je ne peux pas être précis exactement comment il a été utilisé ou quelles applications ont été utilisés à cette époque.
MPVHub: Est ce que le iPad a également utilisé lors de Coldplays tournée?
Rik: Seulement en pertes de temps dans l'attente d'heure de représentation peur Im! Mon sentiment est que les écrans tactiles fonctionnent mieux dans un environnement de club. Stade concerts sont trop grands pour que le niveau de détail pour être vu par le public. Je pense aussi que pour le moment la plate-forme iOS n'est pas suffisamment solide pour visiter appropriée. A part ça, je suis prêt à avoir tort ...
MPVHub: Dans votre atelier, ce qui est votre go-to (bureau-based) logiciel de musique
Rik: Le hub principal de l'atelier est une grande plate-forme Pro Tools avec convertisseurs Apogee. J'essaie de garder instruments logiciels loin de ce système, il est important que son cheval de bataille un roc solide, pas de temps pour les accidents et d'attente pour les bibliothèques à charger! À cette fin, j'utilise un MacBook Pro Logic course, Ableton Live et Reason, qui tous faire un petit quelque chose différent pour moi. Im un grand fan de Universal Audio, Native Instruments, IK Multimedia, Spectrasonics, Arturia, Celemony, Moog et FXpansion. En tant que musiciens, nous sommes vraiment gâtés par le vaste choix d'équipement incroyable à notre disposition. Le seul inconvénient possible est que il ya une tendance pour les enregistrements à la même sonorité que de tout le monde en utilisant le même équipement. Je parviens à contourner ce problème en envoyer des trucs à amplis de guitare et d'enregistrement ou tout simplement enregistrer le son dans une salle réelle.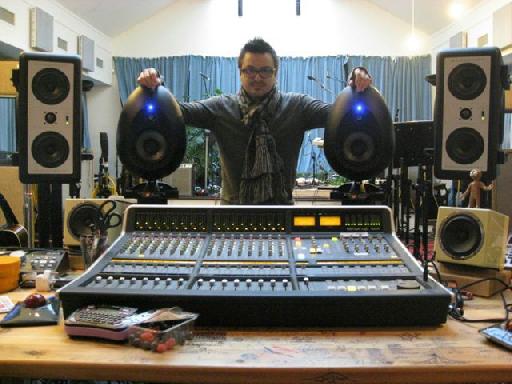 Rik avec ses précieux œufs moniteurs SE et la matrice de SSL dans le studio de Coldplay. (En face du bureau de Framboises pas inclus.)
MPVHub: Comment la plate-forme iOS changé la façon dont vous enregistrer / mélanger / faire
Rik: Son rendu les choses très spontanée. Je trouve que les pièces seront saisies rapidement et l'accent sera mis davantage sur la performance plutôt que d'éditer la durée de vie de la suite MIDI (ce qui n'est que trop facile de le faire dans un environnement de bureau ou ordinateur portable). Un autre rôle très important des appareils iOS en studio est de capturer des idées. Je ne compte plus les fois Ive été demandé d'apporter mon iPhone vers le piano pour enregistrer une nouvelle idée que Chris a mis au point, quelque chose qui pourrait bien être perdue si elle n'est pas prise immédiatement. L'application Voice Recorder est excellent pour cela.
MPVHub: Utilisez-vous des applications d'esquisser des idées sur iOS sur-le-aller? Quelles applications?
Rik: je fais bien ... Garageband sur l'iPad est une application merveilleuse, sa simplicité dissimule sa puissance. FL Studio HD est également incroyable, très vibey. Il dispose d'un croquant que j'aime beaucoup. Le seul problème est que Im Mac uniquement l'importation donc je ne peux mes séances dans un ordinateur, j'ai besoin de faire rebondir les pièces comme son premier, qui est une honte (je pense que c'est bien que dans le développement, dépêchez-vous les gars!)
Omni TR me donne beaucoup de contrôle sur Spectrasonics Omnisphere, je peux changer des choses comme les filtres de synthés en utilisant l'écran tactile de mon iPad, il ouvre vraiment le synthé pour moi. iMaschine est une machine à tambour belle (surtout si vous possédez son frère merveilleux gros sur votre ordinateur). Synth-sage de la Yamaha TNR-i, le Animoog Moog, Propellerhead figure, Korg Kaossilator et Camel Audio Alchemy sont tous les must-haves.

Ensuite, il ya les services publics. PolyTune, Cleartune, auteurs-compositeurs Pad et GuitarToolkit sont toutes extraordinaires, Id recommande tous.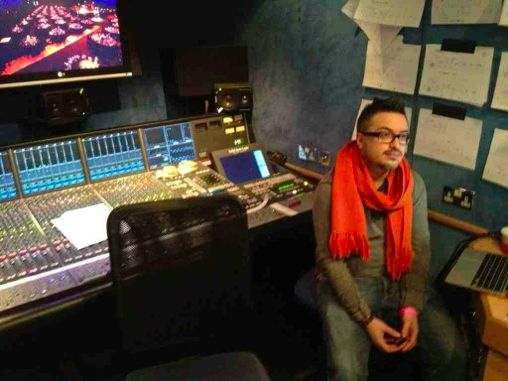 Rik Simpson, dans un autre studio avec un MacBook Pro prêt à saisir les idées.
MPVHub: Quelles sont les caractéristiques aimeriez-vous voir pour de futures tablettes iOS / musique?
Rik: Hmmm, je pense que beaucoup de lui est dictée par la puissance disponible de l'appareil. Comme les processeurs deviennent plus puissants, les comprimés seront plus comme un ordinateur portable. Eh bien être en mesure de faire les mêmes choses, mais avec plus de portabilité. C'est juste une question de temps. J'aimerais aussi une véritable interface audio de haute qualité qui a trop MIDI, ce qui protège l'appareil contre les chocs externes sans augmenter son empreinte trop.
Découvrez plus à propos de Rik Simpson ici: www.riksimpson.com

Procurez-vous votre copie de MPVHub Magazine Audio: