In this exclusive interview with MPVHub, Rik Simpson of Coldplay and Jay Z fame, talks about the Mac and iOS music platforms and his personal favorite music creation apps for iPad.
Rik Simpson, vincitore del Grammy Award produttore, ha lavorato con alcuni dei più grandi nomi nel settore della musica fino ad oggi. La sua lista di crediti come un ingegnere e produttore i Coldplay, Jay Z, Portishead, Kasabian e PJ Harvey!
Quindi, che cosa fa il co-produttore degli ultimi due album dei Coldplay utilizzare in studio? Pro Tools, Logic, SSL Matrix, SE uova, convertitori Apogee? Tutto vero, ma ciò che si presenta come più di una sorpresa è come l'iPad ha brividi nelle sue personali (e dei Coldplay), i flussi di lavoro di produzione Music Studio.
Nota del redattore: Questa intervista è stato pubblicato nella rivista Audio MPVHub, numero 3 , come parte della serie iOS Artisti.
MPVHub: Ho sentito che hai usato un iPad su album Coldplays recente, Mylo Xyloto?
Rik: Abbiamo usato un iPad nella produzione dell'album. Ma, ho paura non posso essere preciso esattamente come è stato usato o quali applicazioni sono stati usati in questo momento.
MPVHub: è l'iPad usato anche durante Coldplays tour?
Rik: Solo come perdite di tempo in attesa di showtime Im paura! La mia sensazione è che il touch screen funzionano meglio in un ambiente di club. Concerti Stadium sono troppo grandi per quel livello di dettaglio per essere visto dal pubblico. Penso anche che ancora la piattaforma iOS non è abbastanza robusto per il turismo corretta. Detto questo, però, sono pronto ad essere smentito ...
MPVHub: Nel tuo studio, che cosa è il tuo go-to (desktop-based) musica software
Rik: L'hub principale dello studio è un grande impianto di Pro Tools con convertitori Apogee. Cerco di mantenere gli strumenti software di distanza da questo sistema, è importante che il suo cavallo di battaglia una roccia solida, non c'è tempo per incidenti e in attesa di librerie da caricare! A questo scopo io uso un MacBook Pro con Logic, Ableton Live e ragione, ognuno dei quali fare una certa cosa diversa per me. Im un grande fan di Universal Audio, Native Instruments, IK Multimedia, Spectrasonics, Arturia, Celemony, Moog e FXpansion. Come musicisti siamo veramente viziati dalla vasta scelta di attrezzi incredibile a nostra disposizione. L'unico lato negativo possibile per questo è che c'è una tendenza per i record a suonare lo stesso perché tutti quanti con la stessa marcia. Riesco ad aggirare il problema con l'invio di materiale di amplificatori per chitarra e la registrazione o semplicemente registrare il suono in una stanza vera e propria.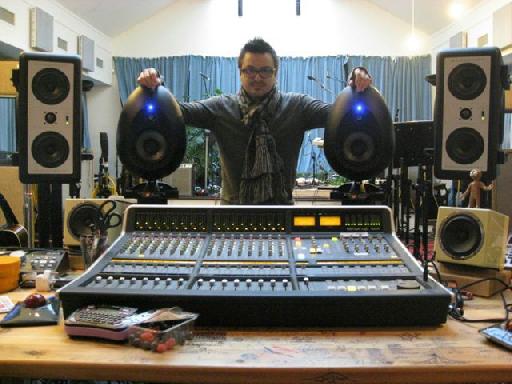 Rik con i suoi preziosi monitor Uovo SE e Matrix SSL in studio dei Coldplay. (Non Infront Rasberries della scrivania incluso.)
MPVHub: Come è la piattaforma iOS cambiato il modo di registrare / mixare / fare
Rik: la sua ha reso le cose molto spontanea. Trovo che le parti sarà catturato rapidamente, e la messa a fuoco sarà più sulle prestazioni rispetto alla modifica la vita fuori del dopo MIDI (che è fin troppo facile da fare in un ambiente desktop o laptop). Un altro ruolo molto importante di dispositivi iOS in studio è quello di catturare le idee. Ho perso il conto delle volte Ive stato chiesto di portare il mio iPhone al pianoforte per registrare una nuova idea che Chris ha messo a punto, qualcosa che potrebbe essere perso se non viene catturato immediatamente. Il Voice Recorder applicazione è grande per questo.
MPVHub: Usi le applicazioni di delineare le idee su iOS on-the-go? Quali applicazioni?
Rik: io in effetti ... Garageband su iPad è un'applicazione meravigliosa, la sua semplicità nasconde il suo potere. FL Studio HD è anche incredibile, vibey molto. Ha una croccantezza che mi piace molto. L'unico problema è che Im solo per Mac quindi non posso importare le mie sessioni in un computer, ho bisogno di far rimbalzare le parti come audio in primo luogo, che è un peccato (penso che sia in fase di sviluppo, però, affrettatevi ragazzi!)
Omni TR mi dà un sacco di controllo sul Spectrasonics Omnisphere, posso cambiare le cose, come i filtri synth usando il touchscreen del mio iPad, si apre davvero il synth per me. iMaschine è una drum machine incantevole (soprattutto se si possiede il suo fratello meraviglioso grande sul vostro computer). Synth-saggio il Yamaha TNR-i, il Animoog Moog, Propellerhead figura, Korg Kaossilator e Camel Audio Alchemy sono tutti i must-have.

Poi ci sono i programmi di utilità . PolyTune, Cleartune, Songwriters Pad e GuitarToolkit sono tutte incredibile, Id consiglia tutti.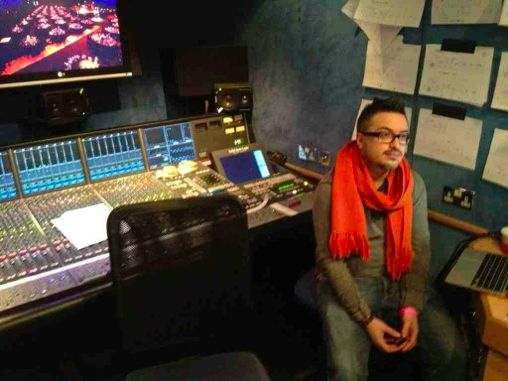 Rik Simpson, in un altro studio con MacBook Pro pronti a catturare le idee.
MPVHub: Quali caratteristiche vorreste vedere per le future iOS / musica dispositivi tablet?
Rik: Hmmm, penso che un sacco di esso è dettata dalla potenza disponibile dal dispositivo. Come ottenere i processori più potenti, compresse diventerà più simile a un computer portatile. Beh, essere in grado di fare le stesse cose, ma con maggiore portabilità . E 'solo una questione di tempo. Mi piacerebbe anche una interfaccia veramente di alta qualità audio che ha MIDI troppo, qualcosa che protegge il dispositivo da urti esterni senza aumentare la sua impronta troppo.
Scopri di più su Rik Simpson qui: www.riksimpson.com

Prendete la vostra copia della rivista MPVHub Audio: