In this exclusive interview with MPVHub, Rik Simpson of Coldplay and Jay Z fame, talks about the Mac and iOS music platforms and his personal favorite music creation apps for iPad.
Rik Simpson, produtor premiado com o Grammy, já trabalhou com alguns dos maiores nomes da indústria da música até hoje. Sua lista de créditos como um engenheiro e produtor incluem Coldplay, Jay Z, Portishead, Kasabian e PJ Harvey!
Então, o que o co-produtor dos dois últimos álbuns do Coldplay usar no estúdio? Pro Tools, Logic, SSL Matrix, SE ovos, Apogee conversores? Tudo isso é verdade, mas o que vem mais como uma surpresa é como o iPad tem se arrastado em seus pessoais (e Coldplay) fluxos de trabalho de estúdio de produção musical.
Nota do editor: Esta entrevista foi publicada pela primeira vez em MPVHub Revista Áudio, número 3 , como parte da série Artistas iOS.
MPVHub: Eu ouvi você usou um iPad em Coldplays recente álbum, Mylo Xyloto?
Rik: Nós fizemos usar um iPad na produção do álbum. Mas, eu tenho medo eu não posso ser específico exatamente como ele foi usado ou quais aplicativos foram usados ​​no momento.
MPVHub: É o iPad também usado durante Coldplays turnê?
Rik: Apenas como desperdiçadores de tempo enquanto espera por show eu tenho medo! Meu sentimento é que as telas de toque funcionam melhor em um ambiente de clube. Estádio shows são muito grandes para que o nível de detalhe a ser visto pelo público. Eu também acho que ainda a plataforma iOS não é robusto o suficiente para excursionar adequada. Dizendo que embora, eu estou preparado para ser provado errado ...
MPVHub: Em seu estúdio, o que é o software de go-to (desktop-based) música
Rik: O hub principal do estúdio é uma grande plataforma de Pro Tools com Apogee conversores. Eu tento me manter longe de instrumentos de software deste sistema, é importante que o seu cavalo de batalha de uma rocha sólida, não há tempo para falhas e à espera de bibliotecas para carregar! Para isso eu uso um MacBook Pro Logic execução, Ableton Live e Reason, todos que fazem um certo algo diferente para mim. Im um grande fã de Áudio Universal, Native Instruments, IK Multimedia, Spectrasonics, Arturia, Celemony, Moog e FXpansion. Como músicos estamos verdadeiramente mimado pela vasta escolha de artes incrível disponível para nós. O único possível inconveniente para isso é que há uma tendência de registros para o mesmo som, porque everyones usando o mesmo equipamento. Eu conseguir contornar esta enviando material para amplificadores de guitarra e gravação ou apenas gravar o som em uma sala real.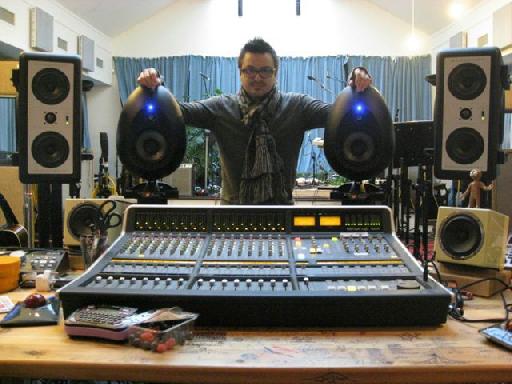 Rik com seus premiados monitores ovo SE e Matrix SSL no estúdio do Coldplay. (Não Rasberries infront de mesa incluído.)
MPVHub: Como tem sido a plataforma iOS mudou a maneira de gravar / Mix / fazer
Rik: Seu tornou as coisas muito espontâneo. Acho que as peças serão capturados rapidamente e, o foco será mais no desempenho em vez de editar a vida fora do depois MIDI (que é muito fácil de fazer em um ambiente desktop ou laptop). Outro papel muito importante de dispositivos iOS no estúdio é capturar idéias. Eu perco a conta das vezes Ive convidados a trazer o meu iPhone para o piano para gravar uma nova idéia que Chris veio com, algo que pode muito bem ser perdido se não for capturado imediatamente. O Gravador de Voz aplicativo é ótimo para isso.
MPVHub: Você usa algum apps para esboçar ideias sobre iOS on-the-go? Quais aplicativos?
Rik: Eu realmente ... Garageband no iPad é um app maravilhoso, sua simplicidade esconde o seu poder. FL Studio HD também é vibey incrível, muito. Ele tem uma crocância que eu realmente gosto. O único problema é que estou Mac importação só, portanto não podem minhas sessões em um computador, eu preciso saltar as partes como de áudio primeiro, que é uma vergonha (eu acho que é em desenvolvimento, porém, apresse-se caras!)
Omni TR me dá um grande controle sobre Spectrasonics Omnisphere, eu posso mudar coisas como os filtros de sintetizadores usando a tela sensível ao toque do meu iPad, ele realmente abre o synth para mim. iMaschine é uma bateria eletrônica adorável (especialmente se você possui seu irmão maravilhoso grande no seu computador). Synth-wise o Yamaha TNR-i, o Animoog Moog, Propellerhead Figura, Korg KAOSSILATOR e Camel Audio Alchemy são todos os must-haves.

Depois, há os utilitários. PolyTune, Cleartune, Songwriters Pad e GuitarToolkit são todos incrível, Id recomendo todos eles.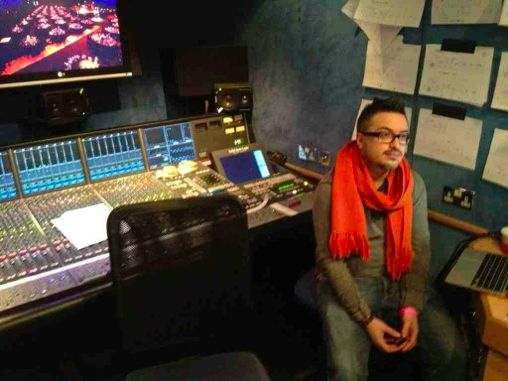 Rik Simpson, em outro estúdio com o MacBook Pro pronto para capturar idéias.
MPVHub: Que recursos você gostaria de ver para futuros dispositivos iOS / música tablet?
Rik: Hmmm, acho que muito do que é ditado pelo poder disponível a partir do dispositivo. Conforme os processadores se tornam mais poderosos, os comprimidos serão mais como um laptop. Bem ser capaz de fazer as mesmas coisas, mas com mais portabilidade. É apenas uma questão de tempo. Eu também adoraria uma interface verdadeiramente áudio de alta qualidade que tem MIDI também, algo que protege o dispositivo de choques externos, sem aumentar a sua pegada muito.
Descubra mais sobre Rik Simpson aqui: www.riksimpson.com

Pegar sua cópia do MPVHub Revista Áudio: