What do Nine Inch Nails, Saw Movie & Wayward Pines soundtracks have in common? Charlie Clouser of course. This prolific musician, composer and synthesist reveals his creative & studio workflows.
Charlie Clouser is a prolific composer working in Hollywood who was also a member of and toured the world with Nine Inch Nails. We caught up with him to get his thoughts on scoring, studio technology, synths, Logic Pro, the creative process, and even his early years composing for network TV in the 1980s…
AskAudio: How did the transition come about from being in Nine Inch Nails to scoring movies?
Charlie Clouser: Before I spent a decade in the record industry, I was part of a team that composed network TV scores in the '80s. I worked on shows like The Equalizer—an hour long, weekly crime drama. That's where I learned a lot. Then I was in the record industry and I came back into scoring in about 2002 with the first Saw movie. I got a call saying that the producers had a lot of my really obscure remixes in their temp music track. So I got the job scoring the movie! For me it was a natural thing because I wasn't just a guy from a band—I'd already worked in scoring so I knew the terminology, the workflow.
It was like returning to something I was very familiar with. I'm more of a lab rat than a road dog. Touring the world was amazing but there was less time spent in the studio because you're always on the road. For me, scoring is more of the part I like: sitting in the studio messing with sounds and trying to create music that makes an emotional connection. Also with scoring, the aim of the music is determined by what's on the screen. So the whole band thing about arguing over how many bars of guitar you need doesn't happen. Only the fun part remains!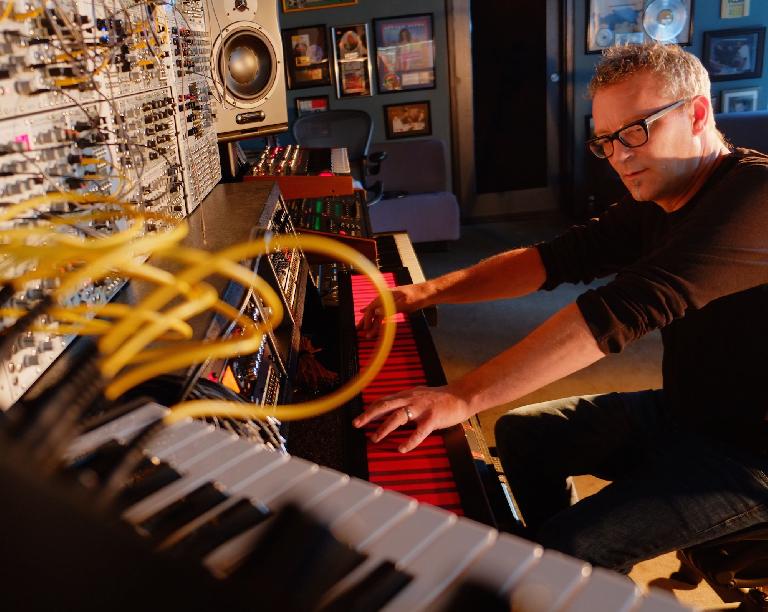 I'm trying to find things that not a whole lot of people are doing in the context of what I'm doing.
Ask: You have loads of synths, but how do you create your own sounds when you're scoring movies? Do you find that you're veering away from synths because you're looking for sounds that other people aren't making?
Charlie: Yeah. My guiding philosophy is "if a bunch of other people are doing something, I don't want to do it". If a few people are doing something but really killing it because they've been doing it for so long, I don't want to do that either. I'm trying to find things that not a whole lot of people are doing in the context of what I'm doing. So when I was programming synths and doing remixes for bands like White Zombie and Ministry and all those heavy bands in the '90s, I was using straight-up New York hip hop loops. I would utterly flatten their waveforms using the Waves L1 plug-in and then chop those up. This was before ReCycle and that kind of software so I would chop them up manually in AKAI samplers and then program the snippets to match the beats that the real drummer was playing. If you could strip those records back, you'd hear this wall of smashed and stepped-on drum loops. That's not necessarily what you'd expect from a White Zombie record!
Ask: Is that an approach you still take when you're scoring movies?
Charlie: Now when I do movies, it's like everyone and his brother is doing "epic orchestra". So I'm like "yeah, I'm going the other way". And this is something I learned to a degree beforehand. Trent Reznor would do this all the time. On a lot of the Nine Inch Nails songs, he'd consider things like putting a crash cymbal on a downbeat—which is kind of expected—to be a cheat. So he would do the opposite of what was normal or expected, and I always thought that was really smart and helped to create his own sound. So I try to do a similar thing. If something is an obvious solution that you know will work and everyone with a laptop is doing, then I don't want to do it—for obvious reasons.
If something is an obvious solution you know will work and everyone is doing, then I don't want to do it.
Ask: You've scored the upcoming second season of Wayward Pines. How has that worked? I'm wondering if the directors and producers are as keen on having things that are less conventional, less out-of-the-box.
Charlie: They wanted to have the score evoke this sense of uneasiness. They didn't want a standard orchestral thing or something that sounded electronic—it's a very organic setting so it can't be a hi-tech sound to the score, but it needs to sound malfunctioning and like something's not quite right. I used a lot of bowed metal instruments and a lot of sounds from hand built instruments that a sculptor friend of mine makes. And a lot of processed guitars that allowed me to get sounds that had an organic footprint—the sounds aren't from synths but from real instruments. They're acoustic, but played incorrectly, in many cases. I would play Chinese instruments with picks or a violin bow and get these amazing sounds. They come from an organic place but they're also really eerie. I've been using synths for 30 years: every day you move that filter knob and hope it's going to sound different. After a while you need to try something different!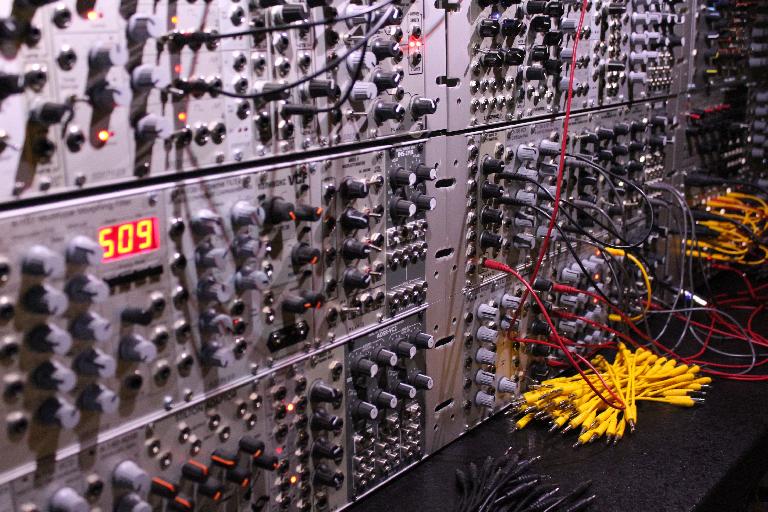 Ask: Can you tell us a bit more about your history with synths?
Charlie: Before 15 years of doing remixes and being in NIN, I was one of a three-man team scoring network TV in New York. And we worked with these terrible cheesy synths like the Korg M1 and we were forever fighting with these sounds to try to make them less cheesy. That was my role, so I was the guy who'd put these terrible Yamaha FM synth sounds through the Roland vocoder and make them sound like they were being broadcast from a helicopter or something. I'd take the Korg M1 piano and drench it in reverb, pitch it down. That's kind of stuck with me so I always want to be processing things to make them sound less like a sound that anyone else has access to.
Ask: You mentioned recording acoustic instruments. Are you recording the performance or do you sample it so that you can mess with it in different ways?
Charlie: I kind of do both. At the start of a film project I'll spend the first week or two working without knowing exactly what I'm doing. The first thing I'll do is map out the tempos and keys for each cue so I have some landmarks. I'll listen to a click track against picture to try to find the tempo that feels like the actors and the editor are dancing to my beat. Once I have that, I'll take that tempo grid and go and find interesting instruments and record some sounds into the template for a cue. In Logic you can just record over and over, lots of ideas and you wind up with ten times as much material as you'll ever use in a cue. Maybe 20% will get used in any one cue, but then I'll export everything and go through it, find sections and edit them down for future use.
I'll have folders of loops that I can bring into Live to adapt them to the pitch and tempo of other cues, and maybe create some EXS instruments from them. As I go from cue to cue I can just re-tune those instruments. As you get closer to a deadline you have less and less time to sit around experimenting with instruments so I try to do as much of that as I can at the beginning of a project. I don't generally cross-pollinate, I have oceans of stuff that I recorded for the Saw movies that I can't use for anything other than a Saw movie. To me, those sounds are glued to that movie. It's the same for all the movies I work on. All of the Saw movies were done with 100% stock Logic plug-ins, nothing third-party at all.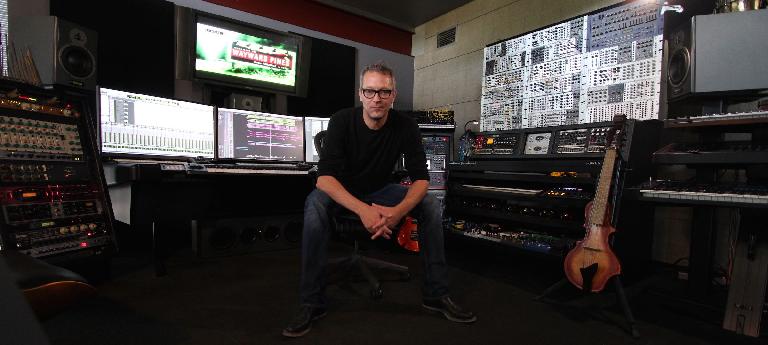 The sounds for Wayward Pines aren't from synths but from real instruments. They're acoustic, but played incorrectly.
Ask: 100% Logic Plug-ins? That's incredible!
Charlie: Yeah. The only third-party anything that I used for 15 years was Master X5 which is the TC Electronic Finalizer in a plug-in. Everything else is from Logic's plug-ins. Whenever I use, like, a pulsing 16th note bass synth on a movie, something simple, it's the ES2. I can dial up a sound in a few seconds that does what I need. I don't need some dubstep insanity programming! I find it so much easier to work when my computer setup is simple and efficient. I make all the weird sounds outside it using my wall of guitar pedals and these unusual instruments. Once they're in the computer I use Logic's EQ and compressor, a couple of stock reverbs and that's about it! I've used the odd sound from other instrument plug-ins but almost all of what I do is sounds I make and put into the EXS sampler, or rhythms manipulated in Live ReWired to Logic.
Ask: What is it about Logic that you love? If you could suggest any improvements, what would you like to see?
Charlie: I've been using Logic since about 1994 and I switched from Opcode Studio Vision which was the first DAW with MIDI tracks and digital audio. That was a decade before plug-ins! That's what we did a lot of the early NIN albums with. We used Logic quite a bit for the NIN album The Fragile. I'm also familiar with Digital Performer and it's great for scoring, and I know how to use Cubase as well.
The one thing that keeps me in Logic is that if you want to do something really simple, Logic can be very quick. I've seen how other composers use things like Cubase to deal with really massive, multi-computer setups and that's something that Logic is less good at, but I don't really work that way. That may be all about to change though when they implement Audio Units 3, and dealing with big orchestral templates and slave rigs will get easier in Logic. Another thing I'd like to see in Logic is the ability to deal with multiple MIDI ports per plug-in instance, but that will come with AU3. Currently DP and Cubase are better than Logic at that. I like how Ableton Live lets you browse samples while a song is playing and auto-sync with playback so you can preview it live.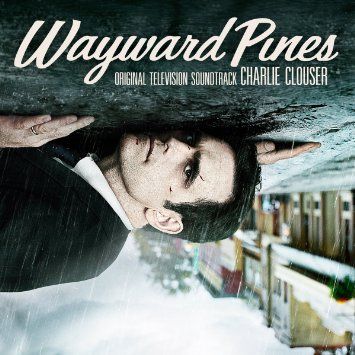 Wayward Pines soundtrack by Charlie Clouser
Ask: Do you see yourself working with Trent Reznor again? He makes film scores as well of course.
Charlie: I'd certainly be pleased to, but he doesn't need any help from me! To a degree we have different backgrounds and tastes and that's partly why he brought me onboard, to add a different flavour when he felt he needed it. The time was right in the '90s for us to work together and as with many artists, people moved on to working with different people. I'm certainly grateful to have been a part of it. I love the scoring work that he's done.
Ask: Do you think that the low price and widespread availability of technology in music has led to a homogenisation of the music people produce?
Charlie: The barrier to entry is so low that you can get epic trailer music at your fingertips for a few hundred bucks, but without having spent the time learning why those elements work and how to manipulate them to tell the story that needs to be told. When I started out, the barrier to entry was so high but what sent me down this path was how specialised it was and that interested me. Maybe if I was starting now, I'd be less interested. Maybe I'd be a foley sound effects artist or something!
Ask: Do you have any tips for the younger generation, either for getting into rock or into scoring?
Charlie: When you start out, it's helpful to try to figure out how your favourite artists do what they do. There's always a bit of mimicry at the start, and that's fine. But I've always tried to avoid anything that others are already doing well. I can learn from it, but I try to do something different. It may sound trite, but try to forge your own path. Maybe you'll end up being the only person being that particular thing. That can be the path to artistic integrity.