Meet Eric Harland, Multi Grammy nominated Jazz drummer who has recorded with the likes of Dave Holland, John Mayer, Ravi Coltrane, Zakir Hussain, and played on over 18 major movie releases.
RS: Tell us about your background.

EH: Music has always been my passion. I grew up in Houston, Texas. My Mother and the majority of my family are organists, pianists and vocalist. From age 5 onwards I had a great drum instructor who taught the whole tandem of the drum community in Houston: Chris Dave, Kendrick Scott, Jamire Williams, Mark Simmons, the list just keeps going on and on. Music has definitely been my life. At the Performing Arts High School we studied Jazz as well as being Classically trained, for example Philharmonic players would come into Houston and do masterclasses at the school. We got a lot of great exposure to a multitude of music at a young age.
The big break for me was when Wynton Marsalis came to my High school and told me, 'Man, you should be in New York city.' I didn't have any ideas about leaving Houston, where the food was great and my family was there! But one of my friends, Jason Moran, did go to New York the previous year'¦ By the way, you know, Robert Glasper was also from the same school, Beyoncé Knowles, Bryan Michael Cox... It's a serious community of artists!
RS: Sounds like the school or hot-spot to be at for aspiring musicians!
EH: Yeah! It was always a friendly competition'¦ There's the arts school in Dallas too, they had Erykah Badu, Norah Jones and tons of other artists that came out of that area. All we did was share information with each other. Now everybody has grown up and branded themselves in different markets and adopted other communities. But we still keep in touch, so it's really great.
So I went to New York and Wynton gave me a recommendation to the Manhattan School of Music. So based on my audition and his recommendation I got a full scholarship and that was the beginning of my professional career. My first big-break in New York was when my combo instructor, Rodney Jones - the music director for the Rosie O'Donnell show at the time, asked me to do two of his records on the Music Masters label. I was 18 at the time and that put me in touch with other great artists and it just kept going.
RS: So was this happening before you went to college to do Biblical studies?
EH: It's interesting. You know my family was very religious. Super religious. My Mom was a very strong-willed woman and always maintained a strong sense of keeping God first, perhaps in a fearful way... I didn't really agree with the fear aspect. I was like, if I'm gonna love God, I'm gonna love God and not gonna be afraid that God is gonna punish me for doing something bad. So it caused me to venture off into my own quest to get a better understanding of this relationship I'm supposed to have with the supreme being. So to answer your question... YES, after music school I went to Theology School. I thought it'd be nice to study spirituality and get a basis of what it is. You know I'd only been taught about God through church and never had a chance to be on my own and self-discover through listening to teachings and gathering my own wisdom and information. So I started reading a lot of different books and guys in school turned me onto different materials. So I began reading about Buddhism, Hinduism, New Age, Taoism, to get a non-biased approach. What it all came down to for me, was that everything is just a different reflection of God based on the culture of a particular civilization.
RS: Did exploring these different spiritual perspectives and their unity help inform and inspire your music?
EH: Completely. I was then able to take that concept and apply it to music. Just like everything is all God, everything is all music. There is no box that you have to live within as you're playing music, you have the ability to play whatever you feel. I use that approach no matter what I'm doing. I bring in all the influences I love, to what I'm playing, whether it's Pop, Drum n' Bass, Country, whatever I'm feeling at the time. I'll use it to communicate with other musicians that I'm playing with, in the moment, onstage. When I'm doing my solos, I'll pull from all the different sources, like from Indian music - I play a lot with Zakir Hussain, a great Indian tabla player - so when I reflect on it all, it gives me a lot of info to play with. Ultimately, playing what you know is what's best. That's what it's about - just being yourself, being authentic. I try to tell musicians not to worry about how much you know, just to play what you know. I think people can feel when someone is being authentic as opposed to someone who is just trying too hard.
I break it down and call it 'honest music'. To me it's not genre specific... the genre thing is just a way for record labels to sell, classify and package things. I think musicians just hear music and we gravitate to what really speaks to us... and then it's easy to start making something inspiring from that arena. I never thought about genres when I was growing up. I never thought about Gospel as a genre... or Jazz as a genre.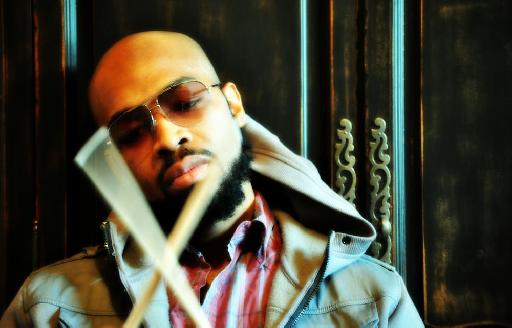 "I think people can feel when someone is being authentic as opposed to someone how is trying too hard."
RS: So what music inspires you from outside of the Jazz realm?
EH: I'm a big fan of the 80s. I loved bands like Yes, Chicago, Chaka Khan, Cameo, DeBarge, Earth Wind & Fire'¦ and the band I'm in now is called Prism. I never had the heart to let Dave Holland know this but there's an old band from the 80s called Prism. I don't think when Dave came up with the name he knew about it. But I was a big fan of the original Prism, so I was like '˜cool. I'm actually in Prism!'
I also grew up listening to the Police, Sting, Phil Collins, Janet and Michael Jackson, Stevie Wonder, Marvin Gaye, Chuck Mangione, and everyone from Sam Cooke to Ray Charles. My dad pretty much wore out the Sam Cooke records which had a great vibe. Then even into the 90s, from R. Kelly, Boyz II Men... the list just goes on.
RS: You're on tour now in Europe... what are you listening to between shows?
EH: Because I'm on tour, I'm not really checking out much other music. I'm immersed in the music of the tour. I'll have nostalgic sessions, which consist of me going back and listening to one of my favorite bands like Toto'¦ I'm right now listening to DeBarge. Then I just keep my head space in a constant creating space... I have this series of books called Conversations with God by Neale Donald Walsch and it's a lot of great reading material in there to just step away from music a little bit and keep a very centered approach.
RS: So, it's not about being '˜positive'?
EH: Exactly. It's not about positive or negative, because all of it is just flow. It's when you're centered that way, you can have a very balanced experience of what it is and not expect things in a certain way... so centered is the thing.
RS: I understand you've played on some high profile Hollywood movies. How did you get into it?
EH: A lot of the really high-profile jobs, I haven't done direct scoring, it's always been co-participation with Terence Blanchard'¦ and those were mostly Spike Lee films. I had a more hands on approach with Mariah Carey's Glitter which was the first time I had the chance to work with Randy Jackson, who's now a celebrity success on American Idol'¦ but back then he was Mariah Carey's musical director. Terence really looked out for me and was my angel in terms of getting me into that field and understanding film scoring. I've also worked on the movie, Pig Hunt, by this great producer and writer from the Bay area named Robert Mailer Anderson.
RS: So, what's the process when scoring for film?
EH: It's a great process... basically when we worked on a lot of the Spike Lee movies, Spike Lee would fly us in and we'd go into a visual studio room where we just watch the film from start to finish without any music of course. Then he'd explain what he's going for and we had to come up with certain themes. It was then a brutal process of submitting material and getting OK's... that's part of the process that a lot of musicians might not like! You end up spending hours creating a bunch of material and then all of a sudden they'd ask you to keep going and come up with something else.
That being the process, you LEARN to love it. So after getting used to this process you tend to start pumping out more and more stuff until you hit the point where everybody's feeling it and saying 'this is it!' Next we move into the whole editing and arranging aspect, making sure the parts are correct'¦ the fade-in cues are coming in at the right points and making sure it fits and blends in association with all the other music in the film.
RS: Tell us about the gear you use.
EH: I have an iMac in the studio and a MacBook Pro I carry on the road. I have GarageBand and Logic Pro on both. That's pretty much what I do most of my tracking on. It's easy at home because I have this great set of drum mics by Avantone that are really great. But I tend to use a very simple setup to record my drums: two overheads, a bass drum mic and one snare mic. I have a nice studio and drum room which captures a great drum sound. I don't keep my room too dry by leaving the ceiling unpanelled'¦ mostly because when I play in various studios, I feel like you have to overplay in order to get a really fat sound. I wanted to be able to have more of a physical functionality: to play the drums and gets different sounds and tones out, so having less dampening in the room allowed for more breath, avoiding the need for more reverb afterwards. All in all, capturing a nice organic sound.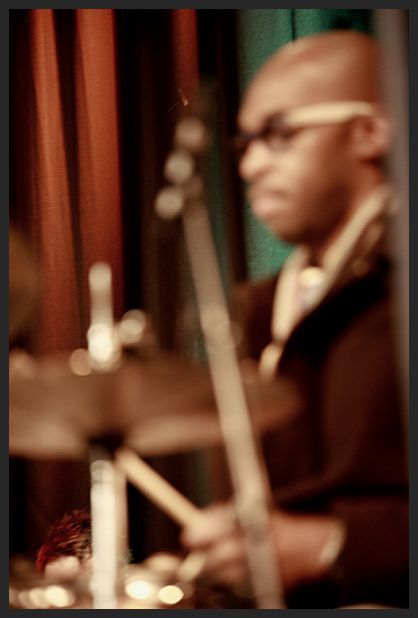 "'¦ having less dampening in the room allowed for more breath, avoiding the need for more reverb afterwards."
RS: So, recording in this way do you experience any issues when mixing or passing it on to a mixing engineer?
EH: No, not at all. Ryan from The Loop Loft did all the splicing and editing and did a great job. I just made sure I got a good range of mono and stereo tracking.
RS: Out of all the DAWs why did you choose Logic Pro?
EH: Well, I think it's just so much more user-friendly for me. I've worked with Pro Tools a lot and Digital Performer for film scoring. I think it just comes down to what you feel most comfortable with and I never felt as comfortable on other DAWs as I am with using Logic. You know, I used to use GarageBand, a lot for fun before I knew anything about music production software. Then when I was turned on to Logic, I saw it was as easy to use, but with more capability and flexibility for multitrack recording and a wide range of extra things as well.
RS: Do you mix in the box in Logic?
EH: Yes. I definitely mess around with the different reverbs and EQs. I love to experiment and add multiple layers of drums and EQ each layer separately. For example, I'll have one layer that focuses on the lows and pan it in the middle. Then add a spacial element with a mid and high end section panned differently.
RS: Tell us more about your studio setup.
EH: Yeah. As I mentioned I use Avantone mics... I have Pro Tools and a DIGI 002 rig that I run my mics through. Sometimes the DIGI doesn't work as well with Logic as it should, so if that bad boy starts to act up, I have a Tascam audio interface I switch to. I also have an old Tascam mixing board I like to use sometimes to premix the sound before it goes into Logic.

RS: So when tracking you like to capture that live element?
EH: Exactly. It's something I'm just used to. I just want to get that sound quality as I'm playing live or recording'¦ because when you have good sound, I believe it enhances your ideas and performance. I don't want to spend the whole time (while playing) trying to capture the sound and figuring out the balance - I'd rather get the balance and mix done first. There have been plenty of times (early on) where I've gone into play in the studio and I've felt inspired to just play, but when I listen back to the sound afterwards'¦ it was just horrible and wasn't balanced correctly. Now I rely on my presets, I hit record and I know the sound is there the way I like it.
My ultimate goal is to get my drum sound to where people can submit recordings to me and I can just add drums (at home) and send it back to them without having to go to someone else's studio and be on someone else's clock.
RS: So tell us about your collaboration with The Loop Loft. Now people can have you playing on their records without you being there!
EH: Exactly! It's really great and very forward thinking with other great artists like Charlie Hunter. I think it's going to be a great series. Before you know it, people will be able to have these sounds and create songs from themselves on the spot and being able to say, yeah, I got [insert famous keyboardist here] on keys and Charlie Hunter on guitar... *laughs*
That's what everyone wants anyway. And it's a way to give everyone the opportunity to have a professional sounding product and not just have to take those samples included with every DAW or worry about calling someone to the studio, track their voice and then license it. You know... This Loop Loft library is a very good way that's clean, safe, professional and royalty-free to freely make your music and have fun.
RS: Excellent! I'll have you on my next record then... so outside of music you've done some modeling too?
EH: That was a WHILE ago. I did modeling for L'uomo Vogue with world renowned photographer Arthur Elgort. That was kind of random. He was doing a Jazz series and then he really liked my look, so he wanted me in other things as well, modeling different clothes. You know, I used to weigh 380 pounds. I was a really big dude but I got real skinny and got down to 160 pounds and was perfect model size. I did a few shoots, another which included something for The New Yorker Magazine and another L'uomo Vogue in Milan Italy as well.
RS: Do you have any advice for musicians who are looking to take their music to the next level?
EH: I just say go for it all and see what resonates with you... Just spread yourself out and see what speaks to you - what makes you feel the best when you're doing it. Then DO THAT! You know, that will be where you find your path, the direction you want to go, versus making a decision when sometimes you just don't know yet. You just have to follow that joy bubble and see where it takes you. Then you'll start to get ideas that you can conceptualize and go for too. Leave room for just the approach to just play or BE, because all of IT is just a part of the journey and you've got to respect each part of the journey. So again, go for it all, keep pushing and have fun all the way through.
Discover more about Eric Harland on his website.