Kieran Krohn sat down with award-winning Australian producer and DJ, Jamie Stevens, to find out more about his production studio workflows and collaborations with John Digweed and Nick Muir.
Founding member of Infusion—award-winning live electronica act—Jamie Stevens has been setting the electronics, tech house, progressive and electronics scenes on fire with his addictive grooves, pulsating beats and celebrated remixes for the likes of John Digweed, Hernan Cattaneo, Booka Shade, and others. He's also been receiving praise from Sasha, Laurent Garnier, Nick Warren, and his recent "The Wonder of You" EP hit #1 in Beatport's tech house chart.
Ask: Infusion was a successful live performance journey you embarked upon with Frank and Manuel. I specifically remember the Six Feet Above Yesterday tour hitting The Rev in Brisbane in 2004. How have your performance experiences impacted on your creative process and how has collaboration shaped your sound throughout the years?
Jamie Stevens: The improvisational aspect of Infusion formed the basis of our live shows so there were many elements that were manipulated and augmented on-the-fly. The performances definitely showed me the importance of "happy accidents" and how to harness those and make them work in your favor. In the studio, I try to throw in chance elements, opening up sounds, effects, notes and all kinds of things before I hit 'play'. It's quite amazing how cool the results can sometimes be simply by doing things that you consciously would not have chosen as you seek out a particular sound through familiar steps.
In the studio, I try to throw in chance elements, opening up sounds, effects, notes and all kinds of things before I hit 'play'.
I don't actually collaborate all that often but the process is quite different from project to project. With John Digweed and Nick Muir, it was a case of them sending me a project which contained a basic arrangement of a spares idea. There was enough in there for me to add and manipulate and send it back to them to do more. I liked that process and would definitely like to try that more. With King Unique, we just sat just in his room and I gave him a loop I was working on and we worked on it together on his computer. We worked on it up to a point where energy-wise, it could have gone in two different ways to finish it off. We decided that Matt will be responsible for completing one version with his vision and I will do one with mine which is another great way of doing it. Having said all this, there was something very magical about working with Manny and Frank, seeing things morph and mutate as we all worked on a piece of music. I think we'll be doing more of this soon so watch this space…
Listen to Jamie Stevens latest release, The Healing EP:
Ask: Talk us through your live setup. What can people expect when they experience a Jamie Stevens live show?
JS: When I play live, I try and take as much as I can from what I loved about playing with Infusion and condense it into a one-man show. There's a lot of live manipulation of synths as well as structural and arrangement manipulation. There's something about playing live and treading that fine line of improvisational excitement and sheer terror and fear of it all going horribly wrong. Occupying this middle ground is possible for me by using Ableton (in clip mode), NI Maschine, a Behringer BCR2000 controller and an iPad 2 running touchAble to control Ableton's clips and some effects.
I have thought about controlling some of these parameters with visual triggers like hand and body gestures as well as video and graphics syncing.
Some beats (hi hats, rides, snare, etc.) are programmed live on the Maschine running in step sequence mode whilst other loops are simply clips within Ableton. Each track has been reduced to 8 channels which includes some live soft synths manipulated with knobs I have mapped to the Behringer. Various other knobs control arpeggiators, effects sends, filters and basic channel volume. The mappings are pretty chaotic, to be honest! I can step through whole parts of a track or simply trigger individual loops and introduce each element as I feel like it. Lately I have thought about controlling some of these parameters with visual triggers like hand and body gestures as well as video and graphics syncing. I think these areas are really exciting.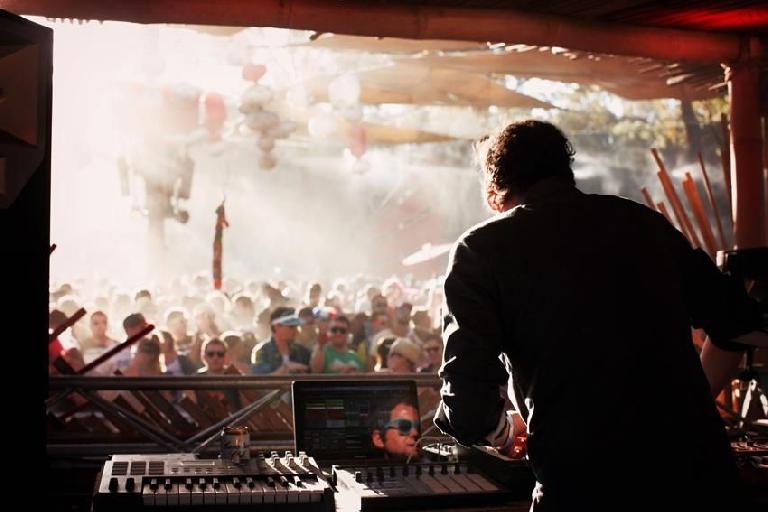 Ask: Your involvement with music goes back to the early '90s, how has the world of hardware shaped your digital workflow today?
JS: To be honest, as much as I dearly love my hardware, I am almost solely computer-based these days. Seeing the exponential rise of audio technology over the course of my life has been pretty extraordinary and I think I can't help not taking it all for granted. I mean, some hardware synths that used to cost over $3000 are now available as freeware that honestly sound just as good.
[courses_slider]
The complexity of some soft synths is mind boggling and the creative possibilities of these synths are pretty staggering. Synths like the Zebra, NI's Massive and Reaktor are incredible synths that you can buy for a tiny fraction of the cost what they would have been had they been hardware synths in the '80s or '90s. In the '90s, I had a sampler that could only hold 7 samples and, at its highest sampling rate, could only sample for 0.7 seconds. Now I have something like the EXS24 and, well… You get to appreciate these things. I think that is why I keep all my digital tools to a minimum; I try to understand the instruments I use, learn the ins and outs and respect them and not view them as throw-away objects.
I keep all my digital tools to a minimum; I try to understand the instruments I use, learn the ins and outs and respect them.
Obviously, when it comes to analog technology, there is a different argument and much of it is valid (though not all). The resurgence of the analog modular is understandable as there is a life in these machines that can't be replicated. I had the privilege of playing with one in Secret Cinema's studio last year and it's an amazing experience. The tactility of it. The density of the sound. But more importantly, the feeling of it living and breathing is undeniable. So yes, modular synths occupy a justifiably regal place in the world of electronic music production. However I still maintain that the tools within your average DAW are powerful enough for most production and I have been using them almost exclusively for about 15 years.
Ask: With so many hardware & software options available these days, how do you approach a new studio session, with the blank canvas of your DAW looking back at you?
JS: It always changes. When I start a new project, be it an original or a remix, I save as I go along (when I remember to) and I have a habit of going on production tangents at least 5 times per project. So basically, I end up with a library of various ideas that I can come back to and alter for new pieces. I have around 250 projects that I haven't finished on my hard drive which is the downside to working on a DAW rather than hardware synths and a tape machine! I am getting better finishing off pieces and being more assertive with myself when it comes to saying that a track is well and truly finished. So, to answer the question, I will often open up early versions of old projects and see if there are elements that now speak to me. These are good starting points when I have a bit of a creative block. Other times, I can't get passed simply starting with a kick drum and building from there depending on where my inspiration is coming from.
[ad_unit]
Ask: Besides the obvious (PC/Mac, etc.), what is one piece of studio gear that you could not live without?
JS: This is a hard one to answer because I have primarily been a Logic Pro devotee over the years and use the Sculpture plugin ALL the time so I would have said that in the past. But lately I have been exploring the intricacies of Ableton Live (which I mostly only ever used live and as a re-wire tool) and has gotten me very excited about that platform.
I don't think there is any piece of gear I could never live with. But I will never sell my SH 101!
Ableton has always been very quick to use but the piano scroll editor and the mixer were difficult to get excited about. That's probably because I didn't put a lot of effort onto learning and adapting because I never had a need to. However, the Max4Live modules are pretty game-changing for me. There are some incredibly power tools to transform your MIDI and audio that would be a nightmare to do in Logic. Obviously, they are quite different DAWs in many ways so it's perhaps unfair to compare these things. Logic Pro CAN be very powerful when you "look under the hood" in its audio/MIDI environment but I don't have a maths degree to get anything useful from it. So… I can't answer this one honestly but simply say that this discovery has taught me that I I don't think there is any piece of gear I could never live with. (But I will never sell my SH 101).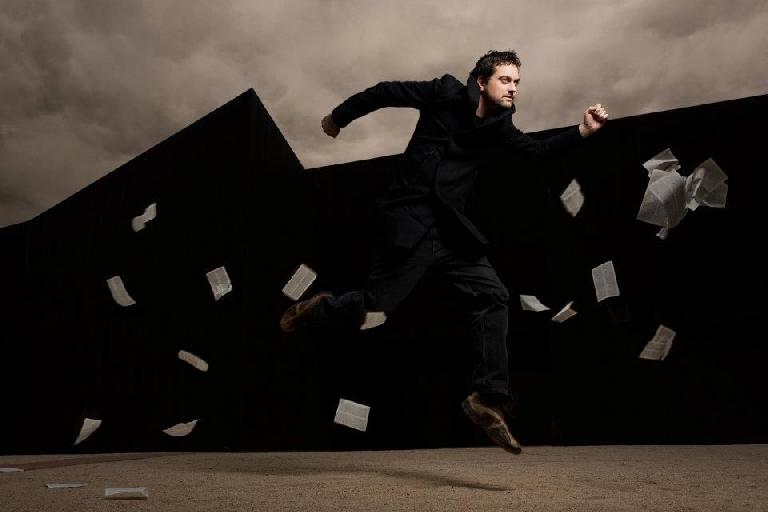 Ask: If you could choose any artist in the world to collab with, who would it be, and why?
JS: Brian Eno. Because he is a god.
Ask: You have recently released two remixes on FutureForm Music. Was there something or some element in particular of Matter's "Spore" that caught your attention?
JS: I was drawn to the atmosphere and the textures that sat beneath the surface of the track. I knew there was something I could do with those. It's often the case with remix I accept where it's the buried elements that get me excited about potentially remixing that track.
Ask: What can fans expect from Jamie Stevens in the coming months? Any major aspirations you're looking to achieve as an artist or performer over the next few years?
JS: It's pretty exciting at the moment after a relative lull from me. On August 10, my new EP on microCastle gets released with a remix from Guy J. It took a long time to get this EP where I needed it to be so it's fantastic to be able to get this out on a label that has become another home for me. The Guy J remix is a blinder! After that, a new remix on Perspective Digital comes out. It's a remix of Soulwerk, it's a real groover and I'm really proud of it. Then I have a remix on Guy's Lost & Found label which is a remix of my buddy Khen from Tel Aviv. I think it's the most 'epic' piece I've down for a while fusing many of my great loves: techno, soundtracks and '70s electronica. Apart from that, some new things being developed for Chameleon as well as mentoring some amazing new producers. Over the next few years, I hope to develop my live set as I mentioned before as well as complete an album. This is something I have been thinking more and more about. I'll be starting an alias for another project too but I'm keeping that one pretty low-key.
Find out more about Jamie Stevens:
Jamie Stevens Facebook
Jamie Stevens at Cameleon Records
Jamie Stevens on Souncloud