On the eve of the 11th anniversary of macProVideo.com (sister site of Ask.Audio) CEO, Martin Sitter, invites us into his studio to talk about his latest Moog-inspired musical project and more.
It's not often you get the opportunity to interview your own CEO who happens to be a well-respected musician, producer and DJ in their own right. Martin Sitter is all those and more. Having built macProVideo.com & Ask.Audio from scratch to become leading resources for self-paced online learning of creative software and techniques, and of course having been the man behind the original Apple certification courses for Logic Pro X, we're glad to report that he's back in the musical saddle.
We chatted with Martin about his latest analog synth-based track, "Who's Creepin'" from his new project Nicolay Martin, and got exclusive access to his studio in the process.
Ask: Why did you make "Who's Creepin?"
Martin Sitter: Late last year I suffered a bit of an ontological breakdown. I've been building NonLinearEducating.com for over 10 years now. Along the way, I forgot about the art. Music is what gave everything to me. Ironically, I walked away from music to focus on building a company that taught others how to make music. Even though that brings me a lot of pride, I still felt I was missing a big part of myself. Seeing the gear at NAMM 2016 inspired me to dust my studio off again. I might run companies, but it turns out the artist is always Creepin' in my heart.
But ultimately, I did this to prove to myself that I still can do it. In my opinion, I succeeded.
Ask: What's it like to be "Born Again" to music?
Martin: It's always interesting to come back to something after you've abandoned it for so long. I was once THE Lead Educator and Official Courseware Author for Apple's Logic Pro. At that time, I knew the product probably better than even the people that programmed it. But after being away from Logic Pro for years to focus on building NonLinearEducating.com, it was immensely humbling to me to discover how much I'd forgotten about how to use the software. I relearned my skills by watching our own tutorials from macProVideo!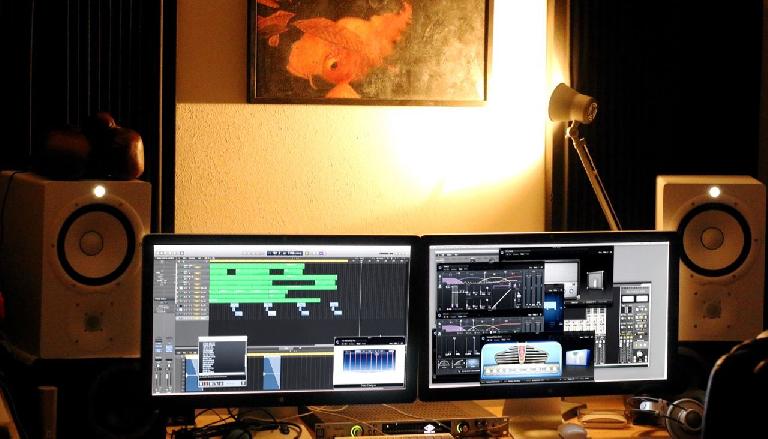 It was immensely humbling to me to discover how much I'd forgotten about how to use Logic Pro. I relearned my skills by watching our own tutorials from macProVideo … !
Ask: How did you make "Who's Creepin'?"?
Martin: I recently bought a Moog Sub37. One of the presets, I think it's patch 8|6, inspired me. It has an arpeggio that's pretty funky. So I used that arpeggio to drive the Sub37, SubPhatty and Slim Phatty in a "wall of sound" layer that would be the peak of the track. The big analog synths called for big room beats, so it was easy and natural to lay-in a pounding 4-on-the-floor. I used the beats to provide structure, then went back and recorded the subtractive filter sweeps in real time, always building towards crescendos. The angelic flourishes were added for ambiance at the end. I used two instances of iZotope Ozone in sequence on the master channel to finish the track, which really brings out that compressed-phasiness in the sound, almost like slightly detuning the mix. I like that sound.
Ask: How long did it take to make the track?
Martin: I think I spent three hours the first night hammering out the idea, and around four the next putting the rough mix in place. I mastered it the third night. Happily too, because some friends came over directly after and twisted all my knobs. I haven't been able to get the sounds back since. Probably never will. But yeah, there's about 10 hours into it, I guess.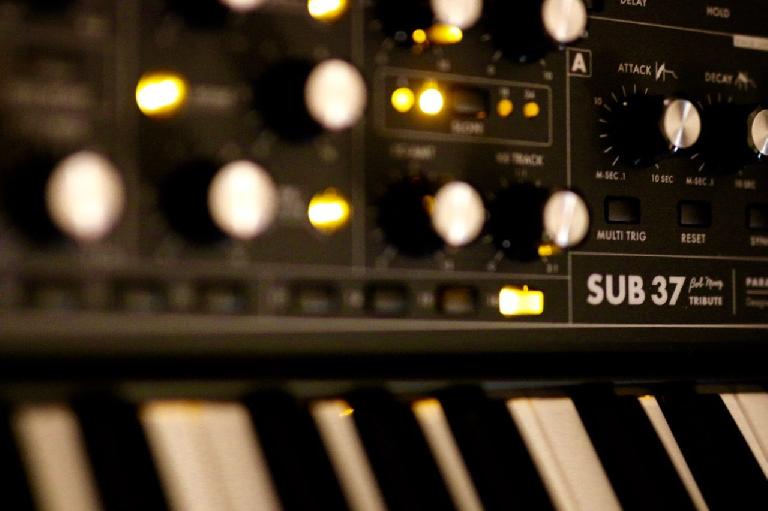 Ask: Knob twisters are the bane of Analog geeks everywhere. Is there a reason you eschewed the total recall of digital and went all analog on this song?
Martin: I grew up producing through the '90s, so I come from an analog background. Around the turn of the century, even before I started macProVideo.com, I became convinced that digital was soon to supplant analog. I saw digital as the future. At the time—the same time BTW that I was working for Apple—I became addicted to selling my studio gear on eBay. I didn't think I needed it, because I was going all in-the-box with Logic Pro. But in the end it turns out analog really is king. It's just so much more musical to play those keyboards, and I really have never found any software that can emulate the analog sound. So the choice is easy for me. I'm just returning to my roots. I made the best music back then anyway—hopefully I can do it again.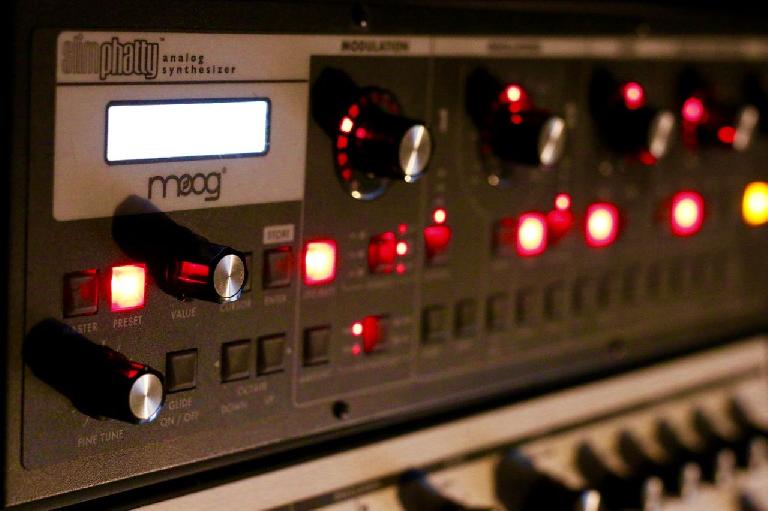 Ask: What's your next frontier?
Martin: I've been getting into Eurorack quite a lot lately. It's a bit of a rabbit hole. You can really get caught up in the beeps and bops. But I'm also convinced there's some new soundscapes to be found in there, so I hope to unlock that potential in the year to come.
Ask: What is the meaning behind your new "Nikolay Martin" project?
Martin: My grandfather died a few years ago. I was selected to do his eulogy. I always knew him as "Grandpa Nicholas." But while researching his life I discovered that "Nicholas" was an anglicized name he adopted at 16 so girls would like him more. It worked too, because my grandma was incredibly smart and beautiful. But it turns out, my grandpa's real name was "Nikolay." My name is Martin. So as a tribute, I see strength in putting my grandfather's real name together with mine: Nikolay Martin.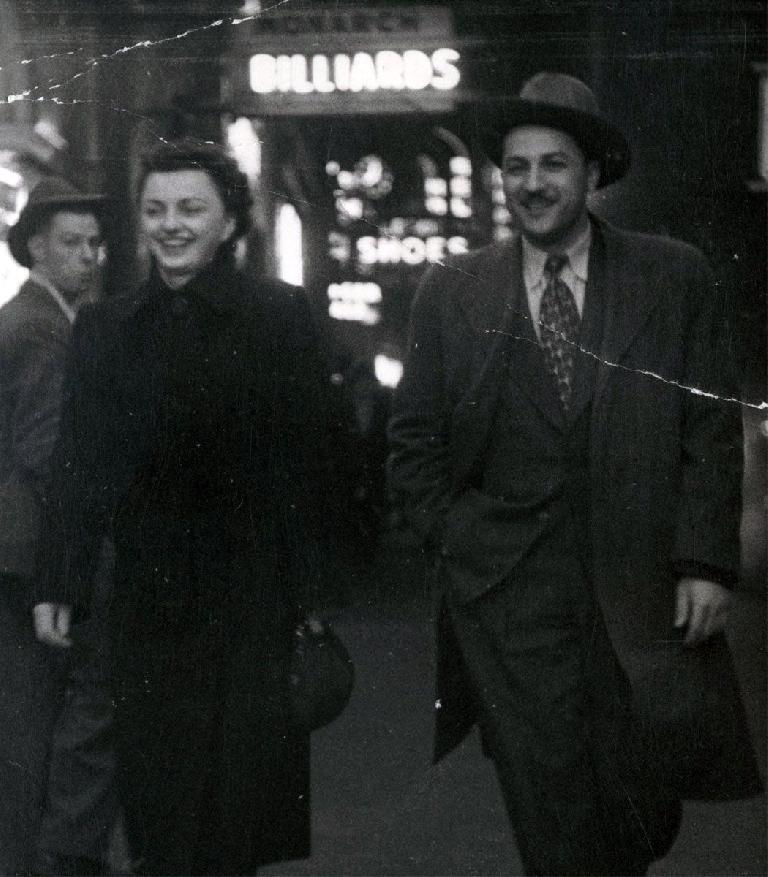 Grandma Alice Lehune (Born Laskiwski) & Grandpa Nikolay (Nicholas) Lehune—with some guy creepin' behind.