From the early days of producing on 4-track to owning the Lobster Boy label and releasing the X Colour album, Redlight has come a long way since his Bristol beginnings. He talks about his process.
Redlight (Hugh Pescod) is a Bristol-raised, London-based artist who you may know under the alias DJ Clipz from the 2000s. In 2009 he set up the label Lobster Boy for his productions and late 2015 his latest album X Colour was released. We sat down to talk with Hugh about his beginnings, the current album and his creative and music-tech approach.
Can you tell us a bit about how you got into the music business? Were you more of an instrument guy or a DJ?
I've always done music since I was a kid. I was a DJ who used to play a few instruments and eventually I ended up in production. I've been producing since I was young but back then the equipment wasn't readily available, stuff like Ableton and Logic so it was a different game really. Now you can make music very easily and cheaply and anyone can do it, which is why there's so much good music out there. I don't think you ever lose that urge to make more music really.
I started producing on four-track tape machines, probably at a similar time to you.
I just missed that but Atari and Cubase and DAT were my introduction to that world really. I started in about '95 and did a course at college. Then I moved to London and worked with various labels and different people but now I do it all myself via my own label.
If you feel like you had a big break into music, what was it?
For me there hasn't been one big break but music has been a constant, gradual upward trajectory. Some tunes have connected more than others on radio or in a commercial sense but it's not like all of a sudden you have a no.1 dance album and you're massive in Shanghai. It's more like a gradual thing. Some years are better than others, but I think that's just the nature of creativity. You have to have troughs to have peaks. When I was a kid I used to work for Roni Size in Bristol and used to DJ with Krust and Die and those guys, and went all round the world spending all my money on dubplates. Back then for me it was all about making music to go into a club with your bag of dubplates that you've cut somewhere and you want everyone to get down with. It's a competitive thing and I think that's always stayed with me. That's my teaching. It's never been about "how can I become a star", it's been about how you can make something that's going to make people flip. For me, that's the buzz.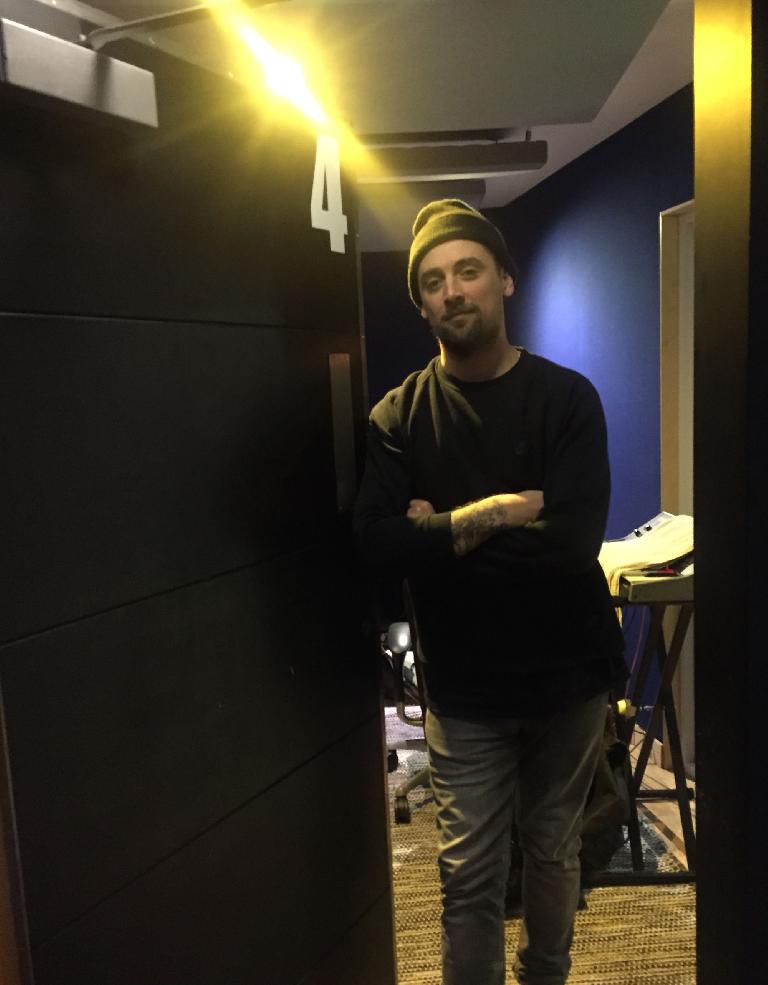 [courses_slider]
I worked with a lot of people in Bristol but I never knew Roni Size, though I did used to rehearse at his studio in Barton Hill.
I used to have a studio there. It used to be Channel House when we were there, but Factory took it over afterwards.
You've remixed and worked with some big names. Who approaches who?
For remixes I'm always approached, usually by the label. I've been remixing music since 2002 when I used to do jungle and I've always found that people just want a bit of their chorus in the remix. That's the key to being a remixer! But if you've built a big enough name up for yourself that they know they're going to shift a few copies and get it played on the radio, they're always going to come to you, especially the majors. They need hits: specialist plays and club plays, and they need to go to people who can provide that and make their music hit in a different area. I don't mean that cynically, it's just business. I understand why they do it. For me though I'll only pick vocals that I know I can do something with. I turn down more remixes than I accept. It's like making music with samples: if the samples are bad, the song's going to be bad. Same with choosing vocals for a remix. If you're in a lucky position of being able to remix Mary J Blige, Tink (hip hop Artist) and people like that, you know what you can do with those palettes.
What was the inspiration behind the album?
The inspiration was really "ten scenes in a film". It's a collection of music from the last few years but it was definitely made with that in mind. It took a long time and it was hard work.
What's your creative process? How do you start a track?
There's no typical way really. Most of the songs on the album got completely changed once I had the vocal. If you're making an instrumental, obviously you start with the beat and then go on from there. But when you're making song-based music it's trickier because you can start with a vibe but once the vocal is written it can completely change the direction of the music underneath it. And then when all the tunes start to come together there's the album as a whole to contend with. So there was some of that, but there was also "let's create a couple of bangers" as well! If you listen to the album it changes position, hence 'ten colours'. It starts quite bright and in-your-face and then it gets colder. That was the plan. It's kind of like a film, it gets more tense and deeper as it goes on. When you watch a film,, it has to grab you right at the start and then once you're in you can play around a bit more.
You've directed several of your own videos too?
I work closely with the directors yeah, I've always had a heavy part to play in my music videos. I like visuals and I work hard on my live visuals, making imagery that works with the music. You can either do a more conventional video or do something less mainstream and people may not get it. Videos are an art in themselves and I'm not saying I'm an expert: I think to pull off a good music video is really hard. I'm lucky as I have some very creative friends who help me and have taught me things about that medium
I don't use DJ controllers—I like the challenge of going out and mixing one record into another. The only thing I would do is go to Rekordbox if I had more time to input all the data.
I really like weird videos, especially stuff like Gangster Trippin, where things just blow up in super slow motion.
If you look at the X Colour trailer video, we wanted to do super slo-mo. Just to hire the special camera for one day cost a thousand pounds. Videos cost so much money and if you want to make an incredible video you need so much money! It's ridiculous. There isn't usually the money so you have to be more inventive. The last video I did was the one for Threshold and I'm really happy with how it turned out. If we'd done a massively commercial video, everyone would have thought we were just trying to have a big one. But that tune was really about an intermediate moment in the album and it was good to get a video that was really dark and twisted. We shot it with a GoPro on my head, and we bought a car and blew it up. We did it all on our own but if we'd done it all more officially it would have been really expensive.
Let's talk tech. What's your weapon of choice when it comes to putting all this stuff together?
I've always used Logic but I'm still on Logic 9. The colour scheme in Logic X is all wrong for me! I can't even get a new computer because I'm still on Logic 9. I've got Apogee outputs and I use a lot of outboard like tape emulators from Neve, a few compressors and SSL channel strips and compressor, and Eventide H3000.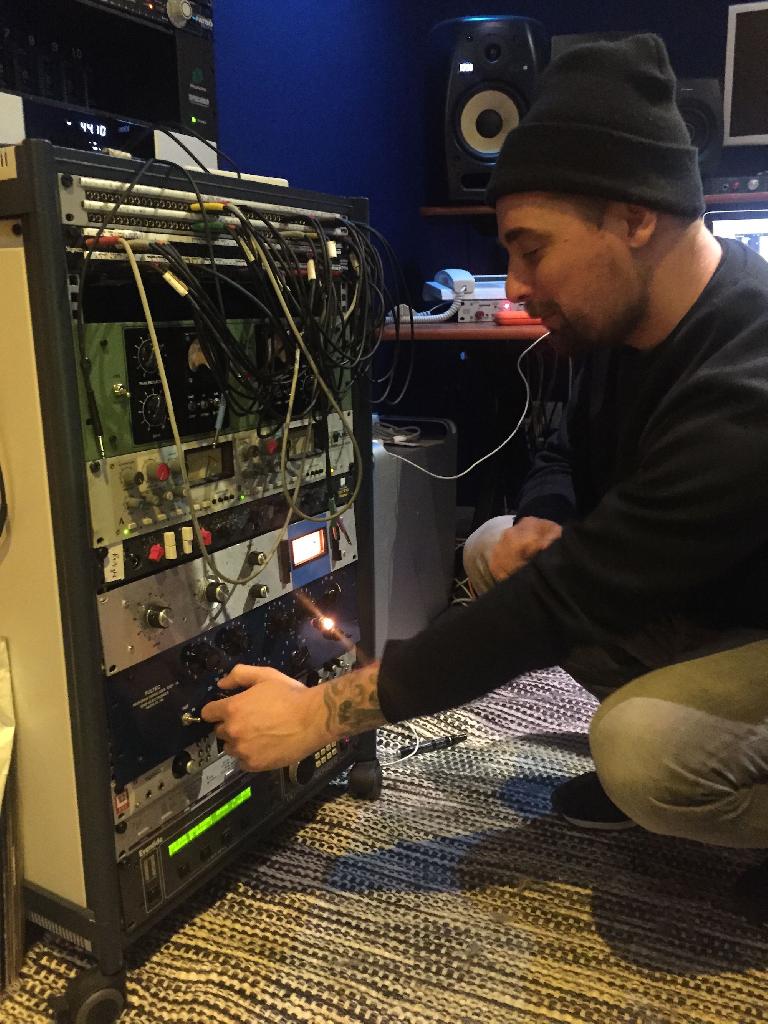 [ad_unit]
I was at all those parties in Bristol watching those guys work, and that's my education in this. I still use a lot of sidechaining through compression and stuff like that and I'm sure that's because of where I grew up.
I like noise, the sound of tape, air, rooms and mics.
So you're not really an in-the-box guy
Not really. I'll use a couple of bits in the box but nothing major. Maybe a transient designer and an EQ but I like noise, the sound of tape, air, rooms and mics. If you listen to the album you'll hear that. Half the time making the album I was on a Neve desk but the studio ended up getting closed down so I moved onto my SSL summing mixer and it was all summed through that in the end.
What do you use for your live setup?
When I play live we use Ableton and all my different loops and track elements were in that, and then a keyboard with different parts of the tune assigned so I could manipulate them. We had two people with lights on their jackets and we were patched into those. It was all very complicated! For DJ'ing I just use USB sticks. I don't use DJ controllers—I like the challenge of going out and mixing one record into another. The only thing I would do is go to Rekordbox if I had more time to input all the data. It'd be interesting to see what it's like because everyone seems to be going that way.
Does that seem like it would be cheating though?
Not really, it's just evolution. Everything gets easier with technology. You don't have to pitch control any more, you can just put it in Rekordbox. It's Apple, it's Steve Jobs! You can't hate it. Obviously you can just still DJ vinyl but it's getting harder because so many of the turntables where you go and play are wrecked.