This is the second part of an interview with the renowned musician, trainer and producer, Steve Horelick. In part 2 of this interview, Steve opens up and candidly shares his insights on Logic's Enviro
This is the second part of an interview with the renowned musician, trainer and producer, Steve Horelick.
In part 2 of this interview, Steve opens up and candidly shares his insights on Logic's Environment, what's in the pipeline from macProVideo.com.com and how his personal philosophy on life shapes his everyday work with music production.
Check out Part 1 of this interview here... or read on to discover more about SteveH...
Tell us about your studio setup.
I now have a Home Studio. I've had three commercial studios before I landed back home. My studio is very quiet, very private. It's a Project Studio that I've not done a whole lot of special stuff with. I don't have a lot of keyboards because I use virtual ones. I have a bunch of controllers in various states... I'm completely into acoustic treatments too. There's some wonderful things you can do to walls with wood and fabric and so the studio has a very nice vibe to it. You can get an idea of it if you visit www.SteveHmusic.com. There's a picture of me in the contact area sitting in my studio.


Aside from Logic, which other DAWs or 3rd party plug-ins do you use on a regular basis?
Yeah, I do use some. I have to be honest, often I'll sample the sounds I make from third party plug-ins and make my own EXS24 instruments from them. For instance I like Battery 3. I really like the sounds in Battery but prefer working in the EXS24. So, I'll sit there, and thanks to Logic 9's Convert to Sampler Track function, I turn all my favorite 3rd-party sampled sounds into EXS24 Sampler instruments.
It does a couple of things. First, I know that I'll always be able to use them no matter which machine I'm on (I've got three Macs with Logic installed). So for me to maintain 3rd-party plug-ins on all three of them, as you know, can really be a pain.
I'm one of those guys that believes it's really nice to have limitations. So I try to work as simply as possible. I'm not a big believer in buying a ton of soft synths or a ton of plug-ins, because I quite frankly believe that within Logic itself you can build just about anything that you need.
I agree. With all the choice of plugins it can be easy to get overwhelmed and lose focus on actually making music.
Well, I think of it as a disease. It's like catching the flu in today's production world where people get the "let's just lay down a bunch of tracks disease" and make music later. I think it's really good to go into a project with limitations and think about every note and every track that you're putting down and make sure it's as perfect as possible...
But back to your original question on plugins I use regularly... (Steve launches Logic and goes through his plug-in list)... East West Play, Fab Four, Goliath, Storm Drum, Orchestral Pack. Again I sample those and use the EXS24 to play it back! I look at these as more like Sound Libraries.
I also love Omnisphere and Stylus RMX by Spectrasonics. The Orchestral one I was talking with you about is a really cool plugin called Synful. I also am a fan of Toontrack's Easy Drummer and Superior Drummer. And I have some VSL stuff like the VSL Ensemble Pro. Oh, and the Garritan Aria player and Battery 3.
You know what I really want to get next though? The Native Instruments Komplete series.
Komplete 7? Yes. That looks pretty amazing.
Yeah. I've been hanging out a lot with Scott Freiman and producer/composer Dave Tozer. They've been showing me some amazing Kontakt stuff. So I think that's going to be my next purchase.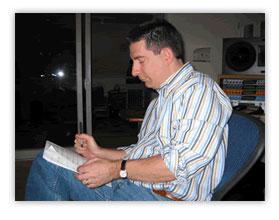 Scott Freiman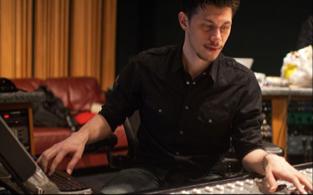 Dave Tozer
As you're the VP of Audio Products at macProVideo.com. What audio-based tutorials can we look forward to? Is there any exciting "pre-release info" you can share with us? We promise to keep it secret... of course!
(laughs)... Well, I can tell you that I've been working with Toby Pitman, for instance, and he did that wonderful tutorial called Logic's Guitar Recording Toolbox.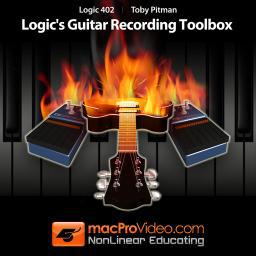 Yeah, that is an amazing tutorial. I've watched it and I love it too...
I'm quite excited to announce that I just signed Toby to do a Superior Drummer tutorial. Everything you need to know to make great drum tracks in Superior Drummer. So I'm excited about that.
I've also been working with one of the guys at Universal Audio and we'll be coming out with a new title soon called "Universal Audio - All About Compression". It's by a wonderful guy called David Crane. He talks about Compression and then he takes us through all their compressors... or at least most of their compressors, and explains how they work, how to use them. It's kind of a show & tell of the whole Universal Audio line!
We also have a new Trainer, Drew Betts, an Ableton Live Certified Trainer. He is going to be doing a really cool tutorial on Ableton's Drum Racks. There's many more.... lots and lots in production right now.
One other series I'm very excited about is the Singing Canary one, which is called The Art of Audio Recording. It's a whole series on how to record live musicians. The first one has been a big success, "An Introduction to Audio Recording". Very soon we're going to be releasing "Recording Drums" and "Recording Guitars".
Anthony Iannucci, from Unity Gain Studios in Florida, recently recorded the famous Jazz pianist, Dave Brubeck at his studio. He documented it and we're creating another live recording style tutorial, which will be out pretty soon, called "Recording the Grand Piano - The Dave Brubeck sessions".
Wow! So it sounds like there will be more software generic, real-world tutorials looking at recording audio?
Absolutely. Though I believe it's really important to teach software, I also really believe there are certain concepts and crafts that people need to know. These are techniques and skills that are evergreen and will transcend all software. As I develop the macProVideo.com catalog, you'll see a lot more of these types of tutorials that are not necessarily software based but the skills you learn from them can be applied to any software that you're using.
It's a way of complimenting our tutorials that teach software. You know, like teaching Mixing, teaching Mastering, showing how to start out a project in Ableton Live and overdub in Pro Tools and bring it in to Logic to do MIDI and, you know, those kind of things.
Nice! Talking about software... Although Logic is more accessible for new users than ever before, I think it can still seem daunting to the first-timer. What advice would you offer to those approaching Logic from scratch?

Watch our tutorials!
Nice short answer, Steve. Just three words?
You know, Logic is a deep program. It's a tough one because we're in a place where making music can be as simple as dragging, dropping, launching and looping. But there's so much more to it than that. A program like Logic can be more daunting because in order to really master it you've got to know a lot. As much as Apple have made it simpler and easier to pick up, I think there's something to be said for knowledge. Although you can go in to Logic and use 5% of the program and make a really great sounding track. It really helps if you know something about compression and mixing and MIDI.
Making all these things work is not about menu selections but about understanding signal flow. And the fact that when you make a menu selection what you're really making is a connection between two things. For someone like myself who comes from the analog world it's second nature to me. However, there's a whole generation of new users making awesome music who really don't understand signal flow. And when you're working in a DAW as sophisticated as Logic, it's all about signal flow.
So I recommend not just learning the software only, but really learn about signal flow, Aux Sends, Mixing, and understand that the way you set up a session is setting up different signal flow paths. But if you can grasp that then you'll be able to do things in your music that the folks that are still jumping through the presets won't be able to do.
What makes you smile & what makes you tick?
(laughs).. What makes me smile is this question..! (long pensive pause...) They might be the same question... I think they are the same question.
I'm really big on what's real. In terms of making music as a live performer, my goal in life and music is to be right here in the moment. So when I'm talking with you or performing with somebody, if I can keep my energy focused right in the moment then I know I'm not missing anything in life, right. That makes me really, really happy... and it makes me tick!
It might sound kind of goofy, but here's the truth of the matter. If I'm worried about a wrong note that I played, you know, a minute ago, then I'm not playing the best I can be playing right now. My thoughts are about the past. It's the same thing in life. Everybody screws up in life, everyone makes bad decisions occasionally, but if you dwell on them then you're not in the moment and you're not appreciating the conversation that you might be having now with somebody... and that applies to life and it applies to music.
So in a nutshell, what makes me happy and what makes me tick is being able to engage with people, engage with life, engage with music. And engagement is always about being very, very present. There's so much beauty out there in the world and so much beauty one can create in music, that being able to grab that and shape it and put it back out there and make people happy is also what makes me happy and makes me tick.
Thanks. Well... This is what I call the 'Robinson Crusoe' Question.... You're stuck on a Desert Island. You can have 3 albums of your choice only. What would they be and why?

Ha! OK. First one would be any Morton Subotnik album from the 1970's. He did the coolest electronic music that was ever made. He was a mind-blower for me as a student.
The second would be Mahler's 4th Symphony. He's one of my favorite composers and no one wrote melodies and counterpoint like Gustav Mahler. I just love it... he just takes me somewhere and I couldn't live without Mahler's 4th.
And then probably Steely Dan's Aja album. Just because... it is the epitome, in my opinion, of music production. It does everything right... Uses the best players... it just is some of the best recorded music ever!
Ahh, you know what, can I throw in one more?
Why not, go ahead.
Abbey Road, the second side. For me that's a master piece of composing and production. That is a true journey from top to bottom and I don't think anyone has come close to that since.
OK. Hey you can even pick it up on the iTunes store now, right?
Yeah! (laughs)
... We're not finished yet! You're still stuck on that Desert Island. You can have 1 piece of software and 1 piece of hardware for a Mac. What would it be and why?
Oh, my. That's a tough question. One piece of software? Oh...
Yeah. Don't worry the Operating System is pre-installed.
(laughs)
It's not much surprise... I'd have Logic. Then the hardware... it'd be a custom-made thing. Upon leaving for this island I would make sure to have had a custom piece of hardware that combined my Zen Drum with my 88-key Piano Controller. (Big laugh) ... because unfortunately, I need them both in order to really enjoy myself with Logic!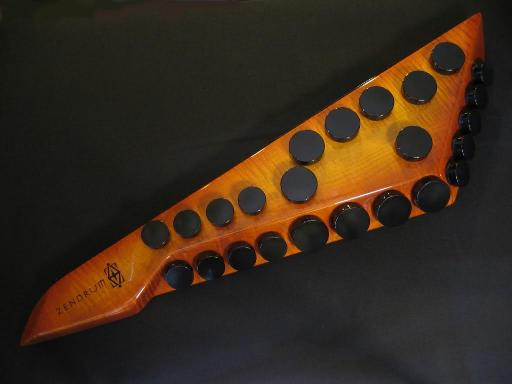 Thank you Steve for taking the time out to do this interview!
Thank you! And I'd just like to finally say that I'm really, really excited about macProVideo.com and the direction we're taking and the new products coming out and I'm going to be working really, really hard in the years to come to make sure that macProVideo.com is providing our users with the best tutorials by the best trainers in the world!