Everyone knows Apple's iOS App store has been a runaway success since it's launch. Everyone wants to create the next big iApp success story. But almost everyone believes you need to be able to program
Jeder weiß, Apples iOS App Store hat einen durchschlagenden Erfolg, da sie die Einführung worden. Jeder will der nächste große iApp Erfolgsgeschichte zu schaffen. Aber fast jeder glaubt, Sie brauchen, um in der Lage sein Programm und montieren eine App in XCode erste, richtig? Falsch! Jetzt kann jeder, können ihre eigenen iOS App für den App Store erhältlich sein, um Millionen von potentiellen Kunden zu schaffen. Mit AppOmator die einfache grafische Benutzeroberfläche Sie ein iPhone oder iPad App mit Leichtigkeit und ohne eine einzige Zeile Code erstellen können.
Für Musiker und DJ ist das bedeutet, Sie können Ihre Alben Release
01 - Einführung
Making an Album App is not only a cool thing to do, it also provides Copy Protected versions of your music to your fans! Because all Apps must be downloaded from the App Store to your device, there's virtually zero piracy of Apps, which means wrapping your songs in an App is an excellent way to copy protect them.

Best of all AppOmator is a very cool tool and makes creating iPhone and iPad Apps a breeze.
02 - App im Ãœberblick
This app consists of three menus. A splash screen (when you launch the app), the Main Menu and the Track List.

03 - Timeline Ãœbersicht
AppOmator has tracks (like in Final Cut, Logic, Garageband, etc). Each track has a Timeline which you can place your audio, video or even still images in.

04 - Arbeiten mit Markern
For DJ Mixes, this feature rocks. Imagine a DJ Mix which is 40 minutes long. In a Timeline you can create Markers which allow you to jump to the different parts of the mix directly from a menu button or using the Next/Previous Transport controls. Adding and deleting markers is very intuitive.

05 - Jumping Tasten Markers
Buttons have targets, that they can "jump" to. This means any button in a menu can jump to another menu, a track, and even better a marker within a track.

06-Interactive Music Apps
Jetzt haben Sie die Grundlagen, wie man ein einem iOS App für Ihr Band zu schaffen gesehen, lesen Sie in der audiobase.com Sample Player als kostenloses Beispiel, wie ein Drum Sampler iOS app einfach erstellt mit appOmator werden.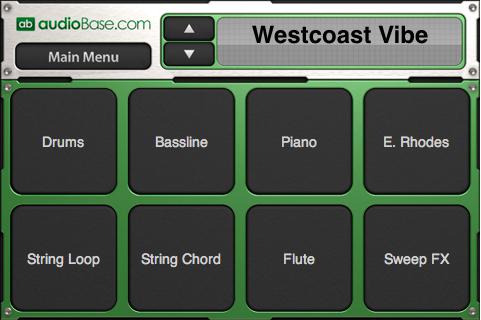 07 - Qualität Apps Get In
Apples App Approval Process wird immer enger. Lassen Sie sich nicht, dass Sie davon ab, ob! Schauen Sie sich dieses Video für Tipps, wie mit dem Extra-Features in AppOmator können Ihre App Segel über den App Aproval Prozess zu helfen.
Beachten Sie, dass Ihre App so professionell wie möglich geben sie eine bessere Chance, wahrgenommen zu werden und heruntergeladen werden. Nutzen Sie Photoshop , um professionell aussehende Schaltflächen und Grafiken für Ihre Menüs Design, die Verwendung AppOmator Galerie Features zu großen schönen Blick Diashows ... Putting die zusätzliche Zeit, in der Gestaltung Ihrer App vor dem Bau kann es helfen, damit es im App Store glänzen!
Für mehr Informationen über Gebäude apps mit AppOmator bitte zuerst das gesamte Spektrum der freien Tutorial-Videos hier .
Sie können AppOmator hier kostenlos herunterladen
Werfen Sie einen Kommentar unten, um zu Ihrem appOmator konzipiert App folgenden Link oder Fragen zu stellen ... und vor allem genießen Erstellung Ihrer iOS Apps!