Everyone knows Apple's iOS App store has been a runaway success since it's launch. Everyone wants to create the next big iApp success story. But almost everyone believes you need to be able to program
Tutti sanno di Apple iOS App store è stato un grande successo dal momento che il lancio. Tutti vogliono creare la prossima grande storia di successo iApp. Ma quasi tutti credono che dovete essere in grado di programmare e l'assemblaggio di App XCode prima, giusto? Sbagliato! Ora chiunque, possono creare i propri App IOS per l'App Store che sarà disponibile a milioni di potenziali clienti. Utilizzando AppOmator è semplice interfaccia utente grafica è possibile costruire un iPhone o iPad con facilità e senza scrivere una sola riga di codice.
Per musicisti e DJ ciò significa che è possibile rilasciare il tuo album
01 - Introduzione
Making an Album App is not only a cool thing to do, it also provides Copy Protected versions of your music to your fans! Because all Apps must be downloaded from the App Store to your device, there's virtually zero piracy of Apps, which means wrapping your songs in an App is an excellent way to copy protect them.

Best of all AppOmator is a very cool tool and makes creating iPhone and iPad Apps a breeze.
02 - Panoramica App
This app consists of three menus. A splash screen (when you launch the app), the Main Menu and the Track List.

03 - Panoramica Timeline
AppOmator has tracks (like in Final Cut, Logic, Garageband, etc). Each track has a Timeline which you can place your audio, video or even still images in.

04 - Lavorare con i marcatori
For DJ Mixes, this feature rocks. Imagine a DJ Mix which is 40 minutes long. In a Timeline you can create Markers which allow you to jump to the different parts of the mix directly from a menu button or using the Next/Previous Transport controls. Adding and deleting markers is very intuitive.

05 - Pulsanti Passaggio a marcatori
Buttons have targets, that they can "jump" to. This means any button in a menu can jump to another menu, a track, and even better a marker within a track.

06-Interactive Musica Apps
Ora avete visto le basi di come creare un app per uno IOS tua band, visitate il giocatore audiobase.com campione come un esempio di come un libero Drum Sampler IOS applicazione facilmente essere create usando appOmator.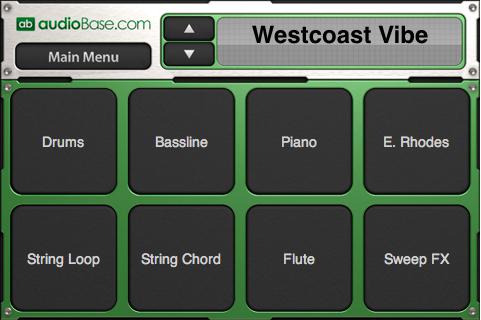 07 - Applicazioni di qualità Get In
L'approvazione di Apple App processo è sempre più limitati. Non lasciare che ti off però! Guarda questo video per suggerimenti su come utilizzare le funzioni extra in AppOmator può aiutare la tua vela App attraverso il processo di Aproval App.
Ricordate che per fare il vostro look App più professionale possibile darà una maggiore possibilità di essere notato e scaricato. Fare uso di Photoshop per la progettazione professionale pulsanti cercando e grafica per i menu, utilizzare le funzionalità AppOmator Galleria di grandi spettacoli belle diapositive cercando ... Mettere il tempo supplementare nella progettazione App prima di costruire si può contribuire a farne brillare su App Store!
Per ulteriori informazioni su applicazioni dell'edificio utilizzando AppOmator verificare l'intera gamma di video tutorial gratuito qui .
Si può scaricare gratuitamente qui AppOmator
Scrivi un commento qui sotto per link al tuo App appOmator progettato sotto o per fare tutte le domande ... e soprattutto godere di creazione del tuo Apps IOS!