iTunes is a great application for managing large amounts of music. But you can not only use it to manage a music collection, but also for other kinds of sounds! It is also great as a research database
iTunes is a great application for managing large amounts of music. But you can not only use it to manage a music collection, but also for other kinds of sounds! It is also great as a research database for spoken text, or sometimes even PDF files. I have found iTunes to be very good at managing a collection of the work I have done.
But those areas of use that are not "standard" often present a couple of potential problems:
01 - You don't want this kind of material sitting next to your proper music Library because it just doesn't fit there.
For problem 1), there is an easy solution, as iTunes is indeed able to manage more than one Library. When starting up iTunes, just hold the Alt/Option key and iTunes will ask you to open a Library file or create a new one. You can then create a new Library in any location you like and iTunes will use it. If you want to switch back to another Library, just hold down Alt/Option again when restarting iTunes. You can also switch the location where iTunes stores the media files in: iTunes > Preferences > Advanced. You can create as many libraries as you like.
Tip: If you want to move your iTunes Library to a different location, you can do the following:
Copy the whole iTunes folder to the new location.
Start iTunes while holding Alt/Option.
Instruct iTunes to open the Library at the new location by pointing the file dialog to the correct location.
iTunes will now open the Library and preserve all play counts, ratings and so on. Make sure to check in the preferences that the new Library path is correctly set and you are good to go.
02 - You don't want this special material readily accessible to everyone that switches on your computer, plain and simple because it is pretty sensitive!
This is where things get a bit more interesting. For sensitive information, you will of course want to protect it. For data at home, this saves you lots of headache when someone breaks into your house and on the road you can be sure that in case your laptop or portable drive gets stolen, the thief will not be able to get to your data. The best solution for this is to encrypt everything, which fortunately is pretty easy but very secure. iTunes can read and write from any volume supported by the OSX Finder. Yes, that means, it can write to disk images! This in turn allows us to have iTunes use an encrypted disk image that you can be mounted and unmounted manually. So unless you personally mount the image, your data will be safely hidden from anyones else's eyes.. There are lots of ways to create such an encrypted image, but I will deal with two here:
A - Using the built-in Disk Utility
Every installation of OSX has a tool called Disk Utility. It is there for drive maintenance, repairing disk permissions and so on. And it can create AES-encrypted disk images. You will find an icon in the toolbar that lets you create a new image.

Set a good size for the Library and save the image wherever you like and set the encryption to 128bit or 256bit. The latter is more secure, but takes more time to encrypt and decrypt!
Disk Utility will then ask you to provide a password and check the security of it for you. You should use a safe password, that means not your birthday, your pet's name and so on. Do not save the password in Keychain, but type it in by hand every time. If you save it to Keychain, everyone using your computer will be able to mount the volume. After you have created and mounted the image, point iTunes to it just like you would do when creating a new Library. If you want to move your existing Library to the image, you can use the instructions above. iTunes will then have both the Library files as well as the media files on the encrypted volume. Whenever you close iTunes, dismount the image and no one will be able to access its content unless he or she knows the password! This method of storing an iTunes Library is relatively secure, as long as you don't give away your password. I would recommend it for libraries with a fixed size that are not changed very often.
B - Using TrueCrypt
The second, more powerful method uses an open source encryption software called TrueCrypt. In general it works in a similar way to the Disk Utility method by mounting an encrypted disk image. But TrueCrypt has two major advantages: - You can encrypt whole partitions, which is nice for big libraries & without TrueCrypt, it is not possible to mount the volume and it is impossible to see that TC is used. While professionals will likely know of TrueCrypt, chances are good that your "average" burglar does not.
For this tutorial, we will setup a new volume in TrueCrypt residing inside a simple file. After downloading and launching TrueCrypt, click Create Volume. An Assistant window looking like this will open: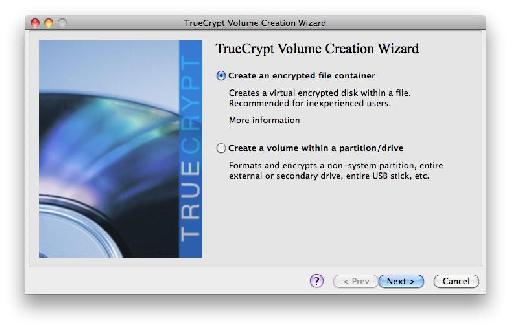 Here you can choose to create a new volume residing in a file or use a partition of a hard drive.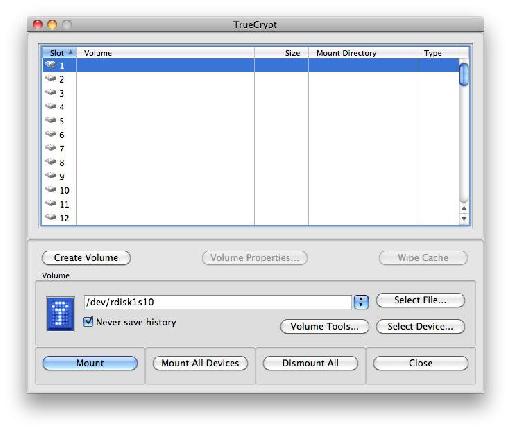 Important: If you use a hard drive partition, all the data on this partition will be lost! So double check that you are using the correct partition.
The assistant is self-explanatory, you should have no difficulties following it. Nevertheless, here are a few key things worth knowing:
For the file name, you can choose anything you like. The file extension does not matter, either.
If you want to be ultra-safe, create a hidden container, though this is really paranoid. But, hey, just because you are not paranoid that doesn't mean they are not after you ?
It doesn't really matter which encoding algorithm you choose. They are all pretty safe for "normal" use. Beware, however of using more than one encryption algorithm, because it significantly slows your system down! Only use more than one algorithm if your system can handle it and if it is really necessary.
I would advice against auto-mounting the image. If people don't know it even exists, they are far less likely to try to search for it. Having your encrypted image mounted by default sort of defeats the whole point. It is important that you do not store the password on your computer. Better don't even write it down, remember it! Keep copies of all keyfiles used somewhere. Without the keyfiles you will not be able to use the encrypted partition. It would also be prudent not to have the TrueCrypt icon in your dock, otherwise anyone will immediately see that you are using it.
03 - Disadvantages of Encrypted Libraries
There are two disadvantages of using an encrypted Library that I wanted to mention. First, you always need to mount the partition or image containing your iTunes Library manually. This of course is a bit of a usability issue, but I think the security aspect far outweighs the little bit of hassle. Do not despair: If you forget to mount the image and start up iTunes, it will just complain that it could not find the Library. All you need to do then is to close iTunes and reopen it.
The second, and more important issue is speed. iTunes needs to decrypt and encrypt all data, resulting in a significant loss of speed when accessing the encrypted data. Fortunately, recent versions of iTunes have dramatically improved performance to a point where an encrypted Library is about as fast as it was on iTunes 7 unencrypted. In normal operation, the loss of speed is not very noticeable, except if you use CoverFlow all time. It gets more serious when you need to copy files or write changes to files, i.e. when importing tracks into your Library. There is a simple workaround if you don't want to wait on importing: Just use another iTunes Library to import, convert and tag all tracks and then transfer them to your encrypted Library when you are done.
An encrypted Library makes sure that your tracks are safe from spying eyes or theft, which I think is very much worth the slight drawbacks. Hope this helps - if you have questions, please post them as a comment below and I will do my best to answer.