Get crazy this Christmas with your beat processing in Logic Pro. Gary Hiebner shows how to slice beats and shuffle them across multiple tracks to create impressive sounding beats!
Normally in your productions you will have your beats with the necessary plugins for dynamic processing, and maybe a few volume and pan adjustments through the track. But what really works well is to slice up your beats, move them onto different tracks and then apply crazy different processing effects to these snippets. These sporadic moments of crazy processing will really add interest to your beats. Let's take a look at how this is done in Logic.

Step 1 '" Splice Up Your Beat
First off, it's easier to work with a stereo beats track. So if you have your drums on separate tracks, mix them till you are happy with them. Then bounce them in place to a new stereo track in your Logic project. Mute the other drum tracks so you are only dealing with the bounced down stereo drum track. By bouncing the drums down to a stereo track, you are removing yourself away from the individual mix elements. Now you can take a different seat in the mixing chair. Here's where you can make use of some of those crazy Logic plugins you thought you'd never use.

Bounce your drums!
Listen through the beat, and decide on sections where you would like to apply some heavy processing. These slices can be of different lengths. I have some snippets that are one bar, all the way through to some that are only a 1/16th in length. But I'll leave this up to you to decide.
Step 2 '" Add These Snippets to Different Tracks
Once you have decided on how many snippets of audio you'll have, move the slices onto new audio tracks. We're going to apply different processing to each track, which will create this '˜Mix Up of Processing' on the beats. For demonstration purposes, I am only working with four tracks, but depending on your song and the slices you have made, you may have many more, but the same procedure applies.
Here is what my sliced up beat looks like: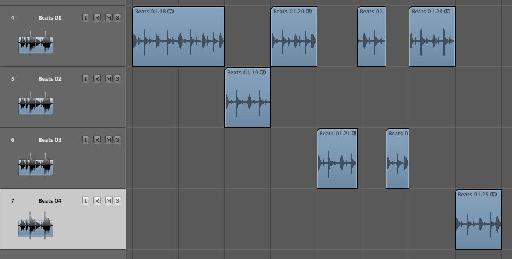 Slice up your beats.
Step 3 '" Add Some Heavy Processing Pt. 1
Okay, let's add some processing on the first track that I have set up.
First lets add a Tape Delay. I have applied the following settings:
Feedback: 39%

Delay:Tempo Synced

Groove: Set to half notes with a 50% groove

LFO Rate: 0.8Hz

LFO Depth: 28%

Flutter Rate: 1.9Hz

Flutter Intesity: 39%

And let's try some flanger as well for some modulation movement. Dial in the following settings:
Feedback: 67%

Speed: 0.133Hz

Intensity: 50%

Mix: 50%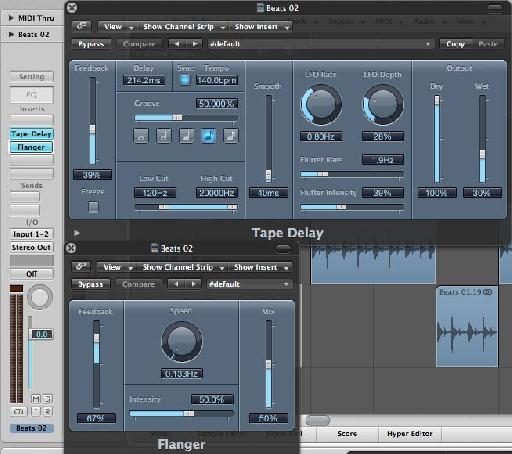 Add some processing.
Let's move on to the next track with the next splices. I want this track to contrast with the previous one. Contrast is key here to create differentiation in this beat.
First I am going to apply some bitcrushing. These are the settings I applied with the Bitcrusher plugin:
Drive: 8.5dB

Resolution: 5 bit

Downsampling: 6x

I have added a Tremolo plugin to add some volume and pan movement to the splice. The Rate is set to 1/16, with a Symmetry of 50%, a Smoothing of 67%, and a Phase of 80 degrees. The Depth is set all the way to 100%.
And finally, I have added an Echo plugin to add a delay tail to the drum splices. The Echo has a Time of 1/8, with a 64% Repeat, a Color of 37, with the Dry signal set to 96% and the Wet to 78%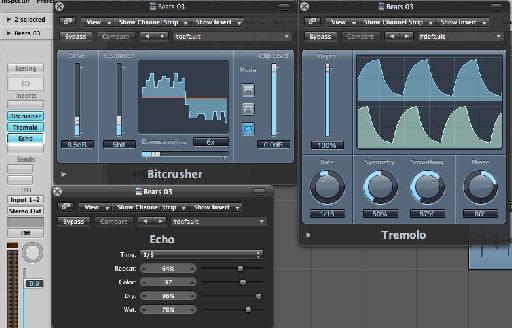 Another track, different processing.
Step 4 '" Add Some Heavy Processing Pt. 2
So that's the first two tracks. Let's move onto my last track and its processing. Guitar effects can really dirty up your beats. I really like Logic's pedalboard, so I am going to add that to this track and build up a pedalboard of guitar effects to process the drums.
I am a big fan of the Vintage Drive, so lets add that first. The Drive is set to about 65%, and the Tone to 75%. You can check the Level against the drive drums and increase if necessary. Next up, I want to add some stompbox modulation. Lets go for the Retro Chorus for an analog-style chorus emulation. I have a Rate of 55% and a Depth of about 60%. I have enabled the Sync button so the chorus rate syncs with Logic's tempo.
How about adding a real crazy modulation effect in the chain after this. Let's go for the Roswell Ringer. This can really dial in some crazy ring modulation effects. The Roswell Ringer is set to Linear Mode, with a low Freq, the FB set to 0, and the Fine and Mix set to about 45%. Feel free to go crazy and add more effects if you wish. The crazier the better!

Logic's Pedalboard is a good way to go crazy with your beats.
Now listen to the drums with all tracks playing back together. Its nice to here the contrast between each track and the diversity it can bring to what was a simple stereo drum track.
Conclusion
As you can see you can really transform you beats with the use of heavy processing split over a series of tracks. Differentiation and contrast is key here. You want these elements to jump out at you while you are listening to them. They don't need to hide in the background. And this technique doesn't have to only apply to drums, you can use it on other elements as well like guitars, bass, vocals, and even on a full mix. It definitely helps to work with a stereo track, as you can easily splice it up, and then apply the processing. Try this '˜mixed-up' processing in your future productions. It can really splice'¦. I mean spice them up. And as I mentioned, the crazier the better!
Check out the following tutorials for further Logic techniques:
Logic 406 - Olav's Electronica Workflow Tricks
Logic 304 - Logic TNT 3 Tips and Tricks: Reloaded
Logic 401 - Logic's Mastering Toolbox