So, Logic Pro X 10.2.1 has arrived. Although an incremental update, there's tons of bug fixes and new workflow features. Jay Asher casts an eye and ear and roundup his favorite 10 Logic Pro additions.
In der Regel mit Logic Pro inkrementelle Updates, wissen Sie, Sie werden einige Bugfixes erhalten und hinter den Kulissen Performance-Verbesserungen und Erweiterungen, die zwar sehr zu begrüßen, werden nicht besonders spannend. Aber mir dieses überrascht, denn es gibt viele, darunter eine, die ich persönlich, da Logic 1.0 gesucht !!!
#1—New audio preference for multithreading live tracks to improve CPU performance when processing multiple live channels
Logic Pro X
#2 - Retina support and redesign of over 30 plug-ins
Schauen Sie sich Pic 3 Pic 4 und mit dem Chorus-Plug-in.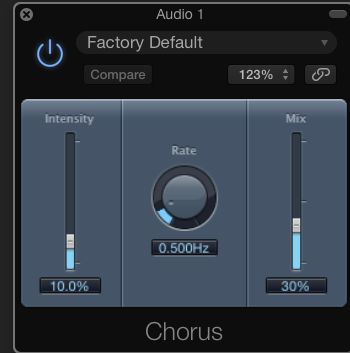 Pic 3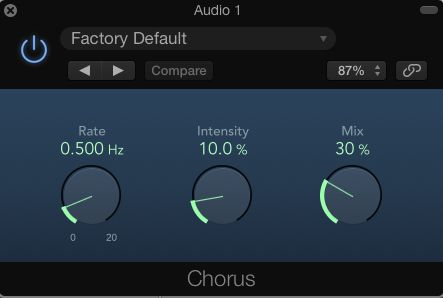 Bild 4
#3 - Go to position again remembers the last entered position
Glücklicherweise war das alte Verhalten wurde wiederhergestellt. Dies machte mich wahnsinnig! Beispielsweise,
#4 - Apple loops can now be dragged into Alchemy and they will automatically conform to the current project tempo
Außerdem stellt Alchemy jetzt 11 Spektraleffekte zur Schallverarbeitung im Frequenzbereich. Dies eröffnet alle Arten von kreativen Möglichkeiten.
#5 - New lane set in the Step Editor
Der Schritt-Editor enthält jetzt eine Lane Set, das automatisch Gassen um die Inhalte in einer Region angezeigt werden, stark verbessert die Benutzerfreundlichkeit. Siehe Bild 5.
#6 - Export and bounce track improvements
Export-Spur als Audio-Dateien funktioniert nun für mehrere ausgewählte Titel mit jeweils als separate Audio-Datei exportiert. In der Vergangenheit musste man entweder eine oder alle. Bounce Tracks in Platz auch funktioniert nun für mehrere ausgewählte Titel. Dadurch ergeben sich die Erstellung viel einfacher.
#7 - Hide all empty tracks key command
Diese neue Tastaturbefehl versteckt sich alle Titel, die entweder Regionen oder Automatisierungs enthalten. Es ist jedoch nicht zugewiesene standardmäßig so dass Sie brauchen, um es zu einem Tastaturbefehl zuweisen.
#8 - Region transpose in the Piano Roll
Nun, wenn Sie einen Bereich mit der Region Inspector zu transponieren, haben Sie die Möglichkeit, um die transponierten Noten in der Piano Roll anzuzeigen. Markieren Sie einfach die entsprechende Option über das Piano Roll
#9 - Over 600 new Apple Loops in a variety of genres
Auch zeigt der Loop-Browser jetzt Inhalte, die verfügbar, aber noch nicht heruntergeladen, die Sie direkt aus dem Loop-Browser herunterladen können.
#10 - New metronome option to generate beat accents according to the beat grouping of the current time signature
Meine Gebete endlich erhört worden! Bis jetzt, wenn Sie in 4/4 waren das Metronom würde schlagen vier Viertelnoten, was in Ordnung ist, aber in zB 12/8, es zu schlagen würde 12 acht Noten, die zu einem schnellen Tempo ist unglaublich ärgerlich. Als Dirigent, ich würde schlagen punktierte Viertelnoten und die meisten DAWs erlaubt, dass der Fall mit Metronom, aber Logic Pro nie hat.
In den Metronom-Projekteinstellungen, Gruppe I und deaktivieren Schlag prüfen.
Doppelklicken Sie auf die Signatur entweder in der Signature Global Track oder im Noten-Editor und geben Sie die Gruppierung, in diesem Fall 3 3 3 3 und voil
#11 Bonus - Audio Unit 3 support
OK, ich habe gelogen Hier ist ein weiteres Merkmal, das nicht zu bringen Sie unmittelbaren Nutzen, sondern kann auf lange Sicht. Seit Apfel fiel VST-Unterstützung in Logic Pro und ging mit der AU-Plug-in-Format, haben viele Anwender von der 16 MIDI-Kanäle pro Instanz beschränkt vereitelt worden. AU 3 wird, dass zu beseitigen und Logic Pro ist nun bereit für die Entwickler, um die Vorteile, dass, indem er uns AU 3 Versionen ihrer Bibliotheken Motoren zu nehmen.
Es gibt viele weitere Goodies in diesem Update, so check it out!
Sehen Sie sich unsere
Erfahren Sie Tipps, Tricks und Tutorials