So, Logic Pro X 10.2.1 has arrived. Although an incremental update, there's tons of bug fixes and new workflow features. Jay Asher casts an eye and ear and roundup his favorite 10 Logic Pro additions.
Generalmente con Logic Pro actualizaciones incrementales, usted sabe que usted conseguirá algunas correcciones de errores y detrás de las mejoras de rendimiento escenas y mejoras que, si bien es muy bienvenida, no serán particularmente emocionante. Pero éste me sorprendió, ya que hay muchos, entre ellos uno que yo personalmente he buscado desde Lógica 1.0 !!!
#1—New audio preference for multithreading live tracks to improve CPU performance when processing multiple live channels
Logic Pro X
#2 - Retina support and redesign of over 30 plug-ins
Echa un vistazo a Pico 3 y Pic 4 con el Coro de plug-in.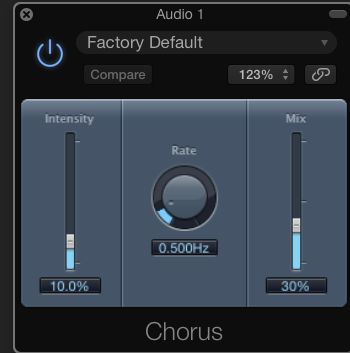 Foto 3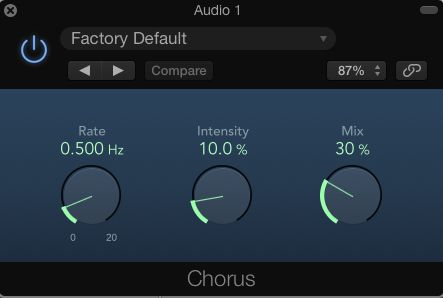 Pico 4
#3 - Go to position again remembers the last entered position
Afortunadamente el comportamiento antiguo se ha restaurado. Esto me volvía loco! Por ejemplo,
#4 - Apple loops can now be dragged into Alchemy and they will automatically conform to the current project tempo
También, Alchemy ahora proporciona 11 efectos espectrales para procesamiento de sonido en el dominio de frecuencia. Esto abre todo tipo de posibilidades creativas.
#5 - New lane set in the Step Editor
El Editor Paso ahora incluye un conjunto de carril que crea automáticamente carriles para mostrar todo el contenido de una región, mejorando en gran medida su capacidad de uso. Ver foto 5.
#6 - Export and bounce track improvements
Exportación de pista como archivos de audio ahora trabaja para múltiples pistas seleccionadas con cada exportado como un archivo de audio independiente. En el pasado, que tenía que hacer, ya sea uno o todos. Pistas de rebote en Place también ahora trabaja para múltiples pistas seleccionadas. Esto hace mucho más fácil la creación de vástago.
#7 - Hide all empty tracks key command
Este nuevo comando de teclado esconde todas las pistas que no contengan cualquiera de las regiones o automatización. Es, sin embargo, no asignada por defecto por lo que tendrá que asignar a un comando de teclado.
#8 - Region transpose in the Piano Roll
Ahora, cuando usted transponer una región utilizando el Inspector Región, usted tiene la opción de ver las notas transpuestas en el Piano Roll. Sólo tienes que marcar la opción correspondiente a través del Editor de teclado
#9 - Over 600 new Apple Loops in a variety of genres
Además, el navegador de bucles muestra ahora el contenido que está disponible, pero aún no descargado cual se puede descargar directamente desde el navegador de bucles.
#10 - New metronome option to generate beat accents according to the beat grouping of the current time signature
Mis oraciones finalmente han sido contestadas! Hasta ahora, si usted estaba en 04.04 el metrónomo sería venció cuatro negras, lo cual está bien, pero en el ejemplo 12.8, sería vencer a 12 de ocho notas, que a un ritmo rápido es increíblemente molesto. Como director, me golpearon negras punteadas y la mayoría de aplicaciones musicales mascotas que para ser el caso de su metrónomo, pero Logic Pro no tiene.
En la configuración del proyecto de metrónomo, compruebo Group y golpe desmarque.
Haga doble clic sobre la firma, ya sea en la firma Global Track o en el Editor de partituras y entrar en el grupo, en este caso 3 3 3 3, y voilà
#11 Bonus - Audio Unit 3 support
OK, mentí Aquí es otra característica que no le traerá beneficios inmediatos, pero puede en el largo plazo. Desde Manzana abandonado el soporte VST en Logic Pro y se fue con el formato de plug-in AU, muchos usuarios se han visto frustrados por el canal 16 MIDI por limitación instancia. AU 3 eliminará eso y Logic Pro ya está lista para los desarrolladores tomar ventaja de eso dándonos AU 3 versiones de sus motores bibliotecas.
Hay mucho más valiosos en esta actualización, a fin de comprobar hacia fuera!
Vea nuestro
Aprenda consejos, trucos y tutoriales